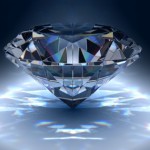 dianacap
Participant
Thanks ae6st, I took a day off and let my brain cool down and came up with this:
The definitions I got were these –
Brilliance-" the surface and total internal reflection of light" and in book it said that brilliance is aka lustre and reflectivity.
Scintillation -"The sparkles of reflected light produced when the when the light source or the gemis moved"
so now that i go back, perhaps brilliance is when you just look at it and scintillation is when you move the ring around and it sparkles.
That's what it sounds like to me now that I stepped away from it for a while. Please tell me if you think its wrong and thank you for your input.
Diana