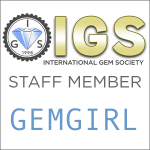 gemgirl
Participant
Hi Diana,
Apologies for the confusion! There are 3 written tests to take and one Practical Exam. The written tests ensure that you have reviewed and understand the material on the syllabus. Then you apply that knowledge through the identification of 10 gems in the Practical Exam.
You should take all of the tests when you think you have learned the material. There are 300 multiple choice questions, so it is a lot. The Practical Exam is fill-in the blank, so you need to know your stuff.
Don't hesitate to reach out if you have further questions. Although there is no "teacher" (because, as a self-study course, there are no classes), we are here for guidance.