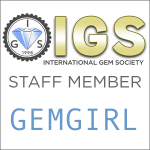 gemgirl
Participant
Hi Patrick,
Welcome to IGS! This is a fantastic community that we are very proud of. We are thrilled to have you join us.
You definitely want the scale. Have you thought about a microscope? From personal experience, I would recommend that as part of your home lab, even as a beginner, if you can find the budget for it (maybe try eBay or Craigslist for used microscopes). Here is a thread where a good microscope is discussed: https://www.gemsociety.org/forums/topic/microscope/
I would prioritize the microscope over the reference materials, as we already have a lot of similar content on our site.
Happy for others to comment as well.