November 9, 2015 at 9:25 pm
#200628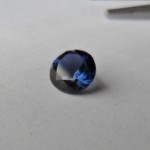 sydp
Participant
Hi Huttonit, thanks for the info, but I am a little confused in relation to your RI reading 1.68.
if this is corundum it should be between 1.762 – 1.778 with a Birefringence of about .008 Negative. If you do not get these readings or close to them then I would suggest it is not sapphire.
Although if the table is cut at 90% to the C Axis of the crystal I can understand that you could get a single refractive reading from the table but once again it would fall in the range of the above for corundum.
hope this helps.