Related Articles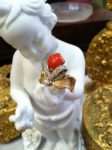 Deep-water coral displays bright, rich reds and delicate pinks. Our precious coral buying guide will help you choose a gem for your next jewelry piece.
Acid testing is a destructive procedure gemologists can use to determine if some pieces are real or fake. Learn how to perform the test safely here.
Everything you ever wanted to know about coral. Find value guidelines, scientific data, expert comments, and more in our Gemstone Listings.