by Donald Clark CSM
The Nomenclature of Jewelry, or… "What do you call that thingy?"
Jewelry is composed of many parts. Sometimes they are cast as a single piece, other times they are assembled from separate components. Either way, each of these parts has a name. The individual parts are called findings. The term "setting" refers to an unfinished ring, brooch, etc., with places to hold gems.
Gem Settings
There are three methods of securing a gem with metal. They are bezel, prong, and channel settings. Pearls tend to turn inside prongs, which damages their surface, so they are usually set with an adhesive. Occasionally other gems are glued as well.
---
Bezel Setting
A bezel is a metal band that wraps around a stone. They are stronger than prong settings, but have the disadvantage of not allowing as much light into the gem. For this reason, they are generally used for cabochons. Faceted gems look better in prong settings where more light can enter the stone…. Most bezels are hand made, but one can order bezel cups in standard sizes.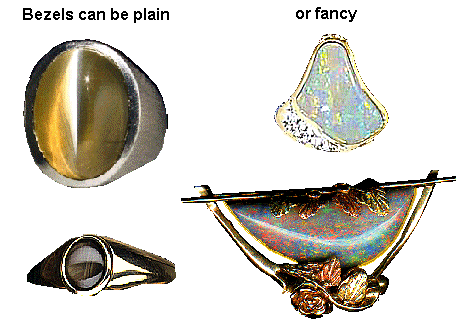 ---
Prong Settings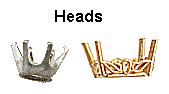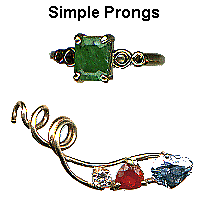 The pieces that hold the stones are called "heads." They come in the same shapes as the gems they hold; round, oval, rectangular, marquis, etc. Heads can hold single stones or many.
Some heads are solid pieces and others are wire baskets. Note the amount of metal used as it varies considerably. The more metal, the stronger the setting.

Prong settings are preferred for faceted gems. Sometimes they are as simple as a few pieces of wire soldered onto the main piece.
This technique is very versatile. It can be used for simple or elaborate designs. This cocktail ring features a cushion shaped sapphire, surrounded by diamond baguettes.
---
While some prongs are just wires, others are much stronger. These are designed for daily wear.

---
Tiffany Settings
Early in the last century, the famous jeweler Tiffany came up with a new setting. This holds the gemstone higher, allowing more light in the gem and showing it off to greater advantage. It has become very popular and carries his name.
---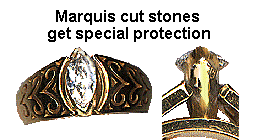 Marquis Cut
Marquis cut stones have sharp tips that need special protection.
Small Stones Settings
These settings make the gems look larger than they actually are. Since smaller gems both weigh less and cost less per carat, this is an affordable way to get additional sparkle for your budget.
---


Flower Heads
Some settings are designed to resemble roses or buttercups. These settings do wonders for highlighting small gems. They are usually found in earring and pendants.
---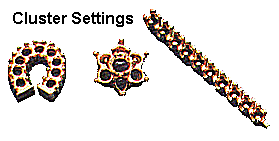 Cluster Settings
Cluster setting come a variety of shapes, with anywhere from three to a dozen stones. They are used in almost every type of jewelry. They found on rings, make earring heads, dangles, etc.
---

Illusion Settings
An illusion setting allows a small gem fit a larger setting.
---

Bar Settings
Bar settings are usually made of platinum or white gold. The shiny, angled surfaces enhance the gem as well as making it appear larger. They are used mostly in men's rings.
---

Wrap Tite
Related to the bezel setting is a thing called a wrap-tite. These go around a stone's girdle and have a loop for an attachment. They are used in necklaces and bracelets.
---
Other Settings
Some settings are actually techniques, rather than components.
---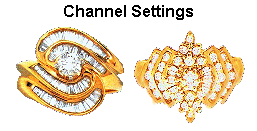 Channel Setting
Channel settings align several gems in a row. The channels are cut length wise in the ring. The stones are placed in channels, which overlap their edges.
While beautiful, they are prone to loosing gems. Lifting a heavy suitcase can cause enough bend in a ring for the stones to pop out. If you chose a channel setting, make sure it has substantial metal both in the band and around the stones.
---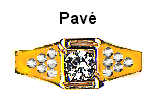 Pavé
Pavé means to pave, as in laying cobblestones close together. This is one of the most difficult gem setting techniques and only the best goldsmiths can do it well.
First, holes are drilled that are just slightly smaller than the diameter of the stones girdles. The stones are laid in place then, with a V shaped chisel, a small prong of gold is raised and pressed over the girdle of the gem. When done properly, light will reflect off all the tables in a row simultaneously.
---

Gypsy
This is an ancient technique. A simple ring is cast, and then the excess metal is cut away, leaving a setting for the stone.
Rings
The basic component of a ring is the shank, which is the part that wraps around the finger. They come in many styles, sizes, and shapes. Some will have stones added; others will be worn unadorned.

---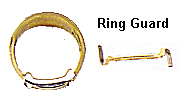 Ring Guards
For people with arthritic knuckles, there are ring guards. These are spring like mechanisms, that open to go around the knuckle and then tighten to fit around the soft part of the finger.
There are also mechanical ring settings that open up, then close like a key ring. These are loosing popularity as they are expensive and difficult to use.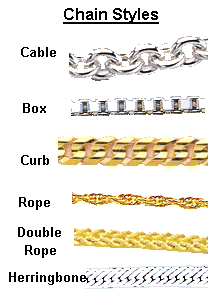 Necklaces
Some necklaces are made of chain, others are composed of pearls or beads strung on a cord. Still others are made from a variety of pieces linked together.
Some neck pieces are made from a single, solid piece of gold or silver. These are called neck rings.
---
Chains
Chains are described by three factors. The metal they are made from, the style, and width. For example, you can order a seven millimeter, curb chain in 14 karat gold.
Chains come both in bulk and as finished necklaces.
---
Cords
Silk is the traditional thread for beaded necklaces, but modern polyesters are now more popular because they have a longer lifespan. Tiger tail is a plastic coated wire, which is used with heavy beads. Occasionally other materials are used, including leather, velvet, and hemp.
Cord Sizes
Silk A B C D E F FF
Nylon 1 1.5 2 3 4 5 8
---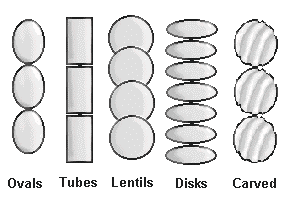 Beads
Pearls are the most popular ingredients for strung necklaces. Beads are made from gemstones, metal, glass, wood, and shell.
Beads are described by the material they are made from, their shape, and size. For example, you might order 12 mm, rose quartz lentils.
---
Metal Beads


Beads are also made of precious metals. Some are solid, others are plated or filled. Spacer beads come plain or textured. Others are quite fancy and are used as the primary beads, or centerpieces.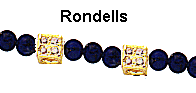 The term Rondell applies to fancy spacer beads. They are usually cylindrical, but not always. They are usually textured and some are even set with gemstones. They serve as accents to the primary beads in the necklace.
---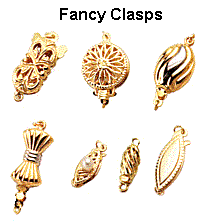 Clasps
Unless tied together, necklaces are joined by clasps. There are nearly as many styles of clasps as there are necklaces. The size and quality should compliment the necklace…. Fine jewelry will have fancy clasps. Many incorporate filigree and some even have precious gems.

The strongest type clasp is a lobster claw. They have massive amounts of gold for maximum strength.
Another mechanical clasp is the spring ring. These are lightweight and inexpensive. Unfortunately, they are not as strong as other clasps, so you will usually find them on less valuable pieces.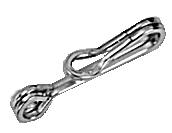 The simplest clasp is a just a hook and eye made from wire. These are usually hand made. While simple, they are very strong and are a nice compliment to some designs.
---
Festoons
Some necklaces have a fancy metal centerpiece. This is called a festoon. They can be merely decorative, or be set with gems.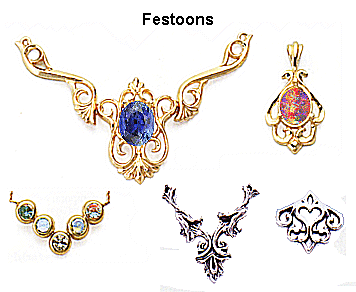 ---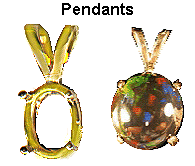 Pendants
Pendants are items that hang from a chain or beaded necklace. They may hold gems, or be decorative objects in themselves.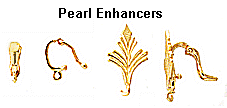 Some pendants are called pearl enhancers. They have a clip that goes between pearls or beads. They can be added or removed as the owner chooses.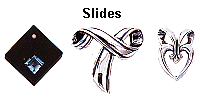 Others pendants are called "slides." These are accents that go on chains. As the name implies, they are free to slide from side to side as the chain moves.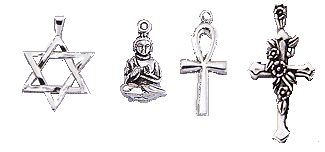 Some pendants are centerpieces in themselves. They come in the shape of religious symbols, or simply decorative designs.
Small pendants are called charms. They are most often used on bracelets and occasionally used on necklaces.
---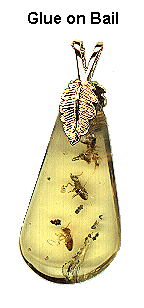 Bails
The part of the pendant that goes over the chain is the bail. If it has two loops, it is a "rabbit ear."

Most bails are attached to a metal pendant, but some connect directly to a stone. Peg bails are glued in a hole in the top of a stone. They are used primarily for inexpensive, tumbled gems. … Another type of bail is designed to be glued on the back of a cabochon. It keeps the cost down, (compared to a bezel setting,) and does not distract from the gem.
Sometimes, as in this amber pendant, it is the most practical finding to use, as you would not want to drill a hole in this stone.
---

Bell Caps
Bell caps are similar to bails. They glue on the end of a crystal.
Ear Jewels


Most ear decoration are worn on the lobe. They can either go through a pieced ear lobe, or attach to it by pressure.
People without pierced ears use clip on or screw on earrings. They are nearly as versatile as pierced earrings. The front can be plain or decorated and many have a loop for a dangle accent.
---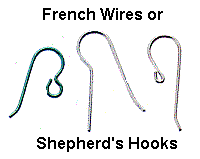 Wire Earrings
There are many types of earrings for pierced ears. Kidney wires are simple pieces made from bent wire.
French wires and shepherd hooks are the same thing. They are also made from wire, but are not closed like a kidney wire. All of them use loops to add decorations.
---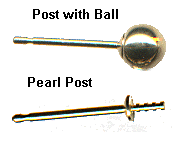 Post Earrings
Post earrings are very common. They may have a setting on the end, or a simple ball. Any of these can have a ring added for a dangle accent.
There are special posts for pearls. They feature a grooved pin that glues into the pearl and a cup to hold the gem.
---

Backs
Post earrings are held by a clutch or nut. Clutches work by friction, nuts screw on. Most ear backs are the same metal as the earring, but some put a soft plastic pad against the ear.
---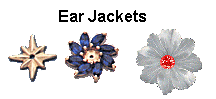 Ear Jackets
Ear jackets are design pieces that fit behind stud earrings. They offer a means to add more variety to your jewelry with a minimum of expense. They can be a decorative piece of metal, stone, or something set with more gems.
---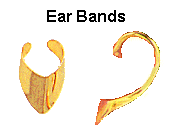 Ear Bands
Another form of ear jewelry are ear bands. They are pieces of metal that wrap around ear.
---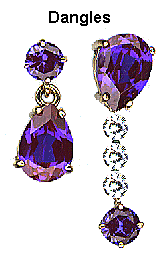 Dangles
Dangles are pieces that hang and swing. They are used with earrings, necklaces, brooches, and occasionally bracelets and finger rings.
Dangles are made several ways. Any gemstone head can be used as a dangle. A jump ring, or a circle of metal, attaches them to the main piece. Strips of smaller gems can be used to connect the gem to the earring.
Another method is to put beads on a head pin. The end is bent to attach to the main piece.

Attachments

Rings
Mention was just made of a jump ring. That is nothing more than a circle of wire. They are commonly used in necklaces and earrings. A jump ring must be soldered together, or it will easily pull apart.
An alternative to a jump ring is a split ring. This is a spring tight double circle of wire, much like a key ring.
---

Bead Tips
Bead cord is sometimes tied directly to the clasp. Other times, a bead tip is used to hide the knot. The knot is inside the tip, which is bent over the end of the clasp, or an attaching jump ring.
---

Crimp Beads
Crimp beads, are a tube of metal that secures the ends of tiger tail. As the name implies, they are crimped together with pliers.
---


Multi-Strand Necklace Accessories
Necklaces with more than one strand of beads use spacers, pieces of metal with holes, to keep the strands separated.
Multi strands often have the ends covered with a bell or cone.
---

Chain Ends
Chains also have special pieces to attach the clasp. They come in cylinders or flat shapes, to fit the type of chain. They are soldered on the end of the chain and offer a loop to attach a clasp.
---

Swivel Connectors
While not often used, there are swivel connectors that allow a hanging feature to rotate.
---

Brooch Pins
Brooches attach to clothing with a pin. Pins can be made from scratch, purchased whole, or in parts. Some are made from steel for strength, others from precious metal that matches the brooch.
Miscellaneous Findings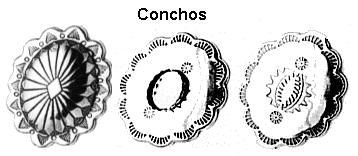 Some findings have no specific purpose, but are made to give the artist more versatility, without a great deal of additional labor. For example, Conchos, a Native American silver design, are used in bolos, belts, and hatbands.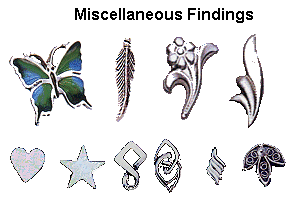 Other general-purpose findings include letters, symbols, realistic or stylized birds, stars, etc. These are soldered to the front of a bail, to earring post, dangles, charms, the side of a ring, etc.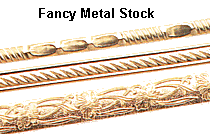 These type findings are cast or stamped.
Rolled stock, decorated wires, are available for ring shanks, bezels, and other uses.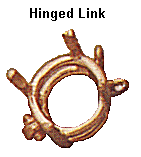 More Findings
While the above are the most common findings, they are by no means all of them.
There is a wide variety of bracelets, ID, gem set, chain, bead, etc. Solid bracelets are called bangles.
Gem set bracelets have hinged links. Most bracelets use the same materials and clasps as necklaces.
---

Cuff links come in one or two pieces. Some are intended to be engraved, others set with stones, and some are decorative in themselves.
---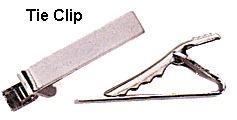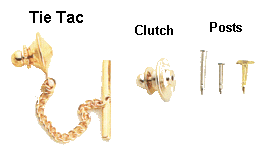 Tie tacs have posts, clutches, and chains.
Tie clips are engraved, have gems or designs on the front.
---
Watches have metal bands with depressions to inlay stones. Leather bands have buckles and links, as do waist belts.
---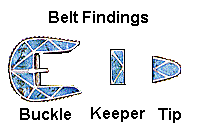 Western style belts come with buckles, tips, and keepers. These can be all metal, use cabochons, or be inlaid with stone chips.
---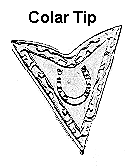 Western wear also includes collar tips, boot tip and heal decorations.
---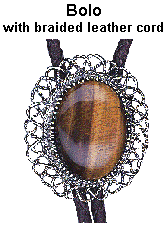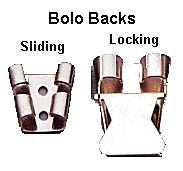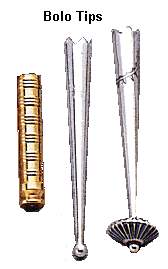 Bolos feature a fancy metal centerpiece, a loose stone, or a bezel set stone. They require a cord, usually braided leather, a back, and tips.
---

There are lockets and picture frames, ready to add a pin to wear as a brooch, or hang from a chain.
---
Pins are used in people's hair, in hats, and lapels. They run from plain to highly decorated. Clutches are used on the end, for safety and comfort.
Besides pins, barrettes, combs, and hair bands, come in precious metals, ready to decorate.
---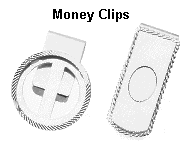 In addition, you will find chain tags, small piece of metal with the jewelers name engraved.
Key chains, watch fobs, knives, cigarette lighters, metal and gemstone buttons, button covers, and money clips are often of jewelry quality. The findings come in precious metals with areas to engrave, set stones or coins. Other non-wearable items include, eating utensils, boxes, letter openers, and bookmarks.