Oregon Sunstone

Oregon Sunstone Information
For your gem needs see our Recommended Suppliers.


CHEMISTRY A calcium rich species of plagioclase feldspar,
sometimes with copper or hematite inclusions and traces of iron; 32% Albite, 68% Anorthite
CRYSTALLOGRAPHY Monoclinic
REFRACTIVE INDEX 1.560 - 1.572
HARDNESS 6 - 6.5
SPECIFIC GRAVITY 2.69 - 2.72
CLEAVAGE Perfect two directions.
HEAT SENSITIVE No
WEARABILITY* Poor
SPECIAL CARE INSTRUCTIONS Avoid rough handling
ENHANCEMENTS None
*Wearability is graded as Excellent, Very Good, Good, Poor, and Forget It!
For more details see the article on "Hardness and Wearability."

Oregon Sunstone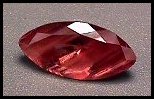 ...What a nice coincidence that Lapidary Journal's cover story for January, 1998 is on Oregon Sunstone! The article points out that prior to the finds of substantial amounts of facetable crystals in Oregon, most sunstone, much of which came from the Orient, was used for cabbing material, or in the production of pale yellow, low value, faceted goods. Such is the case no more. An incredible variety of high value sunstone rough is now being extracted by several mining companies as well as on public collecting sites in Oregon.
...Two main features are notable in rough from this location: 1) strong body colors ranging from pinks and tans to oranges, greens and reds as well as bicolors, and 2) fine grained coppery shiller which allows for transparency in the stone yet still produces the phenomenon of aventurescence or "glitter". Every combination of shiller or lack of it and color is found.
...Collectors and jewelry lovers from all over the world are fast becoming aware of this uniquely American gemstone.
---
Value
... Since there are so many different kinds of sunstone, the values range widely. The least valuable form is the pale yellow to colorless non-phenomenal type which in native cut, or calibrated stones may go for a few dollars per carat and for custom cut stones in the $20/ct range.
... The pinks and tans, with and without shiller, commonly range up to $50/ct depending on the effect. The opaque cab-type stones are modestly priced. The some greens, strong pinks and reds as well as the bicolored and tricolored stones with and without shiller are offered in the $50 - $300/ct range.
... The most valuable color is red with large, (over 3 carat,) stones of prime color retailing at as much as $1700/ct, according to Sinkankas, and at $1000/ct in Federman's book. The best greens are very rare and may cost more than the best reds.
... Sunstone is often used for carving material; carvings are valued as much for their artistic merit as for the value of the material itself.
---
Text and photos courtesy of Barbara Smigel at Artistic Colored Stones.