IGS may receive customer referral fees from the companies listed in this page.
Learn more.
Best Engagement Ring Settings Under $2,500
Finding the right engagement ring setting at the right price can seem like an uphill task. With thousands of engagement ring options available on the market, how do you pick the right one for you? The first thing to appreciate is that selecting an engagement ring setting is a matter of personal preference. While one person may find solitaire engagement rings classic, another may consider them too simple. Similarly, a vintage engagement ring might inspire wonder in one but appear outdated to another.
In this guide, we have compiled a list of the top engagement ring settings under $2500. Remember that you can easily customize all our picks with your choice of metals, diamonds, or gemstones.
Our Winner
We love this three-stone dual tone ring with the diamond melee artistically placed on the setting.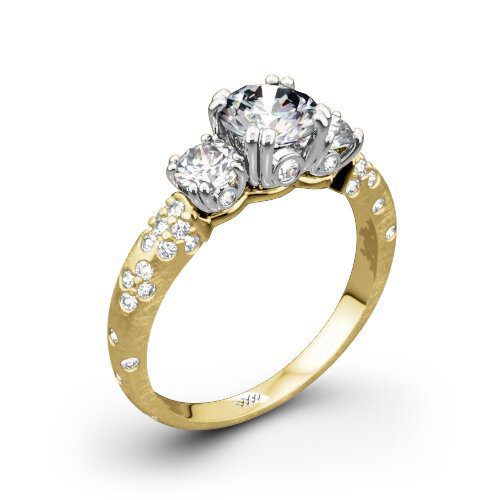 Tips for this Budget Range
In this budget range, consider a diamond halo setting, which can enhance the appearance of a smaller, central stone.
Best Solitaire Engagement Ring Settings
18K Gold Two-Tone Ribbon Bypass Solitaire Engagement Ring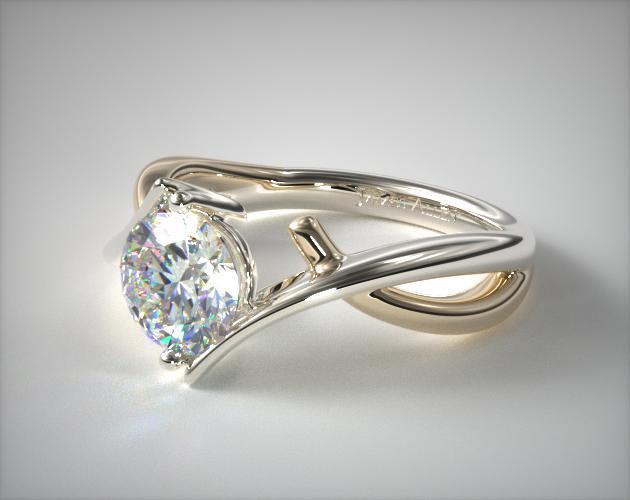 This exquisite and modern piece features a unique two-ribbon design that "branches" out along the outer edges then interlocks towards the center, framing the center stone in a beautiful double-pronged setting. The interlocking ribbons come in two-tone 18k gold, providing dazzling contrast to the ring bands.
18K Yellow Gold Criss Cross Diamond Solitaire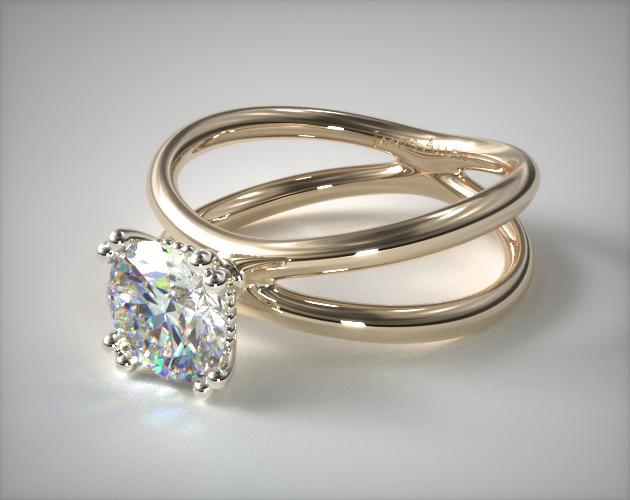 If ring real estate is a significant factor for you, you cannot go wrong with the 18k yellow gold cross diamond solitaire engagement ring. With beautifully arching shanks sweeping from the back edge to the front, this solitaire engagement ring delivers a stunning display of elegance.
Monique Lhuillier Amour Solitaire Engagement Ring in Platinum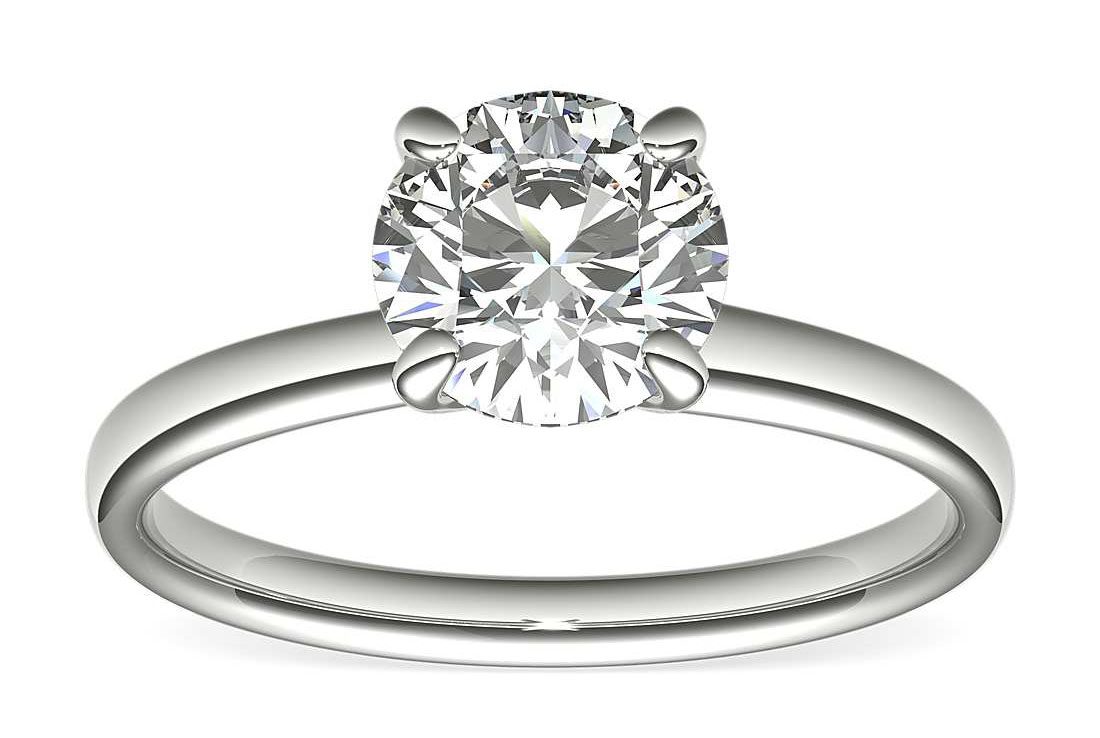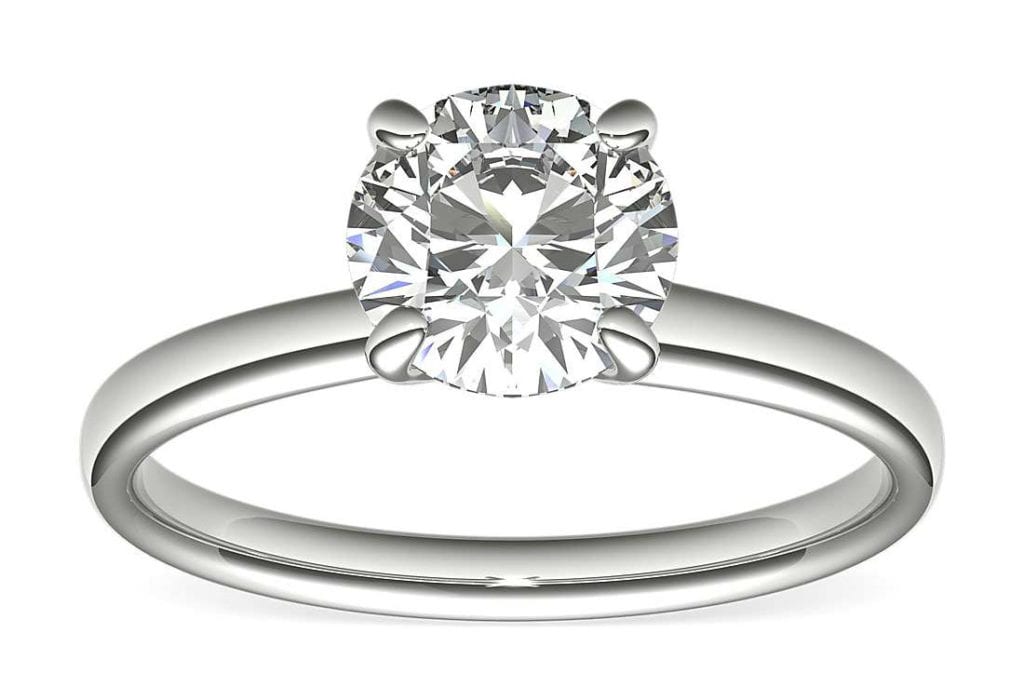 The signature Monique Lhuillier Amour solitaire engagement ring is the epitome of timeless class and elegant simplicity. Featuring an interlocking four-pronged basket, the centerpiece diamond delicately floats at the apex of a smooth wraparound ring setting. The Monique Lhuillier Amour is an excellent choice if you are looking for a ring with the original solitaire setting.
Best Vintage Engagement Ring Settings
Monique Lhuillier Jardin Diamond Engagement Ring in Platinum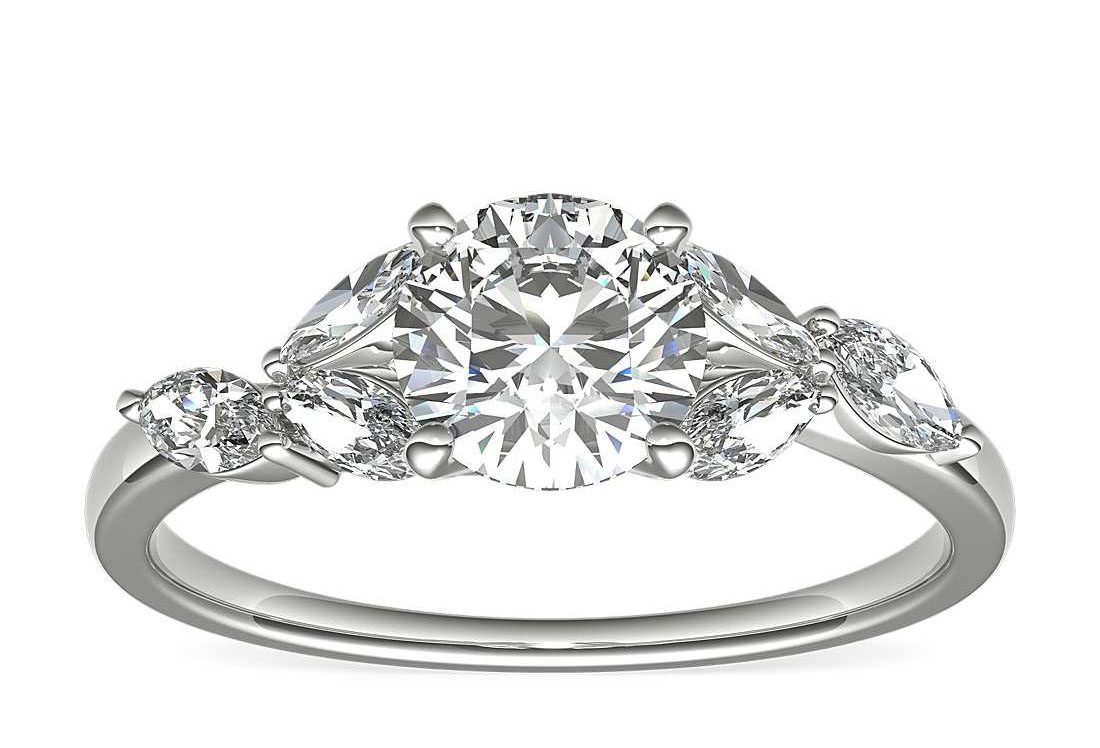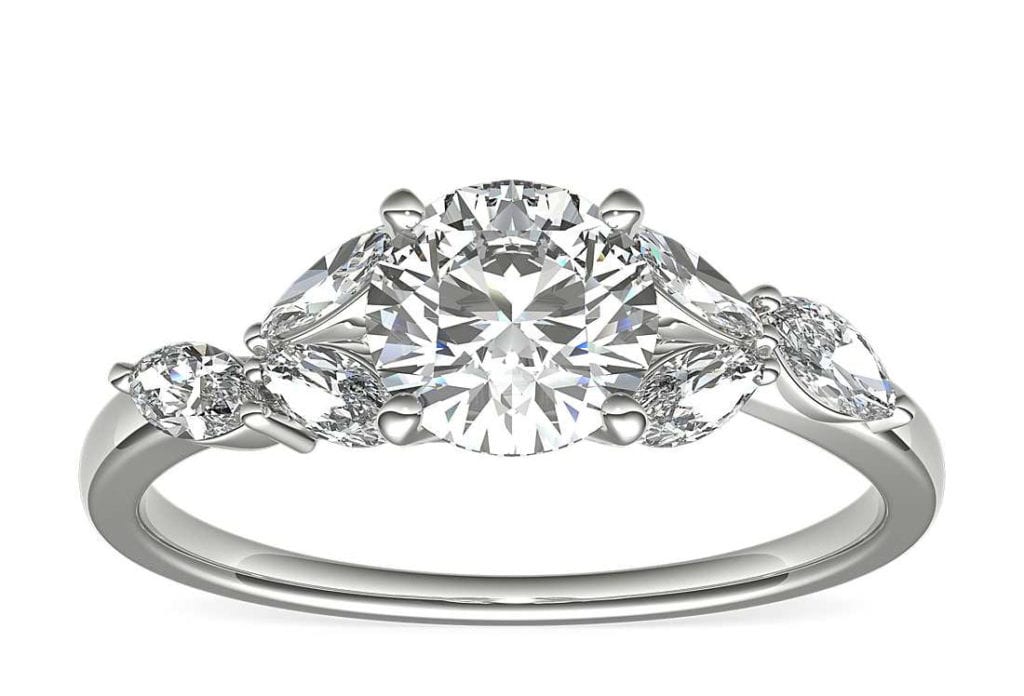 Featuring a breathtaking floral motif, the platinum Monique Lhuillier Jardin engagement ring is designed with a sense of purposeful antiquity in mind. With three exquisitely detailed marquise-cut diamonds on each side framing the central diamond, this engagement ring is an incredible multi-diamond beauty.
18K Yellow Gold Diamond Filigree Engagement Ring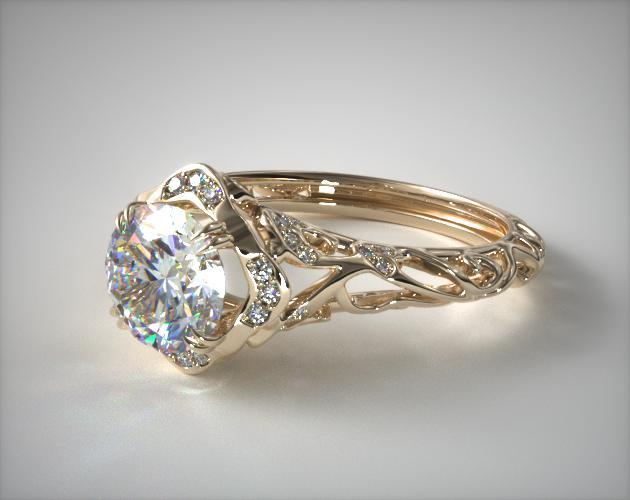 An 18k gold filigree setting sets the diamond filigree engagement ring apart as a timeless vintage classic. This spectacular ring is bound to appeal to anyone looking for a ring that can quickly become a family heirloom. Set within the intricate design are smaller diamonds with a large central diamond crowning this incredible vintage diamond engagement ring.
Best Pave Engagement Ring Settings
Blue Nile Studio Petite French Pavé Crown Diamond Engagement Ring in 18k Yellow Gold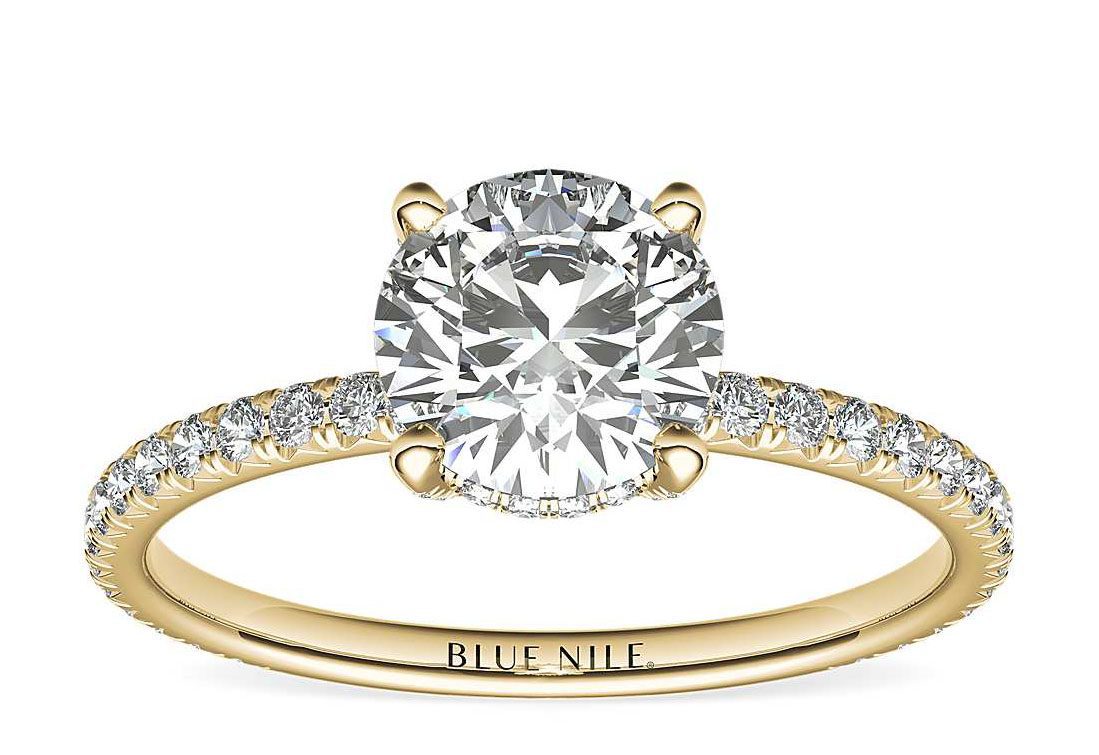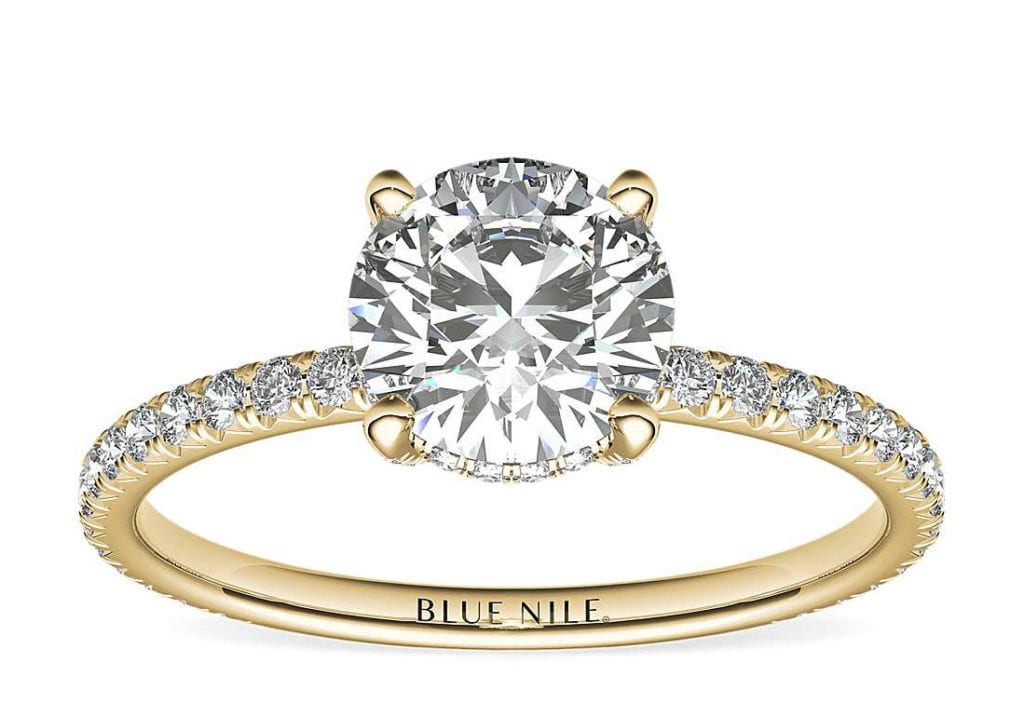 Beautifully simple yet intricately elegant, the Blue Nile Studio Petite French Pave Crown diamond engagement ring invokes a sense of royalty with its first impressions. Featuring intricately-set French pave diamonds encompassing a central diamond, the ring is an exquisite choice for anyone seeking a delicate blend between simplicity and intricate design.
Riviera Pavé Diamond Engagement Ring in Platinum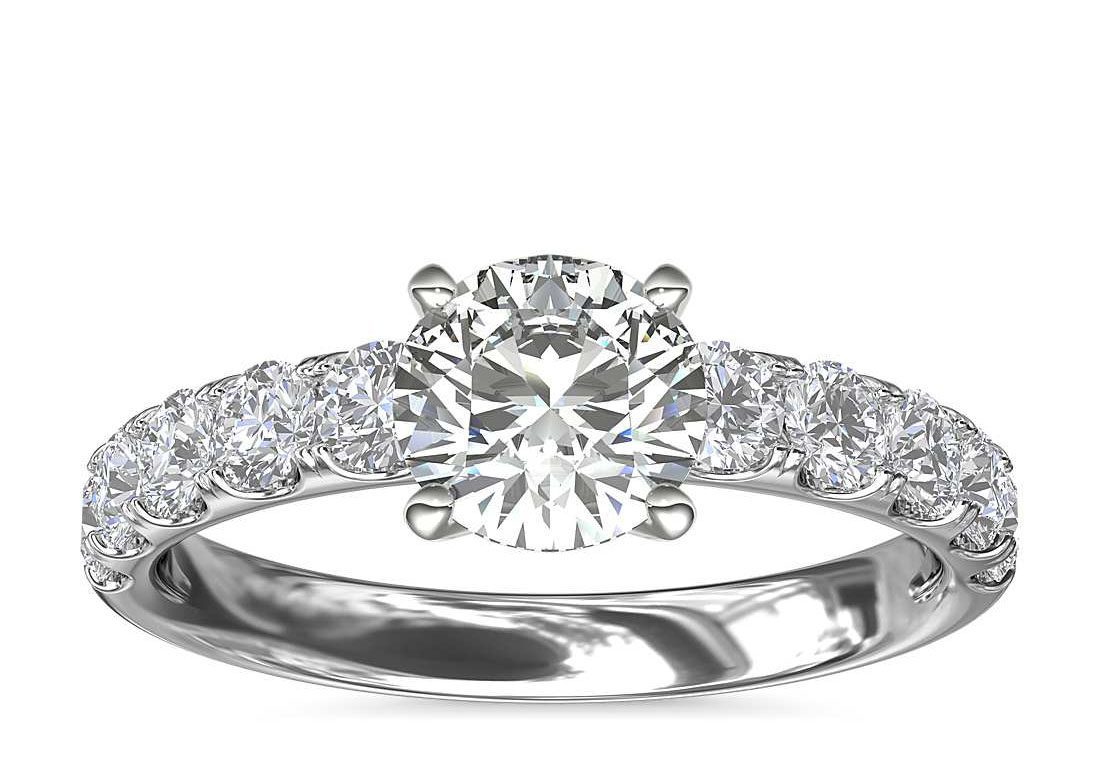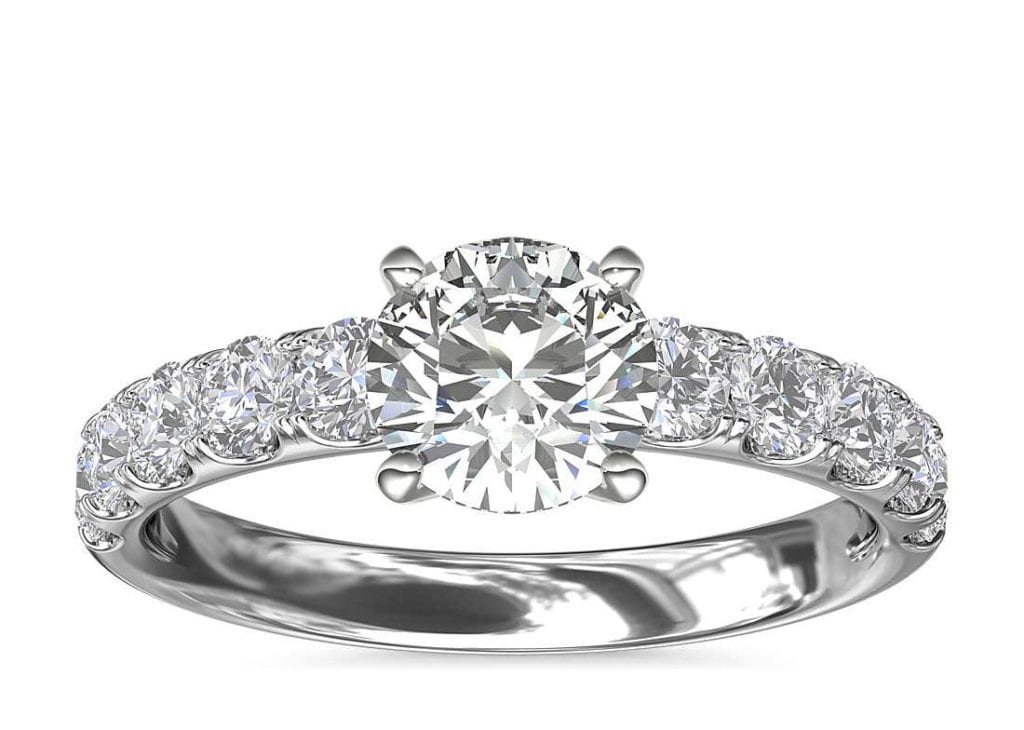 Resting on a four-pronged cathedral setting, the central diamond in the Riviera Pavé diamond engagement ring is flanked by a string of beautiful French pave diamonds. Delicately combining a classic solitaire design with the trendy pave design, this ring's design provides enhanced brilliance to the ring's visible area when worn.
Blue Nile Studio French Pavé Diamond Crown Solitaire Engagement Ring in Platinum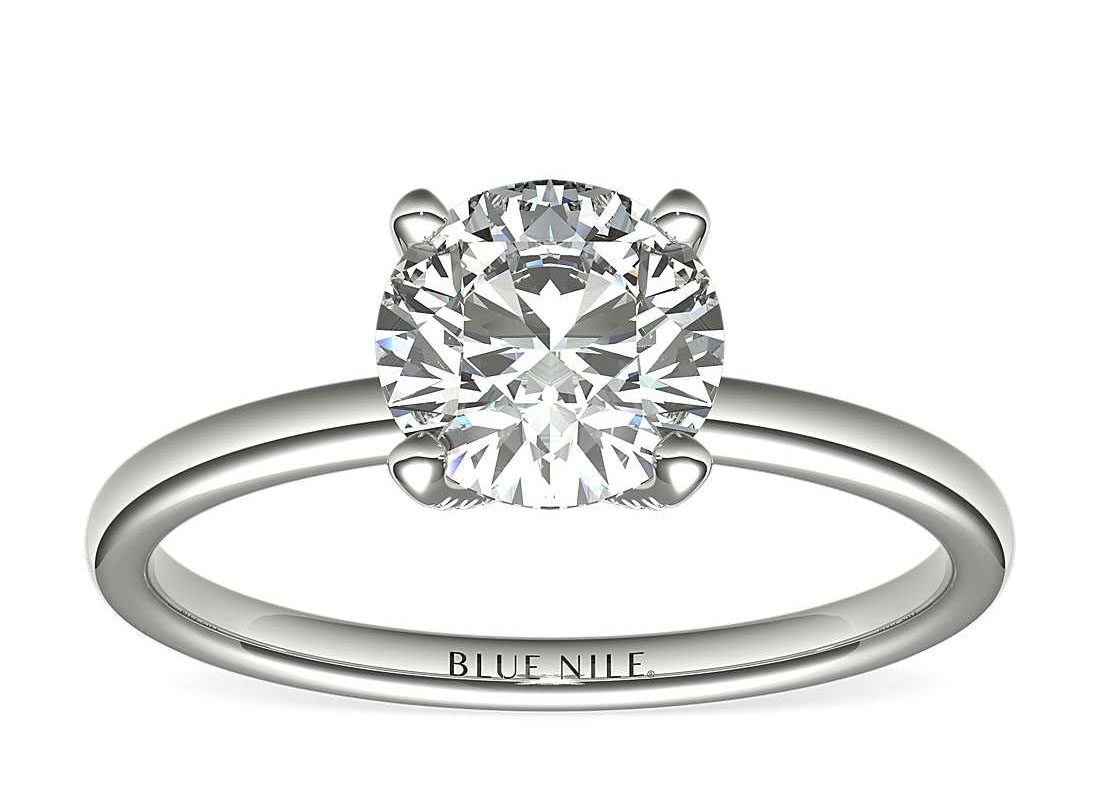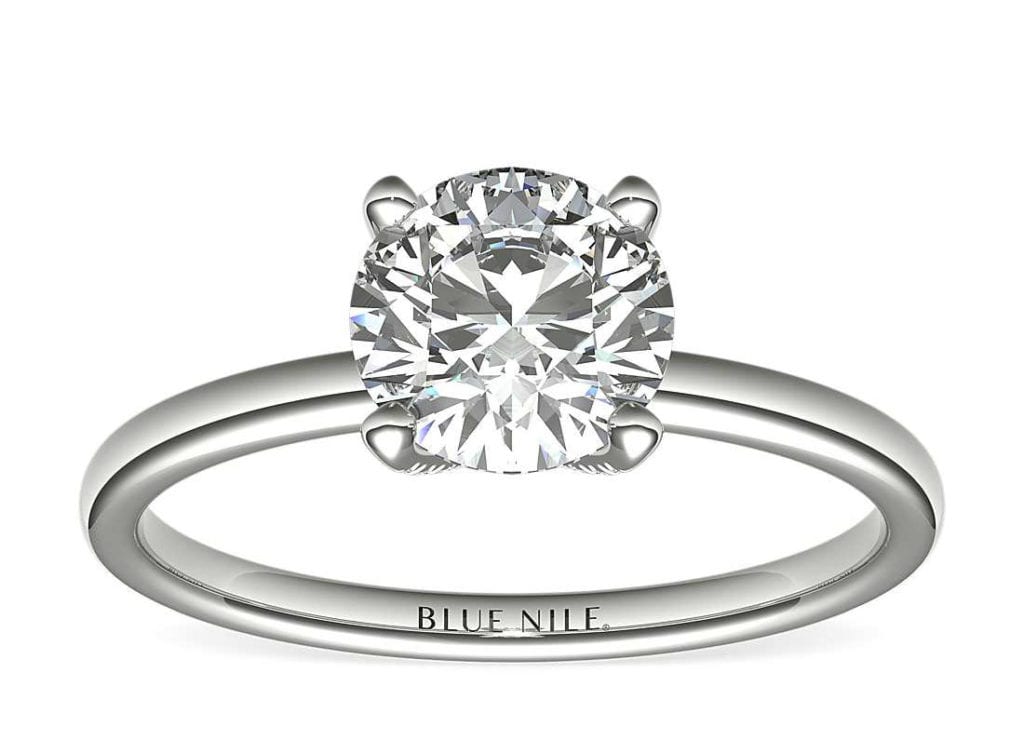 You will be forgiven for not seeing the numerous tiny pave-set diamonds set into this ring's basket. A whimsical take on the traditional pave design, the platinum Blue Nile Studio French Pavé Diamond Crown solitaire engagement ring can only be categorized as a work of art.
Best Halo Engagement Ring Settings
Simple Flower 18K White Gold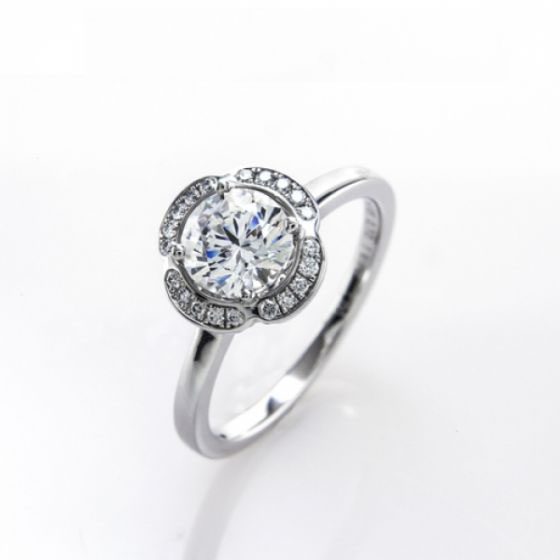 As the name suggests, the Simple Flower ring setting in 18k white gold is intricately designed as a four-petal flower, with each petal formed from four smaller diamonds. The four petals ring a central diamond of your choice, enhancing its brilliance. The ring comes with a total of twenty stones.
Cushion Duet Halo Diamond Engagement Ring in 18k White Gold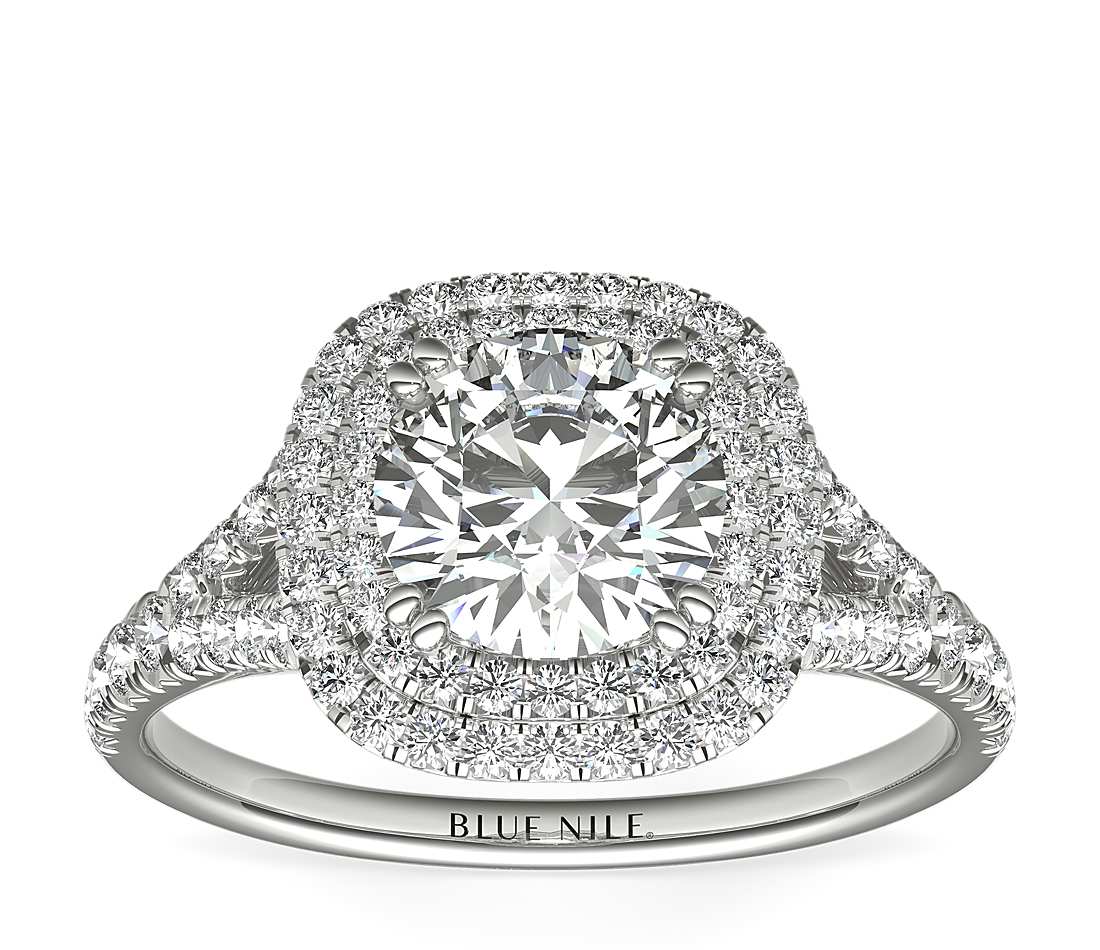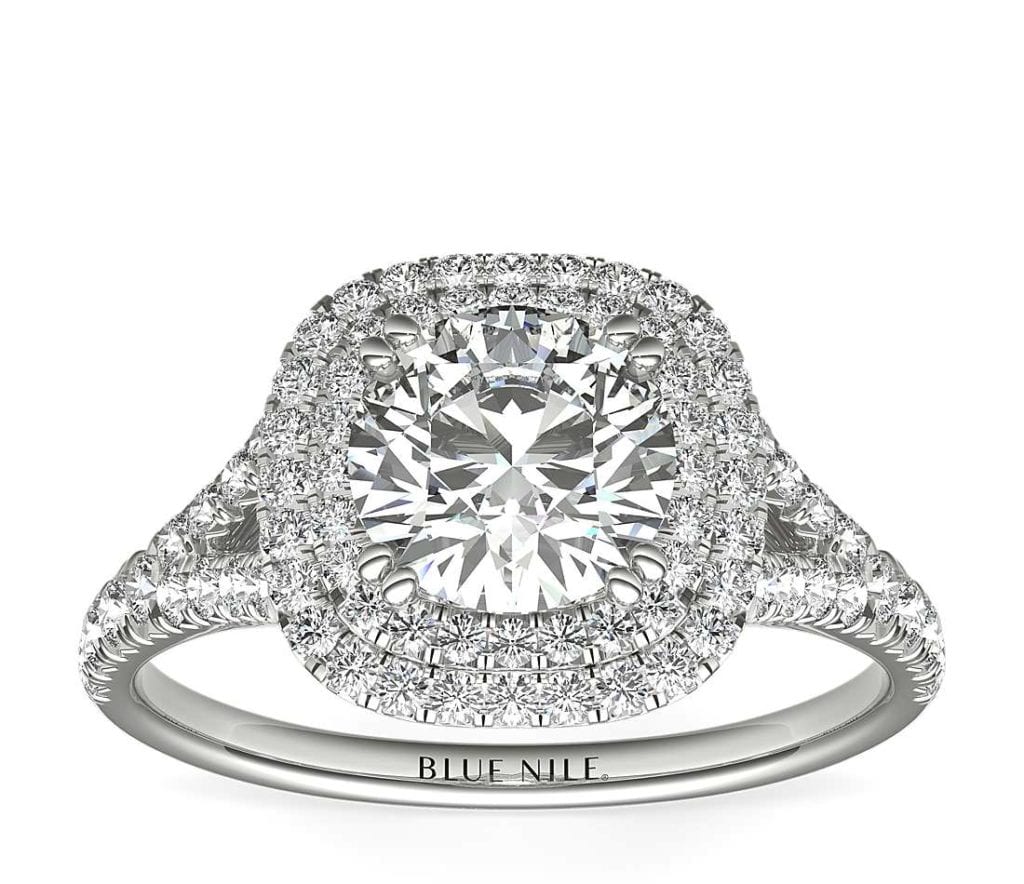 If a ring that makes a bold statement is what you have in mind, you cannot go wrong with the Cushion Duet Halo diamond engagement ring. The ring has a melee of diamonds surrounding the centerpiece diamond along a cushion-shaped halo, offering unparalleled brilliance at a sub-$2500 price point.
The Anita Halo 18K Rose Gold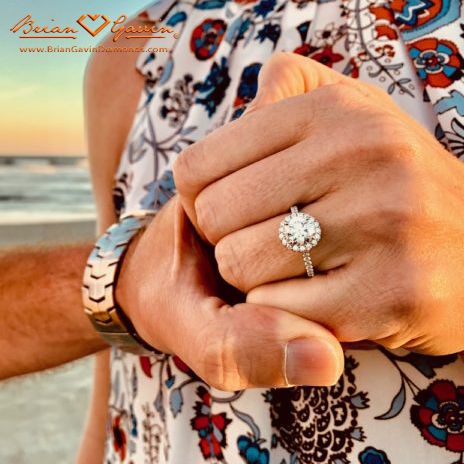 The Anita Halo's triumphant design excels in its ability to hide intricate design behind a cluster of brilliant diamonds. Underneath the cushion-shaped centerpiece diamond halo basket, you will find heart-shaped prongs that accentuate the ring's aesthetic appeal.
Best Three-Stone Engagement Ring Settings
Platinum Simon G. MR2342 Dutchess Three Stone Engagement Ring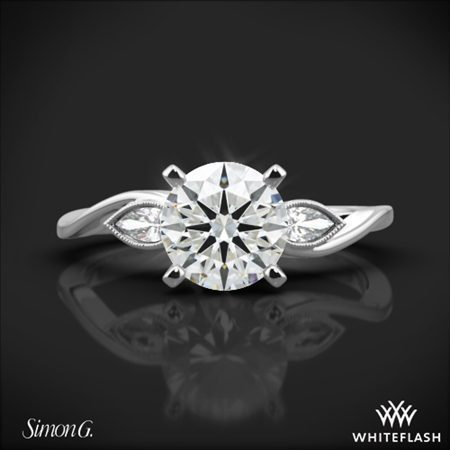 The Dutchess three-stone diamond engagement ring features gracefully appointed pear-shaped side diamonds set in a milgrain bezel, offering an elevated view of the central diamond. When viewed from the top, the ring gives a floral appearance that flows into the sweeping curves of the ring's band.
Zac Posen Three-Stone Emerald-Cut Diamond Engagement Ring in Platinum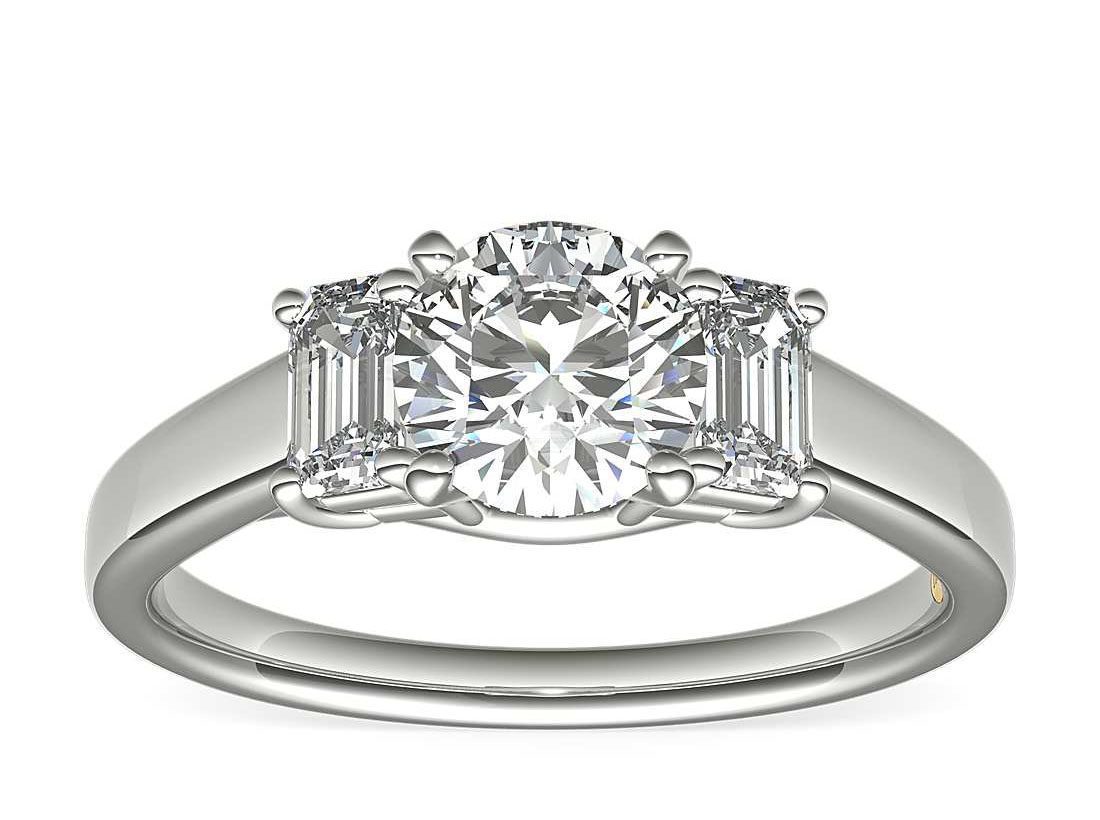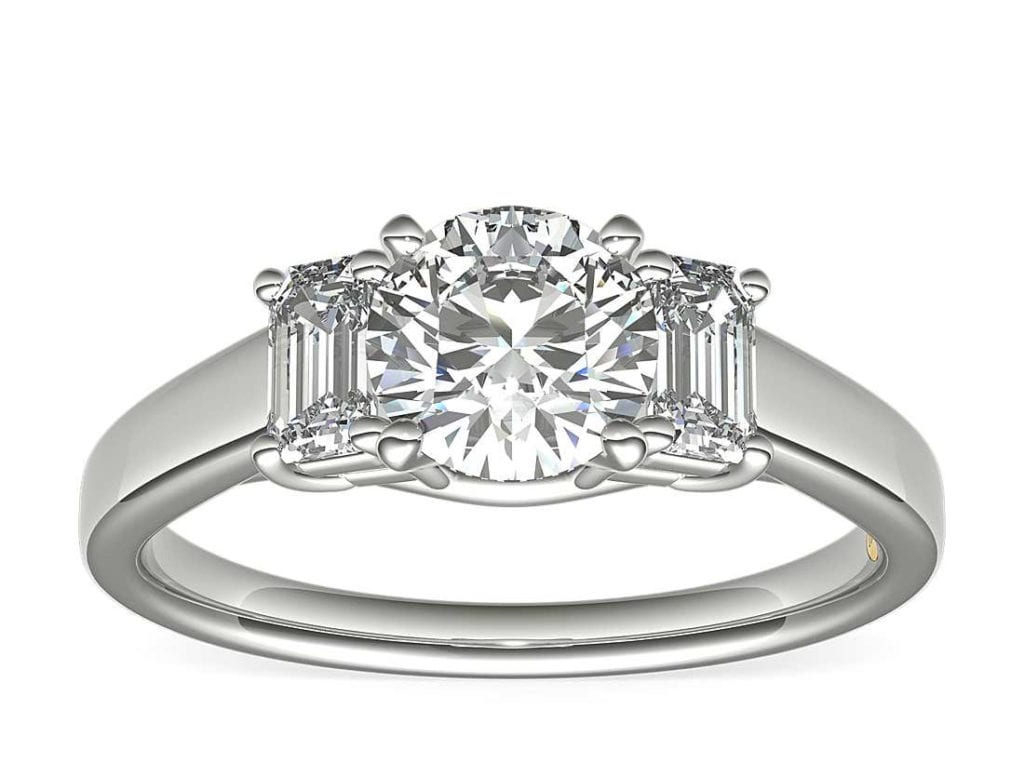 Add a touch of vintage with this elegant three-stone diamond engagement ring with emerald-cut side stones. Set in a simple smooth band, the platinum Zac Posen engagement ring's centerpiece formation features multiple arches that support the center stone and the side stones.
18k White Gold Champagne Petite 3 Stone Engagement Ring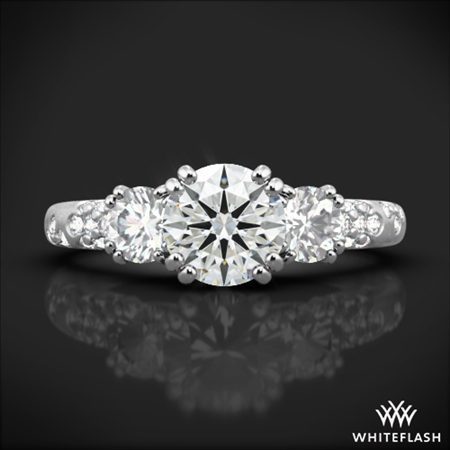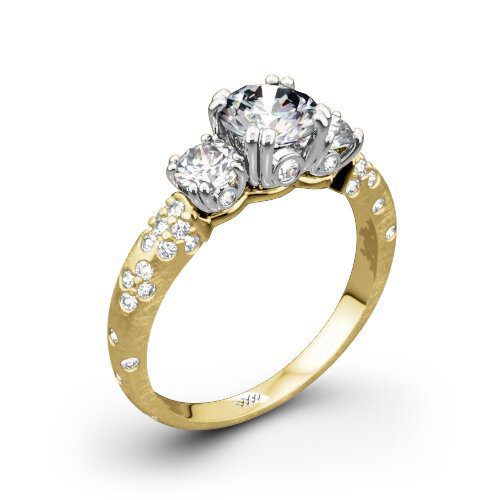 The Champagne Petit diamond melee setting is bound to be a showstopper. With three central stones surrounded by a cluster of diamonds, the ring offers exceptional brilliance at this price point. The ring's band is intricately studded with smaller diamonds, giving the ring extensive diamond coverage across the entire design.