Enstatite Value, Price, and Jewelry Information
---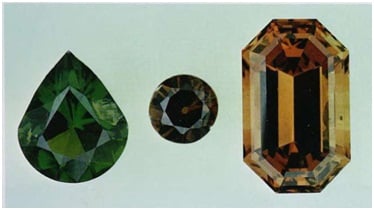 Enstatite Value
Highest values go to transparency, colorless, then size. In cabochons, asterism.
The International Gem Society (IGS) has a list of businesses offering gemstone appraisal services.
See the entire Gem Price Guide.
Start an IGS Membership today for full access to our price guide (updated monthly).
Enstatite Information
| | |
| --- | --- |
| Data | Value |
| Name | Enstatite |
| Varieties | Bronzite |
| Crystallography | Orthorhombic. Crystals are prismatic and not common for most members of the series. Twinning is common, visible as lamellae in crystals; often crystals have interleaved lamellae of ortho- and clinopyroxenes. |
| Refractive Index | 1.650-1.788. Most gem-quality estatites have RIs 1.663-1.673. See "Identifying Characteristics" below. |
| Colors | Enstatite is colorless, gray, green, yellow, and brown. The same range applies to bronzite. Hypersthene is green, brown, and grayish black. Orthoferrosilite tends to be green or dark brown, generally somber tones. |
| Luster | Enstatite is vitreous. Bronzite is vitreous to submetallic. Hypersthene is vitreous, pearly, or silky. Orthoferrosilite is vitreous. |
| Polish Luster | Enstatite vitreous. Bronzite vitreous to submetalic. Hypersthene vitreous, pearly, or silky. Orthoferrosilite vitreous. |
| Fracture Luster | Vitreous to pearly |
| Fracture | Uneven |
| Hardness | 5 - 6 for the whole series. |
| Specific Gravity | 3.20-3.96. See table below. |
| Birefringence | In general, lower than that for the clinopyroxenes. 0.010-0.018. See "Identifying Characteristics" below.. |
| Cleavage | Good in 1 direction for all species in series |
| Dispersion | Generally low and becomes zero when 2V= 90° and 2V= 50° |
| Stone Sizes | In general, gems from this series are small (large ones are too dark in color to be attractive), and crystals tend to be small. The exception is star stones, of which large examples exist. Enstatites and hypersthenes of 5-10 carats, if clean and lively in color, are very rare stones. Indian star enstatites over 50 carats are frequently encountered, but Indian faceted gems over 10 carats are rare. Royal Ontario Museum (Toronto, Ontario, Canada): 12.97 (enstatite, Burma). Smithsonian Institution (Washington, D.C): 11.0, 8.1, 7.8 (enstatite brown, Sri Lanka); 3.9 (enstatite, brown, Austria). Private Collection: 4.5 (hypersthene, brown. Africa); 26.6 (enstatite, green, India). Los Angeles County Museum (Los Angeles): 80 (dark brown cushion-cut, Africa). Inclusions: Tabular scales of hematite and goethite have been noted in hypersthene. |
| Heat Sensitivity | Yes |
| Luminescence | None. |
| Wearability | Poor |
| Transparency | Transparent to Opaque |
| UV Long | Inert |
| UV Short | Inert |
| Absorption Spectrum | Directional, strong lines at 506 and 547.5 nm. Tanzanian gems, also diffuse lines at 455, 488 and 555. Arizona gems, also diffuse line at 488. Sri Lanka gems, also diffuse line at 555. Brazilian and Indian gems, diffuse lines at 488 and 555. All gems in this series show a strong line at 5060 and often at 5475. Tanzanian gems: also diffuse lines at 4550, 4880, and 5550. Arizona gems: diffuse line at 4880. Sri Lankan gems: diffuse line at 5550. Brazilian and Indian gems: diffuse lines at 4880 and 5550. Other lines noted: 5090, 5025, 4830, 4590, and 4490. |
| Phenomena | Asterism in bronzite and enstatite. |
| Identifying Characteristics | All species, twinning common, often seen as lamellae in crystals. Hypersthene, tabular crystals of hematite and goethite. |
| Pleochroism | The entire series has a characteristic pleochroism: pink to green. a: pale red-brown/purplish/brown pink. β: pale greenish brown/pale reddish yellow/pale brown-yellow. γ: pale green/smoky green/green. |
| Optics | Biaxial (+). The optic sign changes along the series, from (+) to (-) and back to (+). The break points are at 12% and 88% orthoferrosilite. See "Identifying Characteristics" below. |
Orthopyroxene Group: Bronzite; Hypersthene; Ferrohypersthene; Eulite; Orthoferrosilite.
Composition
This is a complex solid-solution series involving Fe and Mg silicates. The series extends from enstatite: MgSiO3, through bronzite: (Mg,Fe)SiO3, hypersthene(Fe,Mg)SiO3, to Orthoferrosilite FeSiO3. Like the plagioclase feldspars, the series is arbitrarily broken into six regions of composition (numbers refer to percentage of orthoferrosilite molecule in formula):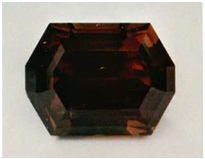 Optic Sign
The optic sign changes along the series, from (+) to (-) and back to (+). The break points are at 12% and 88% orthoferrosilite:

Occurrence
Mg-rich members of the series are common in basic and ultrabasic rocks; also in layered intrusions; volcanic rocks: high-grade metamorphic rocks; regionally metamorphosed rocks and hornfels; meteorites. Gem enstatite occurs in Burma, Tanzania, and Arizona. Also noted from Mairimba Hill, Kenya (yellowish green; a = 1.652; γ= 1.662; birefringence = 0.010; S.G. = 3.23). Other noteworthy localities are Norway, California, and Germany.
India produces 4-rayed star enstatites.
Rare green gems come from Kimberley, South Africa.
Bronzite comes from Mysore, India, and Styria, Austria: 6-rayed bronzite stars have been found.
Hypersthene is noted from Norwa, Greenland, Germany and California, with gem material from Baja California, Mexico.
Bastite is an altered enstatite (S.G. = 2.6, hardness = 3.5-4, opaque) from which cabochons are cut. Localities: Burma and Harz Mountains, Germany.
Embilipitiya, Sri Lanka: colorless enstatite (cut gems up to ≈ 20 carats!) with R.1. = 1.658-1.668; birefringence = 0.010; S.G. = 3.25; quartz inclusions.
Ratnapura, Sri Lanka: green and brown enstatite with R.I. = 1.665-1.675; birefringence = 0.010; S.G. = 3.23.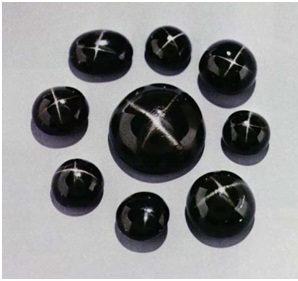 Comments
Most gem enstatites have indices in the range 1.663-1.673. The brown and green gems from Tanzania are enstatites, as are the brownish-green stones from Sri Lanka. Green and brown gems from India and Brazil tend to be in the bronzite composition range. The gems of the orthopyroxene series are usually very dark, slightly brittle because of cleavage, and generally not appealing for jewelry purposes. The 4-rayed star gems are widely sold at a very low price, and the material is extremely plentiful. However, clean gems of hypersthene and enstatite are not abundant, except in very small (1-2 carat) sizes. Even in this size the colors tend to be dark and muddy. These are all true collector gemstones. Orthoferrosilite is included for completeness and has no gem significance.
Enstatite
Bronzite
Hypersthene
Orthoferrosilite
Specific Gravity
3.20-3.30
3.30 -3.42
3.43 – 3.90
3.90 – 3.96
Optics
a
1.650-1.655
1.665 – 1.686
1.686-1.755
1.755 -1.768
β
1.653-1.671

(intermediate)

1.763-1.770
γ
1.658-1.680
1.680-1.703
1.703 -1.772
1.772-1.788
sign
(+)
(-)
(-)(+)
(+)
Birefringence
0.010

0.015

0.017

0.018
Names
Enstatite from the Greek for an opponent because of its high melting point. Bronzite is named for its bronzy color and luster. Hypersthene is from the Greek words for very strong or tough. Orthoferrosilite is named for its crystallography and composition. Bastite is also named for its composition: Ba, Si, Ti.
Variety Names
Bronzite, brown color with fibrous inclusions giving it a bronze appearance.
by