Although
opals
can be been found all around the world, there are only a few major sources of this gemstone. Australian opals account for 95% of the world's supply. Unique geological formations in Australia have favored the formation of this sedimentary stone.
The Great Artesian Basin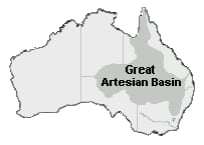 The formation process began about 140 million years ago. At that time, an inland sea, abundant with silica-rich sands, covered much of central Australia. This sea eventually receded and formed what is now known as the Great Artesian Basin.
Around 30 to 40 million years ago, heavy weathering began to dissolve the silica. The holes that were formed in the rock began to collect silica-rich water. Over time, the silicates trapped in these spaces formed opals.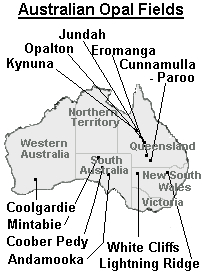 While the Great Artesian Basin is vast, there are only a few sites in this area that are sources of opal. (As any miner will tell you, good quality opal is rare even in the best of areas).
On the map to the right, you can find notable Australian opal fields both within and beyond the Great Artesian Basin.
The Beginning of the Australian Opal Trade
The modern history of opal mining in Australia began in July of 1889. Tullie Cornthwaite Wollaston took 60 brilliant pieces of opal rough mined in Queensland to London.
Despite initial rejections from gem dealers, after Wollaston sold the stones to an international jewelry firm, the demand for Australian opals grew steadily worldwide.
Select Sources of Australian Opals
Today, most black opal (stones with a dark gray to blue-black background) comes from Lightning Ridge, New South Wales and Mintabie, South Australia. The fields around Coober Pedy, South Australia also produce some black opal.
Coober Pedy and Mintabie are also rich sources of light and white opal (stones with a white or light background).
Boulder opal, a thin seam of precious opal on an ironstone matrix, is found at a number of locations in Queensland. Smaller finds also come from Andamooka, South Australia.
Yowah nuts, walnut-sized stones with opals in the center, are found in Yowah, Queensland.