IGS may receive customer referral fees from the companies listed in this page.
Learn more.
Best Pear Engagement Rings Under $10,000
When working with a larger budget for your engagement ring, it can be daunting to figure out how much of your budget to put into the diamond and how much to place in the band. Rings with smaller and fewer diamonds down the band will allow you to choose a larger or more clear center stone. Choosing a more extravagant ring will still allow you to find at least a carat center for a sparkly statement. $10,000 is a large budget so play around with different styles and carat sizes to see which options suit your style the best.
What to Expect for this Budget Range
When shopping for an engagement ring with a $10,000 budget, it is reasonable to expect over a carat for your center stone, no matter earth-mined or lab-grown. If you prefer an earth-mined, you can play around with your budget and go for size in the near-colorless range, or if you prefer colorless and high clarity, you will still be able to get at least a carat in size. If you choose to go the lab-grown route, you will most likely stay in the 1.5-2 carat center range, with plenty of options to choose colorless or near-colorless and a variety of clarity ranges.
Our Top Pick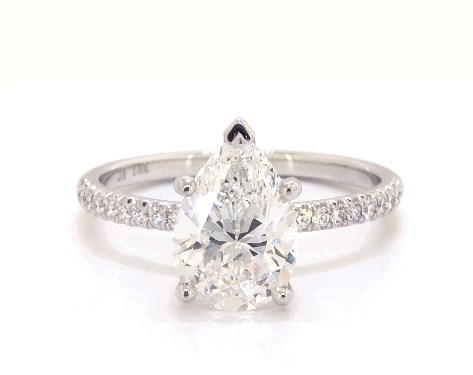 This 2-carat white gold pave engagement ring is our top pick for engagement rings under $10,000. Opting for a lab-grown allows this ring to feature a stunning colorless center stone diamond. In addition, the ring features pave down the side of the band and a "V" prong on the tip of the diamond for extra protection of the fragile point. The thin pave bands also allow for plenty of flexibility when it comes to choosing a wedding band.
Runners Up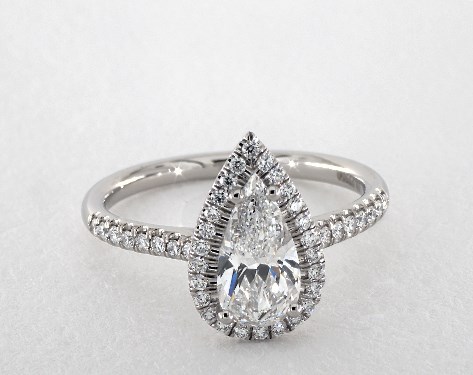 This platinum stunner features a 1.15-carat earth-mined diamond with pave accents for an eye-catching design. This ring design is also unique because of how elongated the pear center stone is. Since the pear shape has no specific length or width ratios, you can have a wider or more elongated pear design depending on your preference! This particular pear is longer in shape, appearing slightly larger, without losing that dazzling sparkle that everyone desires.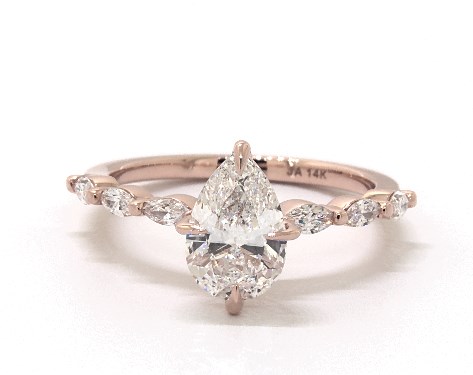 If you are looking for a unique and trendy design, this marquise accented band is the way to go. Opting for rose gold is less mainstream than a white or yellow gold band and pairs perfectly with the unique 4-prong head design and defined marquise diamonds down the side. The distinctive shape of the marquise accentuates the unique design of the head and pear center.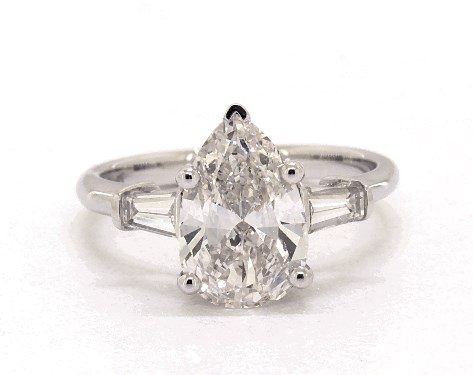 Opposite from the trendy rose gold band above, this ring radiates classic elegance. The vintage step design of the tapered baguettes is the perfect contrast to the brilliant cut of the center stone. In addition, the diamond is in the near-colorless range in order to put more money into the size of the center stone.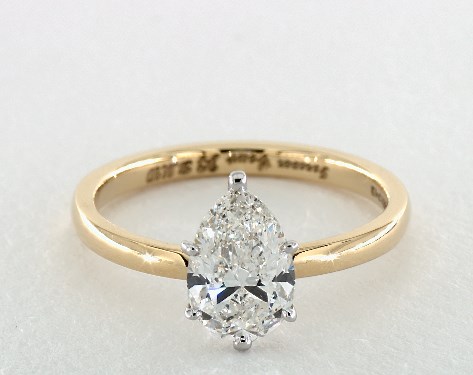 Always a classic, this 18K yellow gold solitaire is a perfect choice for someone looking to get over a 1.5-carat earth-mined center stone. The yellow gold allows you to opt for more body color in the diamond without being noticeable and the white gold head for the center adds extra protection and limits the amount of color that the diamond pulls in from the ring. The smooth edges of the ring are also a popular choice to accommodate plenty of wedding band options.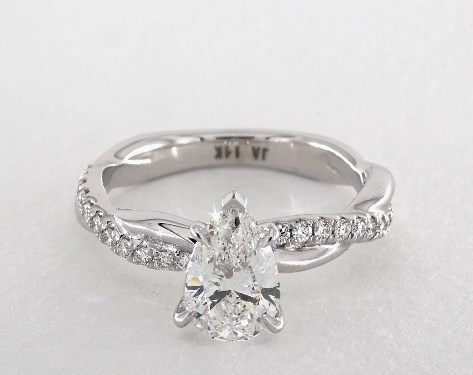 Truly a modern "twist", this band is a whimsical and beautiful option for those wanting something a little bit different. The twist of the band sits comfortably on your finger and perfectly accents the 1.21-carat center stone. Opting for one pave twist and one high polished twist brings the price down slightly while highlighting the unique design. The prongs also feature the popular "claw" style that tapers in at the top of the diamond.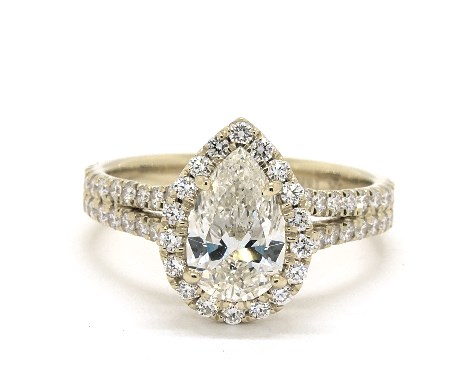 Split shanks have really started to gain popularity again and for good reason. This 18K yellow gold ring has just a slight split that flows nicely into the curve of the diamond halo. At 1.3- carats and J color, this showstopper is for someone looking for a wider band and extra sparkle.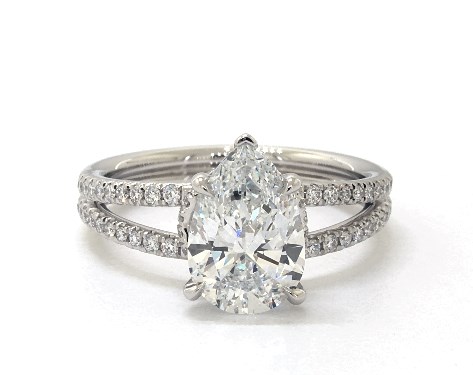 Slightly different than the yellow gold split shank engagement ring above is this lab-grown, 14K white gold engagement ring. The split on this ring is much more dramatic while still keeping the bands thin. The thinness of the two pave bands is the perfect accent to this eye-catching 2.03-carat center. This ring also features slightly smaller claw prongs and a "V" tip that adds interest without taking away from the center stone.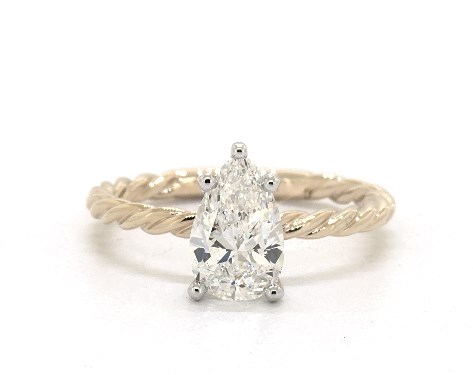 If you want to place as much money into your center stone, but want a bit more than just a simple solitaire, take a look at this twisted gold band. It adds a touch of flair while still ensuring that most of the budget is placed in the center stone. The twist design continues all the way around the ring while still remaining comfortable on the finger and can be paired with many different options when it is time to pick out a wedding band.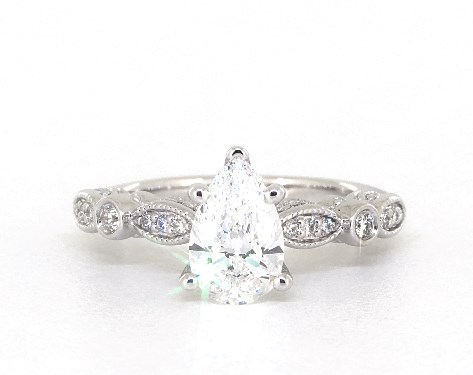 Last but not least is this charming vintage white gold design. If you are looking to add a touch of romance to your ring design, consider adding milgrain and a few small diamonds like this ring above. The alternating marquise and round curves down the band are intricate and dainty to set the perfect stage to showcase this pear center.
In Conclusion
When looking for pear engagement rings under $10,000, you have quite a few options to consider. If the diamond size is of the utmost importance, then opt for a lab-grown center diamond or solitaire option to make sure most of that budget goes into the size. With a $10,000 budget, it is also very possible to find over a carat center, either lab-created or earth-mined and still get a more intricate and sparkly ring design. Take some time to go through what matters to you most in a ring and enjoy the process!