IGS may receive customer referral fees from the companies listed in this page.
Learn more.
Best Pear Engagement Rings Under $5,000
Pear engagement rings are gaining popularity again. Their elegant, yet unique shape has an elongating effect on the finger and is perfect for a woman wanting to display her fun and flirty style. When it comes to looking for a pear-shaped engagement ring under $5,000, you have quite a few options. You can opt for a timeless and elegant solitaire and put more money into the center stone, or you can wow with a sparkly pave band and halo around the center.
What to Expect
With a $5,000 budget, you have quite a bit more room to play with when it comes to your center stone and design flair. If you decide to opt for an earth-mined diamond, plan on looking at a center stone just around 1 carat, depending on how elaborate you want the band to be. If opting for a lab-created diamond, you may have the option to go up to about 1.5 carats if limiting your budget on the band. No matter which way you choose, this budget is perfect for finding a stunning ring.
Here are a few of our favorite pear engagement rings under $5,000:
Our Top Pick
1.02 D VVS2 Lab-Created Pave Ring from James Allen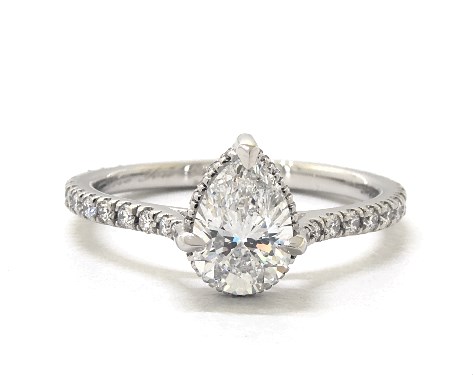 Our top pick is this pave engagement ring set with a 1-carat lab-grown center. This ring is our favorite because of the delicate diamond detailing down the side that enhances the sparkle and beauty of your pear diamond. In addition, it has a thin band of pave diamonds on the underside of the center stone. You cannot see it from the top, but it is a unique and beautiful added detail for a touch of flair.
Runner's Up:
1 Carat Tapered Three Row Pave Engagement Ring from Ritani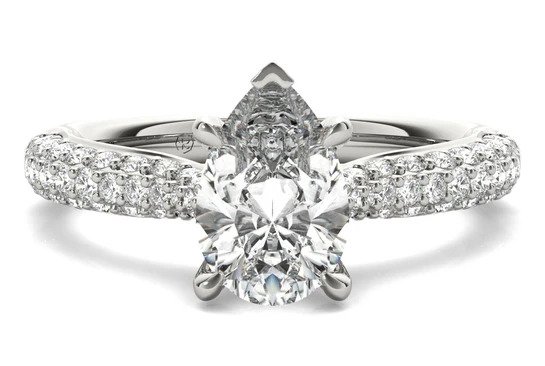 This ring has a tapered center and three rows of pave diamonds down the side of the band. Talk about some extra sparkle! This is a favorite because of the beautiful "wrapped" design of the band. The 3 rows of diamonds ensure that you see the sparkle from any angle. This ring here features a 1-carat earth-mined center.
1.56 Carat Lab Created Solitaire Engagement Ring from James Allen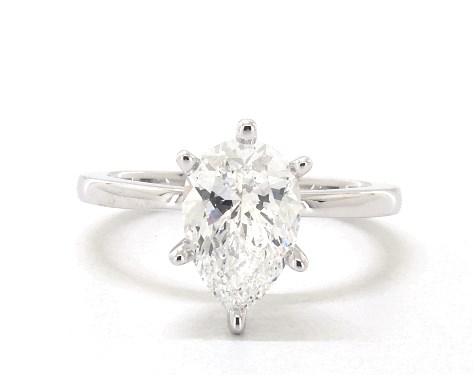 If you're looking to really pack a punch and place as much of your budget as possible into the diamond, then a lab-grown pear diamond set into a white gold solitaire band is the way to go. This ring features a 1.56 Carat, F-VVS2 center for under $5,000! The money-saving option of both the solitaire and lab-grown option ensures a classic and stunning ring.
0.90 Carat Three Stone Engagement Ring from James Allen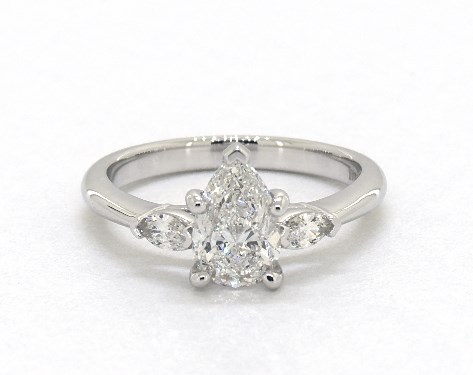 Another timeless design is the 3 stone ring. This is a unique variation from the classic three stone with all-round brilliant diamonds. The tapered edge of the marquise center stones elongates the sides of the ring while providing a subtle and elegant platform for the pear engagement ring to shine.
1.00 Carat Twisted Pave Engagement Ring from James Allen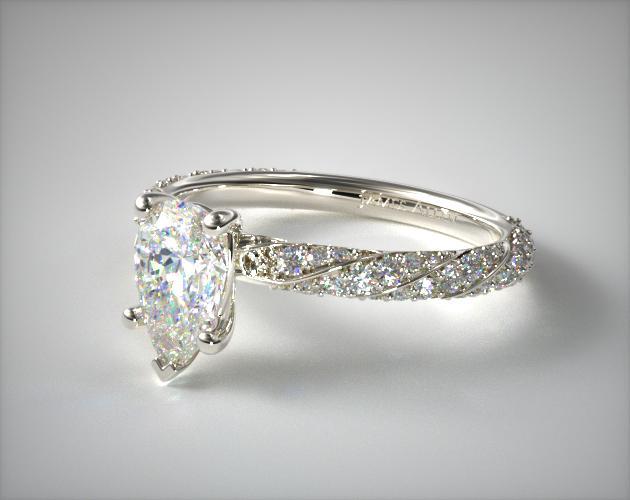 Twists are in, and this white gold twisted pave ring really catches the eye. With small diamonds trailing down the band, it is elegant and flirty at the same time. This ring is perfect with a 1 Carat center shown here.
1.00 Carat Marquise Cluster Halo Engagement Ring from James Allen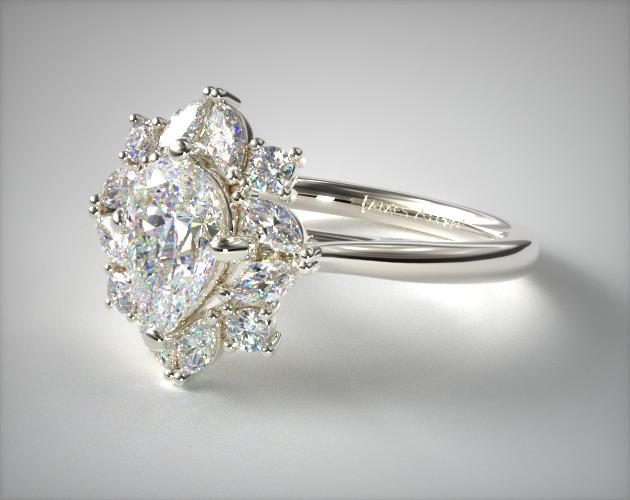 Halos are stunning, but you do not always have to opt for the standard round brilliant halo! This 1-carat pear center features both round brilliants and marquise around its halo. The design is unique while really making a statement with its unique and sparkly design.
0.90 Carat Rose Gold Twisted Pave Engagement Ring from James Allen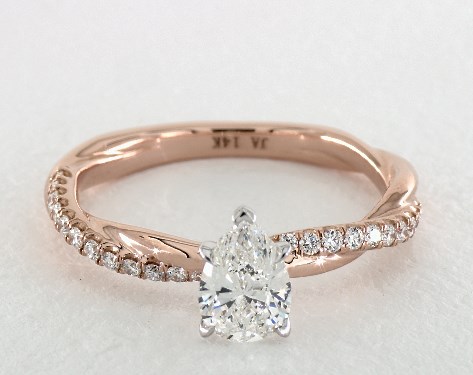 Another twisted favorite is the rose gold and pave ring here. Choosing this ring in rose gold highlights the twist of both diamond and gold. It provides a bit more extra style than the standard pave band and pairs perfectly with this .90 carat center.
1.03 Carat Yellow Gold Vintage Engagement Ring from James Allen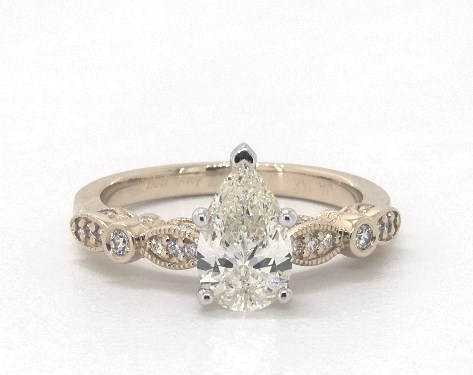 Looking to go vintage? This pave and milgrain band is perfect! The detailing down the band is both beautiful and unique. Choosing yellow gold allows you to opt for slightly more color in the diamond to yield a larger carat weight!
0.90 Carat Baguette Three Stone Engagement Ring from James Allen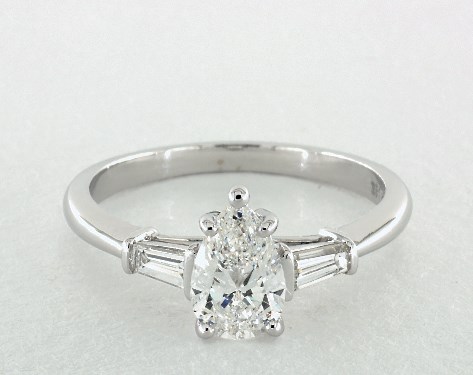 Another timeless, yet unique three stone option is one with tapered baguettes down the side. Baguettes are a step cut, like an emerald cut, and contrast with the brilliant cut of the pear center. The tapered design provides a subtle transition from the diamond to the ring and makes an elegant, timeless statement.
1 Carat East-West Pave Engagement Ring from James Allen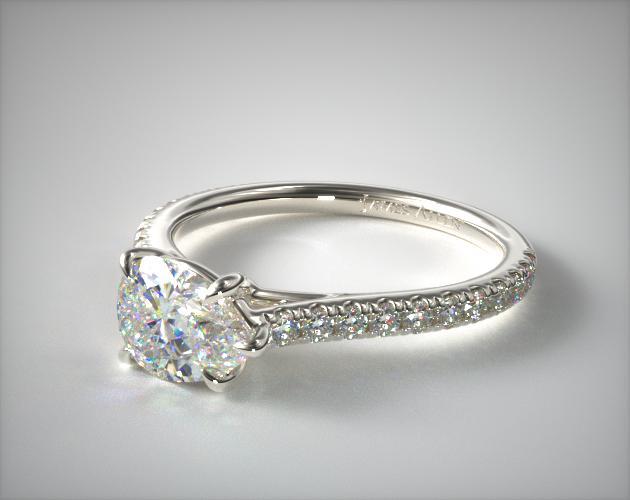 Looking to really go unique? One popular style that has taken over is the "east-west" design. This means that the center stone is sideways on the band rather than the traditional "up and down" that diamonds are usually set. The pear center is unique because its point on the one side flows nicely into the pave band here. If you want a pear center and a non-traditional ring style, try checking out this "east-west" setting.
In Conclusion
With so many options to choose from, it can be overwhelming to decide which pear engagement ring is right for you and your partner! It doesn't have to be this way. Just take some time to decide what you want to put most of your budget into, and what type of designs fit your style, and go from there. With a $5,000 budget, expect to get around a carat or larger center and add as much, or as little design flair as you desire!
Katy Tezak is a Diamond Graduate from the Gemological Institute of America and a personal diamond and engagement specialist. She loves educating her clients about all things diamond and helps them create anything from their dream engagement ring to every day, one of a kind jewelry.