IGS may receive customer referral fees from the companies listed in this page.
Learn more.
Buying Guide for 2022: Diamond Hoop Earrings
Save Money on Your Jewelry With These Sales and Coupons
* See website for exclusions and restrictions.
Diamond hoops can be found in almost any woman's closet. Small or big, they never go out of style and bring a touch of brilliance and sparkle to any outfit. No matter if your style is dainty or show-stopping, there is a style and price point for everyone. From simple huggies for under $500 to great prices on large carat weights, there are some great deals to be found on diamond hoop earrings!
When shopping for diamond hoop earrings, be sure to think about your style preferences. Are you looking for just a small everyday hoop or something for a night out? Smaller hoops do not necessarily mean small sparkle though. They concentrate the diamonds more, typically leading to larger diamond pavé. If you want that big hoop look, though, you can still achieve a larger carat weight with tons of sparkle and at a great price point because the individual diamonds tend to be slightly smaller. So, here are the best deals on diamond hoop earrings.
Huggies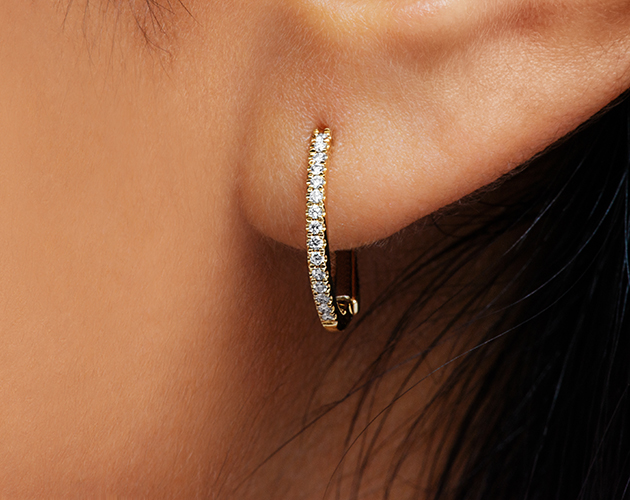 This first diamond hoop option is what most people think of when they think about huggies. If you are looking for a dainty and everyday huggie hoop, these are a fantastic option. They are .10-carat and the quality ranges from G-H color, and SI clarity. This pair by James Allen comes in all 3 gold colors and is less expensive with better color and clarity than a leading competitor which makes them an awesome deal at only $440.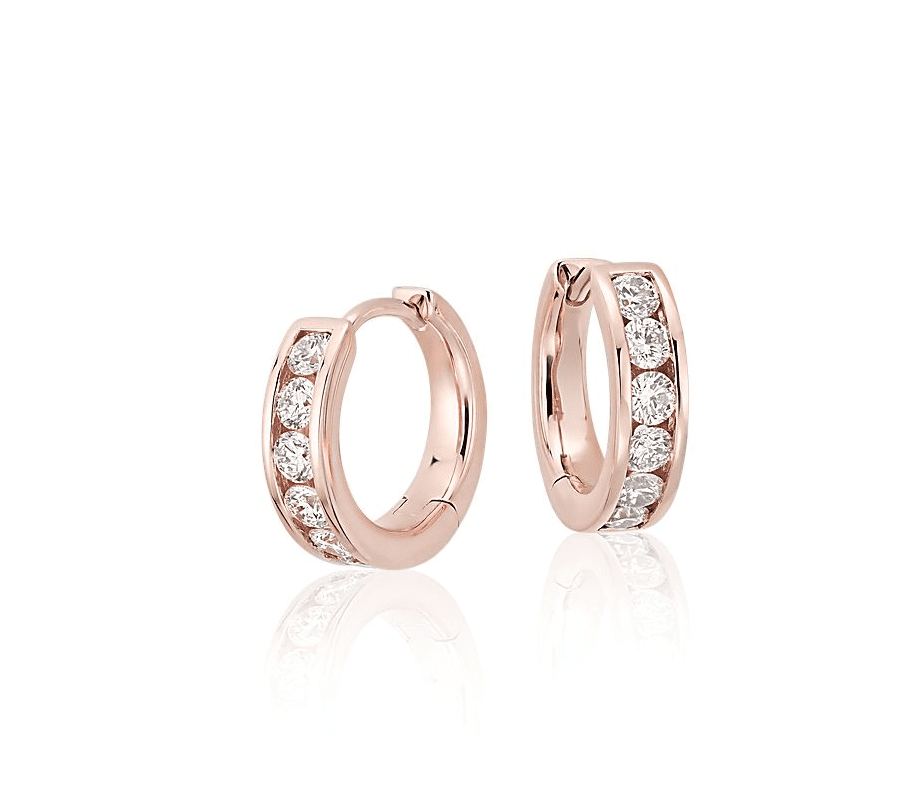 One step up from the pavé diamond huggies featured above are these mini channel-set huggie hoops in 14K rose gold. The channel style is very classic and you have the option of white, yellow, or rose gold. What is fun about the rose gold though is the trendiness of the metal color paired with the traditional channel set style for an updated look. Each earring has 1/4-carat for a total of half of a carat that is sure to make a sparkly statement. These huggies are priced at $1,200.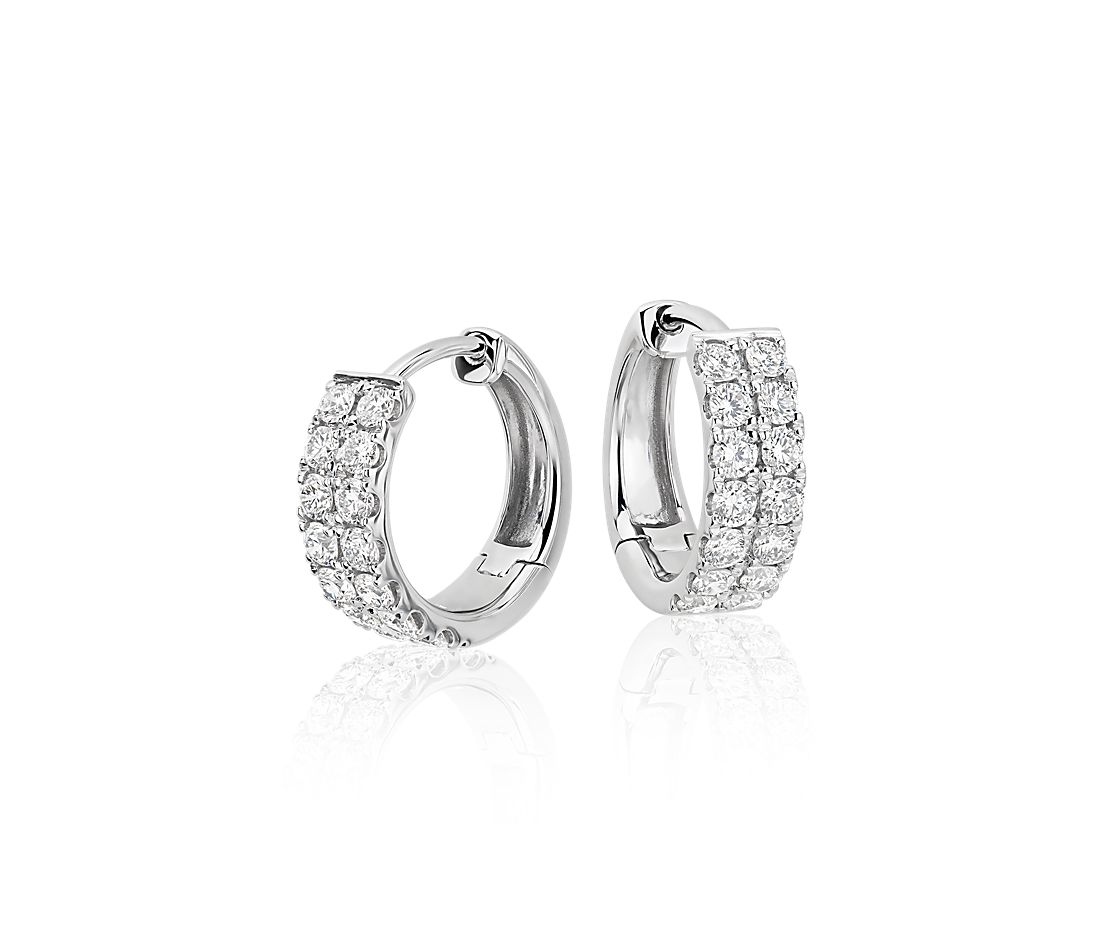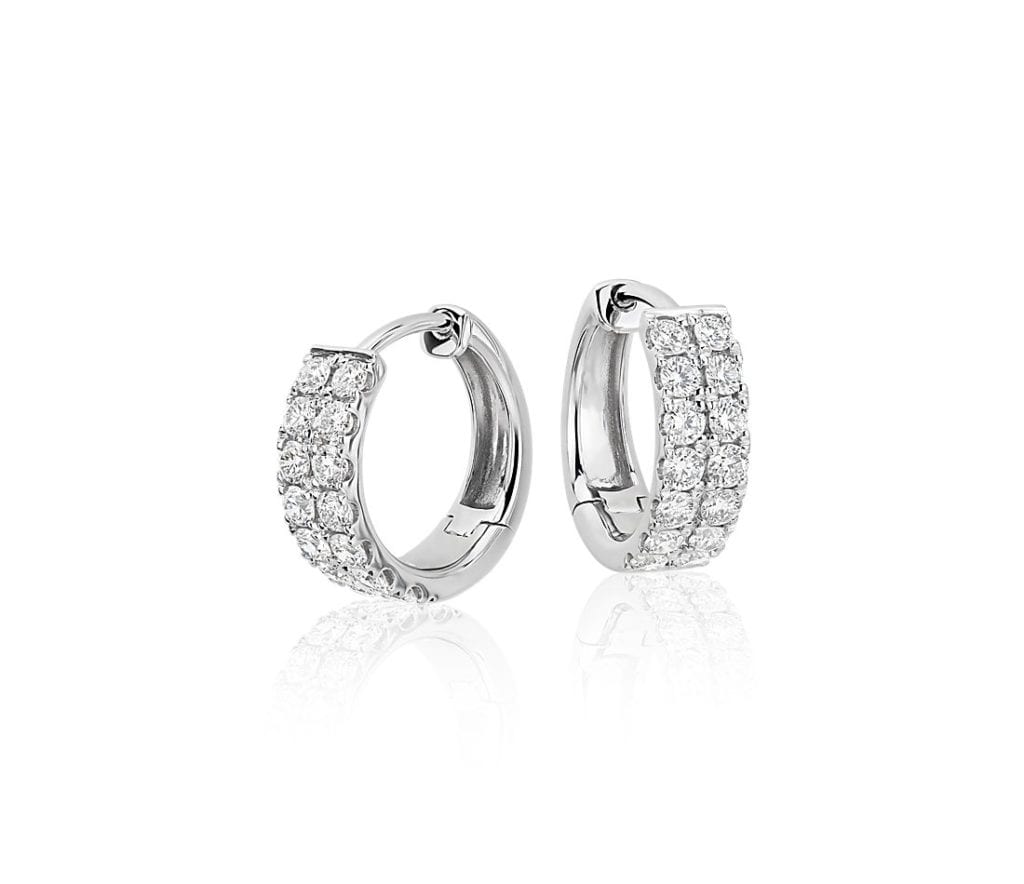 If you want to take the huggie style up a notch, these 3/4-carat petite diamond huggie hoop earrings from Blue Nile should be on your radar. They feature two rows of stunning diamonds with a hinge and snap-back closure that is secure. What is also great about these hoops is they have almost all 5-star reviews so you can feel confident that you are getting great value and sparkle for the price. These are available in 14K white or yellow gold and are only $1,350.
Traditional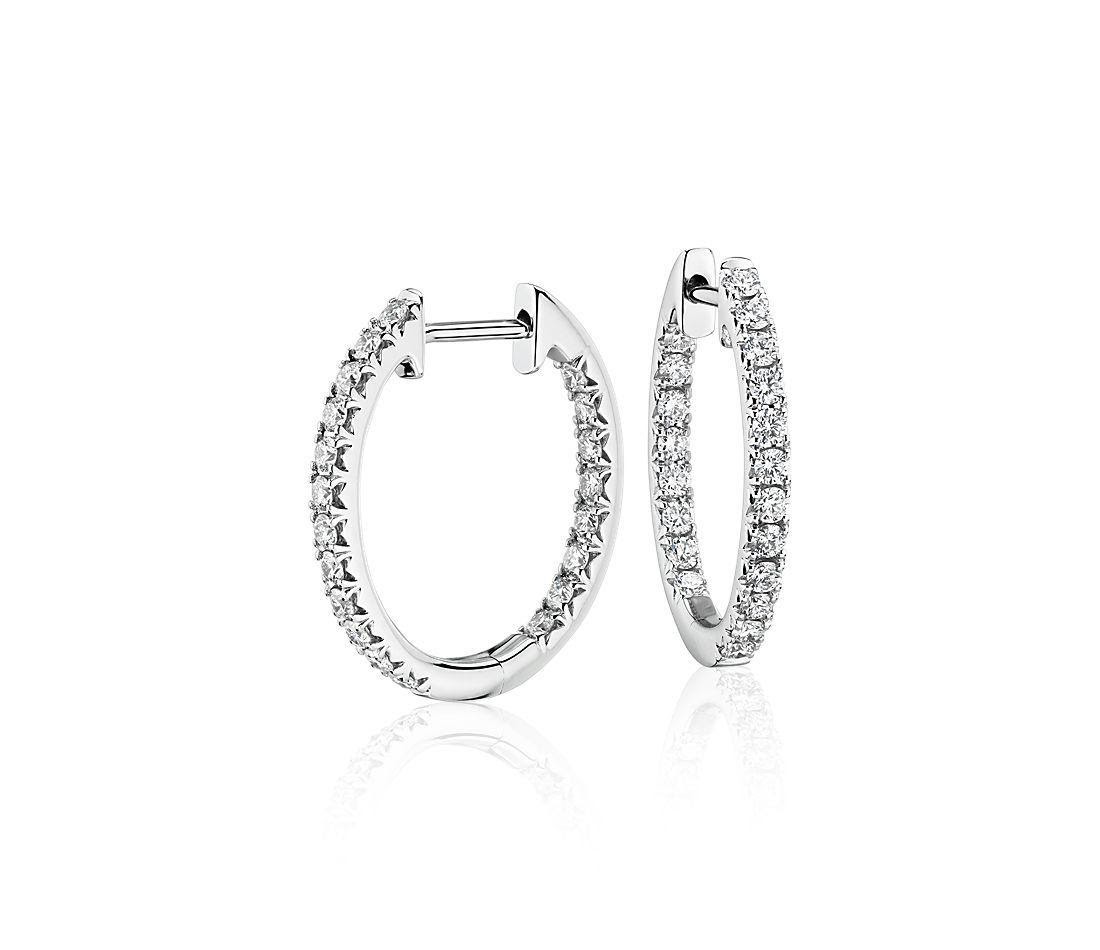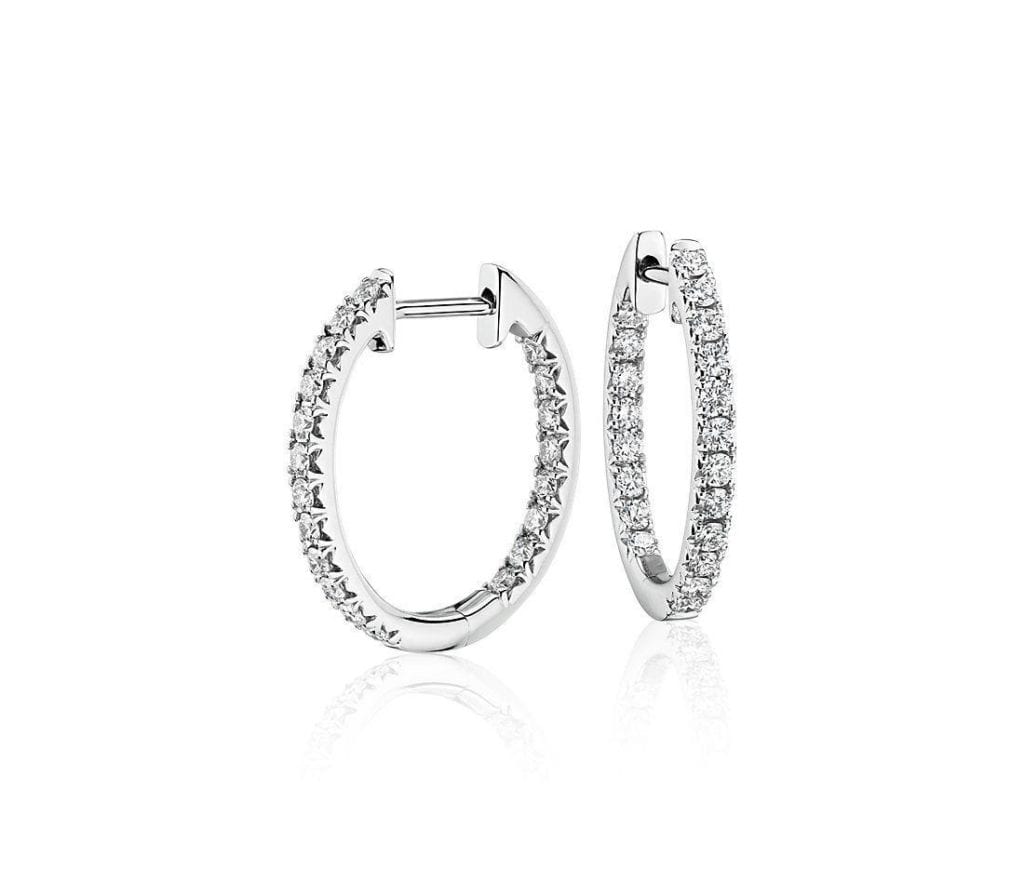 Another fan favorite with a lot of 5-star reviews is these 5/8-carat diamond pavé hoops set in 14K white gold. These are slightly larger than the huggies (the product page has them modeled so you can see how big they are on the ear), but still small enough for everyday wear. They also feature the "inside-outside" style so you see diamonds all along the hoop for sparkle at any angle. These 20 prong set diamonds are I color, I1 clarity for only $1,200.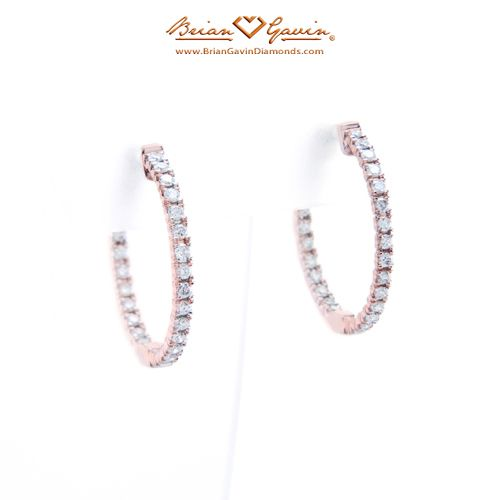 Another gorgeous "inside-outside" diamond hoop style for a great price is these 14K rose gold diamond hoops from Brian Gavin Diamonds. These diamonds are slightly better quality, sitting at G color, SI clarity for a total of .52-carats. These hoops are only $1,250 and are a fantastic option for someone looking for a sparkly rose gold hoop at a great price.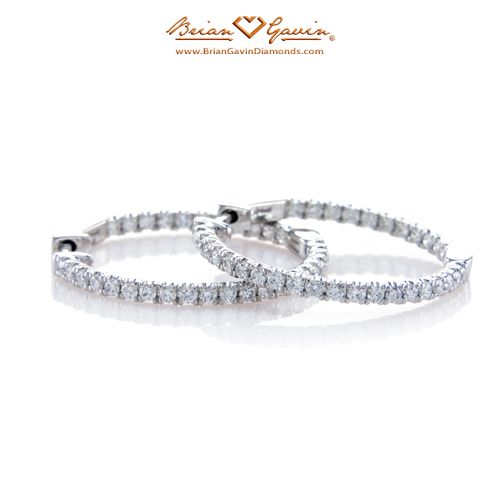 A slight step up in size, these hoops may be traditional, but they will definitely make a statement. At .82-carat, these white gold "inside-outside" hoops get you larger and more noticeable sparkle and are worth mentioning because their carat weight sits just under 1-carat, saving you some money. The dainty prong setting makes sure you see all diamonds and the hinge and locking back ensure the hoops stay securely in your ear. They are G color, SI clarity for only $1,575.
Blinged Out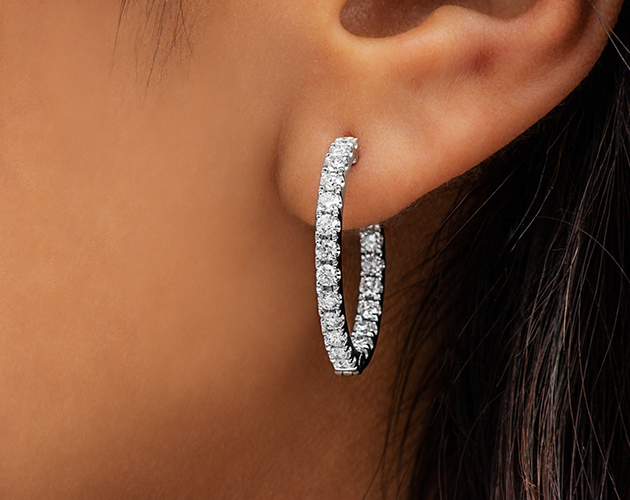 Though these hoops may not be huge, their diamonds definitely are! These 14K white gold hoops come in at 1.5-carat, ensuring they will be packed with sparkle. What makes these earrings so dazzling is actually the smaller size of the hoop. This means that the diamonds do not have to be stretched out so far and can be larger in size, making these hoops that much more noticeable. They are G-H color, SI clarity, and are priced at $2,360.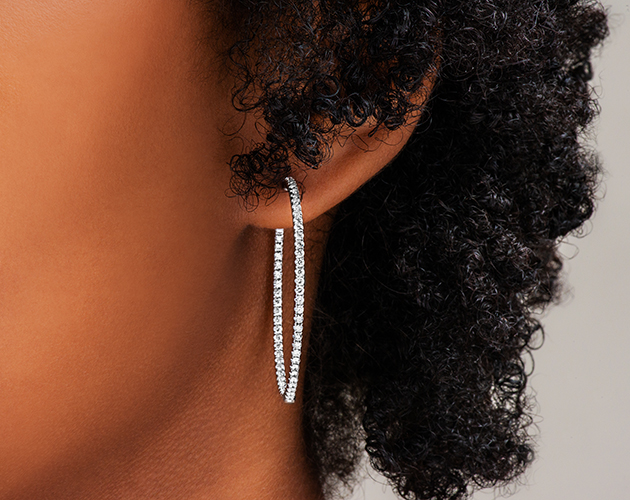 When people think of big, blingy diamond hoops, they typically tend to think of hoops like these. These stunning, 2-carat, 14K "inside-outside" hoops are a must if you're looking for a chic statement. Though these hoops are a much larger diameter than above, their increase in carat weight ensures that the diamonds give off a dazzling look and are a great buy for 2-carats. The diamonds are G-H color, SI clarity, and are priced at only $3,170.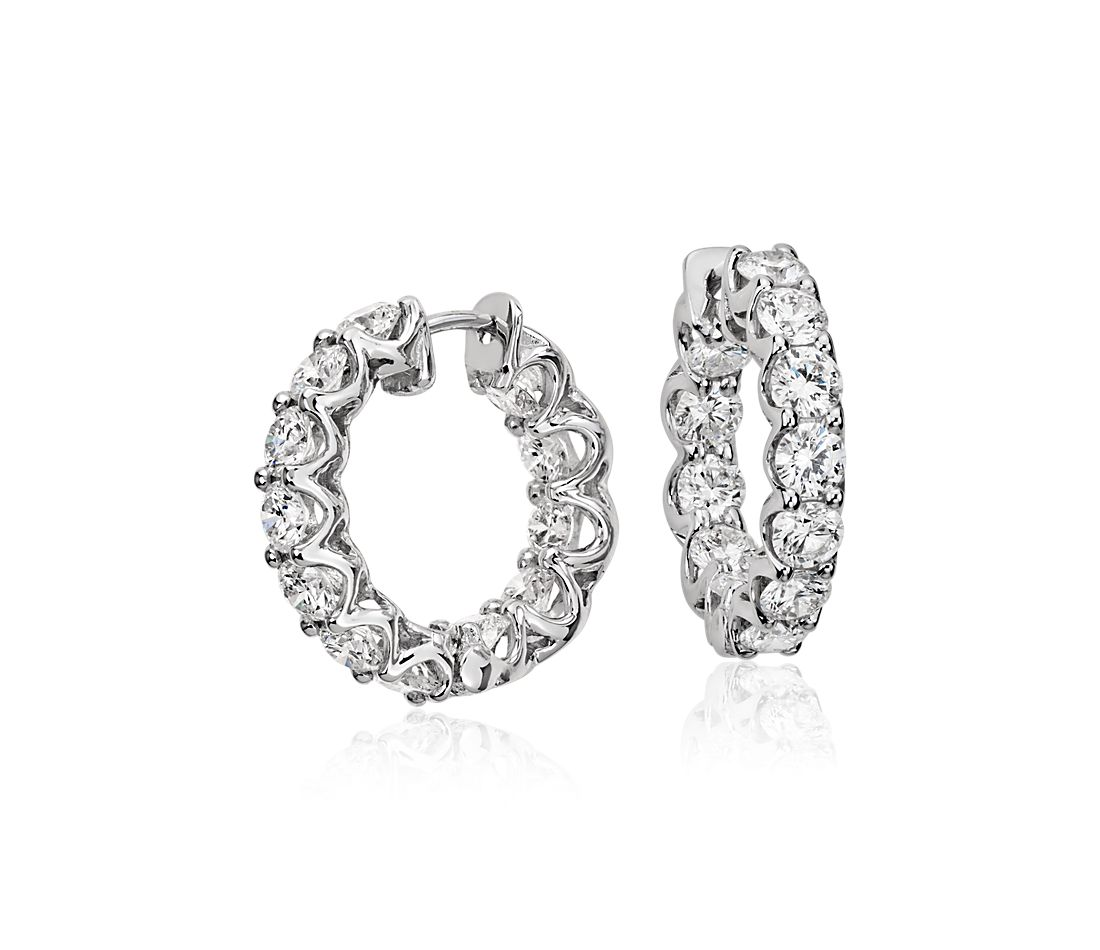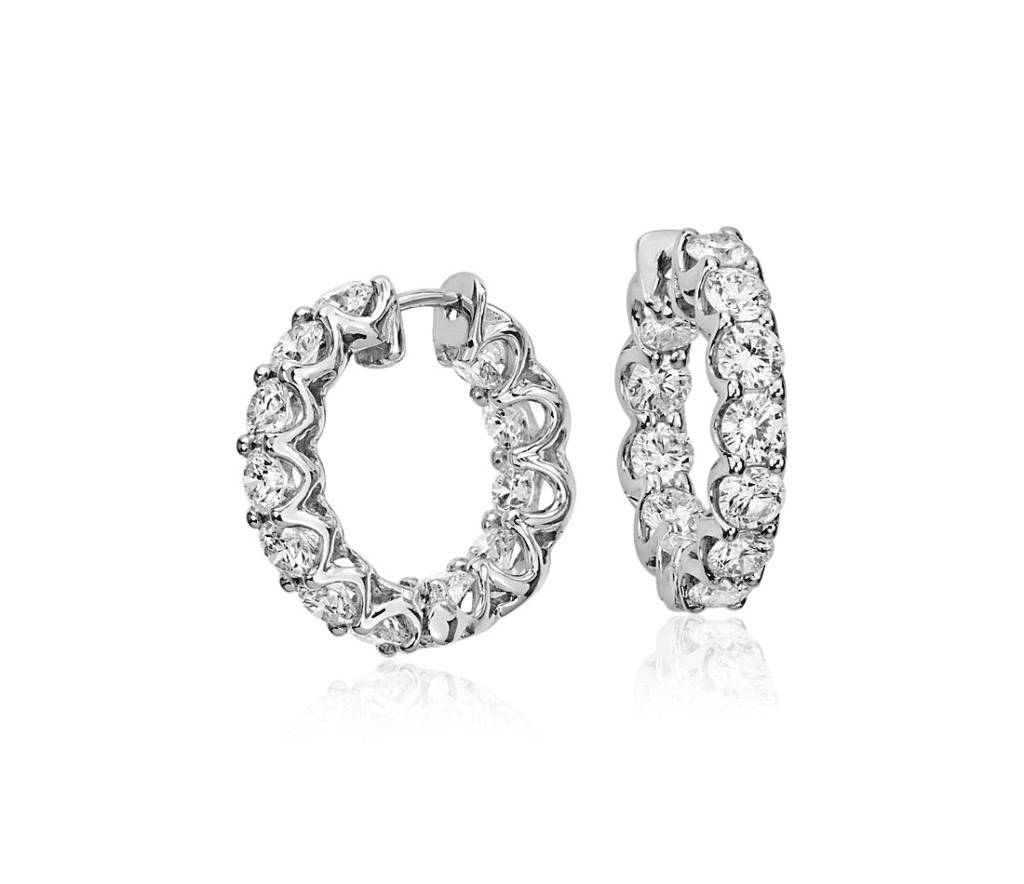 Last but not least are these diamond eternity-hoop earrings from Blue Nile. Slightly larger than a huggie, these decadent earrings feature a 3-carats total of diamonds set in 18K white gold. The larger size and carat weight of the diamonds are sure to dazzle and the unique scalloped feature makes sure you can see the diamonds from any angle. These 3-carat diamond hoops are priced at $5,750, ensuring you get a ton of sparkle for the price.
Conclusion
After studs, diamond hoops are an absolute staple in every woman's wardrobe. They are easy to wear both to work or a night out and go with almost anything. If you are wanting to start small, the 14k small pavé huggies for only $440 from James Allen are a great place to start. You get great sparkle with the popular dainty look for a great price. Or, if you want to make a statement with your hoops, while still staying traditional, consider the .82-carat "inside-outside" hoops from Brian Gavin Diamonds. No matter what style suits you the best, you can be sure you are getting a great deal with these options and a style that will always be on-trend!