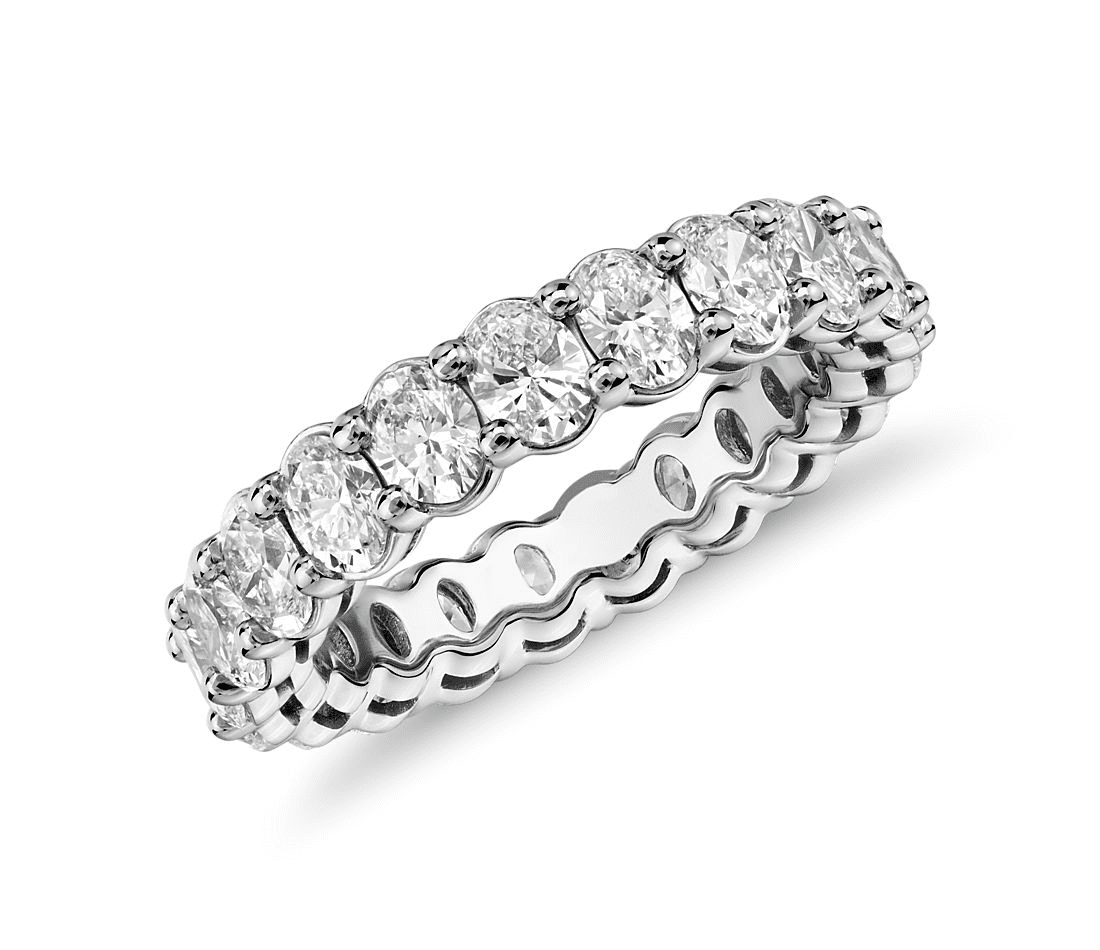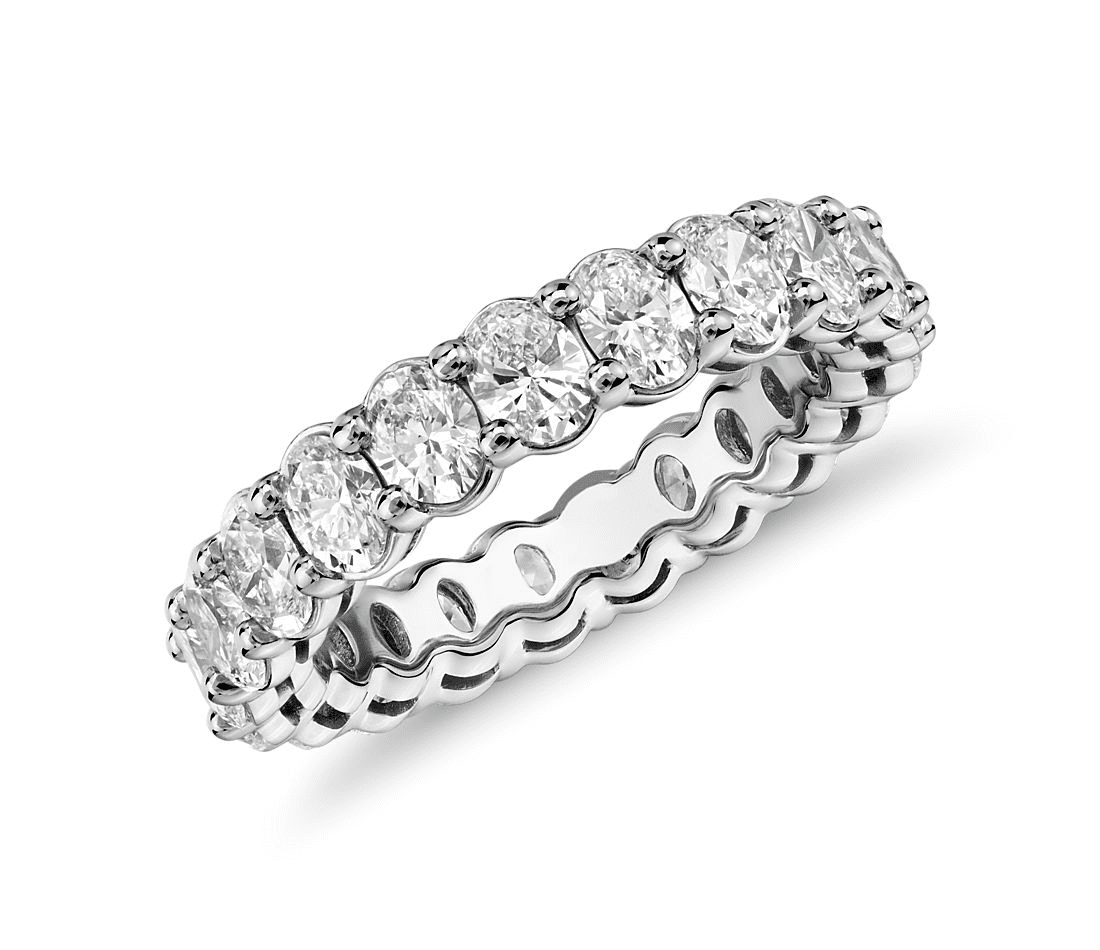 Diamond Eternity Rings: A Buying Guide
---
12 Minute Read
What Is an Eternity Ring?
Diamond eternity rings are meaningful and beautiful jewelry items. These rings are commonly used as a wedding band, anniversary band, or for other special occasions. The style features stones, most typically diamonds, set all the way around the ring for 360 degrees of sparkle. Our ultimate guide to diamond eternity rings will equip you with the knowledge to make a perfect choice.
There are two different types of eternity bands that you will typically see when shopping online or in-store; the half-eternity band or the full eternity band. When people think of an eternity band, they typically think of the version that has stones all the way around the ring; thus receiving the name  "eternity".  Though beautiful and incredibly versatile, having diamonds all the way around the band does increase the maintenance needed on the ring, so, more and more jewelers began offering "half-eternity" rings. These rings had the same style and design but the stones only went halfway down the ring. This can be confusing when trying to decipher between a half eternity ring or a normal diamond wedding band.  The half eternity term is often used when you are looking at the same style but can choose if you want diamonds down all the way or just halfway. 
When Should You Get an Eternity Ring?
Eternity rings can be given in a myriad of different situations. Due to its symbolism of "everlasting" or "eternal" love, it is often used as a very meaningful anniversary gift. However, that is not the only time it is appropriate to give an eternity ring. These dazzling jewelry pieces are also used as push presents, wedding bands, or other special occasions. There are so many different diamond shapes you can choose from for these rings, they have also risen in popularity being worn as an ultra-luxe fashion statement. These rings are ultra-versatile and can be combined with other stacking rings or with an engagement ring so there isn't really a "wrong" time to give an eternity ring. 
When people decide to invest in an eternity band, many people want to know how to evaluate the quality of an eternity ring. Determining a good design for security and lifestyle is important to protect the ring for its lifetime and there are a few characteristics you can look for when choosing the right eternity band for you. 
What Does an Eternity Ring Symbolize?
The difference between a wedding band and an eternity band has started to blur over the years. More and more, people are not buying their engagement rings and wedding ring as sets. People mix and match their rings and often have more than one wedding band. A wedding band is what is used to match their rings and to signify the change from engagement to marriage while eternity bands were typically used for an anniversary or other special occasion.
Diamond eternity rings offer more flexibility separate from a traditional wedding band. They can be worn on the right hand or any finger to commemorate any event.
Where Can I Buy an Eternity Band?
Blue Nile: Blue Nile has some great options when it comes to eternity bands. You can pick anything from a thin, ¼ carat pave band, all the way up to 10 carats. So, the sky is really the limit with them. You can also shop for twisted eternity bands like this one here that you do not see often in eternity band styles.  Blue Nile also offers most styles in all 4 metal styles. 
Angara: Angara offers a majority of their eternity band options in traditional styles with round brilliant diamonds. Though they do not offer many options in the shape of stone, Angara has a large variety of diamond qualities to choose from. Most of the eternity band options offer diamond qualities from K color, I3 clarity, to G color, VS2 clarity in a wide range of carat weights. 
James Allen: James Allen is one of the few large online retailers that offer a lab-grown option in eternity bands. Their lab-grown choice is restricted to just round brilliants but is a great option for those wanting it. In addition to that, James Allen offers fancy-cut diamond bands in carat sizes ranging from 2 all the way up to 7 carats total weight in two quality ranges. 
Eternity Ring Settings and Styles
Eternity bands can be made with a variety of different diamond shapes. The style was originally most popular with a round brilliant diamond but many other shapes are starting to show up more and more. The round brilliant shape gives the most flexibility when it comes to size and price because of their availability. If you are looking to stand out a bit, consider opting for an eternity band with a fancy-shaped diamond. 
Take this Oval Cut Diamond Eternity band from Blue Nile for example; many people enjoy pairing the shape of their engagement ring with the diamonds in the eternity band. Oval diamonds have been rising in popularity and this band is a perfect complement to an oval engagement ring. This ring has 4 different carat sizes to choose from and comes in a wide range of full and half sizes. 
Eternity Ring Settings
The next feature to consider when shopping for an eternity band is the setting style. From single prong to channel set, to bezel, there really is a setting style for everyone. The options provide varying degrees of protection and durability so think about how hard you are on jewelry and how often you want to wear the ring when choosing a setting style. No style is either "good" or "bad", so just choose the design that fits your style and durability preferences best. 
Prong Set
Prong Set eternity bands are often chosen because they show off more angles of the diamonds. However, it is important to take note of all of the different prong styles and their varying degrees of protection for your stones. 
Pave
The pave style is well known for its small diamond set in a row for a seamless look. It is very difficult to see where one diamond stops and the other one starts for sparkle at all angles. This design is very desirable but may not be as durable as other options. Smaller diamonds require much smaller prongs, thus limiting the amount of wear and tear each prong can take. If you decide to opt for a pave ring, just make sure you are getting it checked by a jeweler regularly and take it off when doing heavier work with your hands. 
Single Prong
A very popular style for 2020 and will continue through 2021 is the single-prong band. These rings often referred to as a "floating diamond band", are unique in that they really highlight the shape of the stone. Due to the fact that these rings only have one prong between each of the stones, look for a ring that has a bit of extra metal underneath the stone like this rose gold band from Blue Nile. This "seat" allows for greater protection on each stone and helps to help them in place. 
Shared Prong
The most popular prong-style eternity band that you will see is the shared prong band. This style gives a lot of flexibility when it comes to the design under the stones (there can be a gallery, a low seat, or woven style) while still giving ample protection against wear and tear. This shared prong band from James Allen features emerald-cut diamonds set into platinum for a classic look. 
Full Prong
The most protective option when it comes to a prong eternity band is a full-pronged one like this ring below from Angara. Each diamond features 4 prongs around the stone for a secure hold without compromising the sparkle of the ring. The diamonds are also set low in the band for both protection and a comfortable fit for the wearer. 
Channel Set
A channel set band is going to be the next step up when it comes to protection on an eternity band. A channel band is characterized by a row of diamond set within two rows, or channels, of metal. This design has been a traditional style for years and can really stand the test of time. This straight band can be stacked with other rings, or worn alone for a classic look. If you are looking to wear your eternity band all the time and are also hard on your jewelry, a channel set band may work best for you. The two sides of metal on each diamond helps not only with keeping the diamonds in place but also protect the edges of stones from chipping. This ring below from Angara is the perfect example of a channel set eternity band. You also get to customize your carat weight, ring size, and metal choice to pick a ring that is uniquely yours. 
Bezel
Last, but not least is the bezel set eternity band. Bezel set eternity bands were not as common until more recently. They provide the most protection for diamonds out of any setting style there is. Most people used to shy away from bezel sets as they hide most of the side and the bottom of diamonds. Lately, more delicate designs with detailing have started to show up more and more. 
This milgrain bezel set ring from Angara is the perfect example of just how beautiful bezel set eternity bands can be. For starters, the band sits very low on the finger for an ultra-comfortable fit and the bottom side of each bezel is open for easier ring cleaning. The milgrain detail around each bezel also adds a touch of softness to the ring for a delicate and beautiful style that you can feel confident is secure. 
Eternity Ring Metals
Eternity bands now come in all 4 major precious metal types: white gold, rose gold, yellow gold, and platinum. Most retailers offer their designs in each metal and all 4  have their place within the eternity band styles. 
White Gold
White gold is definitely going to be one of the top metals used in eternity bands. It is the strongest of the 3 gold options, is easy to fix, and allows for an "invisible" setting style because of how well the white gold blends in with the diamond. 
Rose Gold
Rose gold is the least common of the metal options. Copper is mixed in with the gold to make that romantic rosy tone but also makes it the softest metal option. Rose gold still has its place, though, and makes for a beautiful and unique design. Just consider choosing rose gold for a non-daily design if you want to extend the lifespan of the ring. 
Yellow Gold
The most traditional metal is still used quite a bit for eternity bands. Its rich golden design never goes out of style and can be mixed and matched easily with other metal colors. While yellow gold is a bit softer than white gold, consider opting for 14-karat gold to increase durability. 
Platinum
Platinum is by far the most utilized metal when it comes to eternity bands because of its hardness. Platinum is very dense and thus provides strong protection for your diamonds. Many people do not know this but platinum "moves" rather than "wear away" as gold does. So bumps can leave little indentations in the metal. In addition, platinum rings develop an often much-desired patina as they age, as opposed to requiring a rhodium plating every few years like white gold. 
Each metal is going to have its positives and negatives when it comes to eternity bands. The most important part when deciding which to choose is to consider how often you are wearing it, how hard you are on your jewelry, and what metal color you typically wear. Take those into account while shopping for your rings to ensure you choose the right fit for you and your lifestyle! 
How Much Should I Spend on an Eternity Ring?
Determining how much to spend on an eternity ring can be kind of difficult because there is such a large price range that eternity bands can come from. Rings vary from just under $1,000 to well over $50,000, all depending on the shape, size, and quality of the diamonds. 
If you want to find the most bang for your buck, consider opting for a laboratory-grown ring. These options typically offer a high color and clarity and decent carat weight size for a very reasonable price. Take this ring from James Allen, for example. The "low dome basket" diamond eternity ring features 2 carats of F-G Color, VS Clarity lab-grown diamond for an ultra sparkly look at only $1,500. 
In contrast, if you are interested in a band with fancy cut diamonds, expect to pay slightly more than you would for round brilliant diamonds for a few reasons. Fancy-cut diamonds are not as standardized in their size as round brilliants and sometimes require other considerations. For example, this Asscher cut diamond eternity band from James Allen features 2 carats total for just over $5,000. In contrast, the round brilliant counterpart is priced at about $1,500 less. That is because the fancy cuts require a bit of extra detail and if you want a more unique style then it is just good to be aware of the pricing factors. 
If you are looking to go all out and want to find an ultra-high-quality eternity band, then the Blue Nile Extraordinary Collection is a great place to start. This collection features ultra-high-quality diamonds and focuses on bringing a higher standard of luxury that most people do not know they can get with an online company. This band from the collection features 4 carats of emerald-cut diamonds set into a platinum band for an ultra-sparkly and elegant look. 
Conclusion
Eternity bands have really risen in popularity, especially in the past 10 or so years. They used to be less common and for a while got a bad rap because of their extra maintenance as a wedding band. However, now designs are getting more comfortable, and people want the high-end sparkle that an eternity band provides. Retailers also are offering more options to customize your wedding band than ever before; you can choose the metal type as well as any diamond shape from round, to emerald cut, to even pear-shaped for a design that is uniquely yours. Eternity bands are a great option for a sentimental anniversary gift or to commemorate the birth of a child. No matter what occasion you choose, though, it will most definitely be a classic, sparkly piece that will be loved and worn for years to come. 
FAQs for Diamond Eternity Rings: A Buying Guide
1) Which Finger Should You Wear an Eternity Ring On?
Diamond eternity rings offer more flexibility separate from a traditional wedding band. Eternity rings are traditionally worn on the ring finger of the left hand alongside the wedding band. This doesn't always have to be the case though. They can be worn on the right hand or any finger to commemorate any event. The adaptability of eternity rings is part of their allure.
2) Which Order Should You Wear Your Wedding, Engagement and Eternity Rings In?
Traditionally, you wear your wedding band first on the ring finger of your left hand, then your engagement ring and then an eternity ring. These "rules" can be applied or not. It's ultimately up to you how you decide to wear them.
---
Katy Tezak
Katy Tezak is a Diamond Graduate from the Gemological Institute of America and a diamond and engagement specialist. She loves educating the consumer about all things diamond and helps them create anything from their dream engagement ring to everyday one of a kind jewelry.
When you join the IGS community, you get trusted diamond & gemstone information when you need it.
Become a Member
Get started with the International Gem Society's free guide to gemstone identification. Join our weekly newsletter & get a free copy of the Gem ID Checklist!