Product Comparison, Polariscopes
---
by
Polariscopes are one of our most useful instruments. They come in a wide variety of prices and qualities. A new Gem Instrument's polariscope costs close to $400 with shipping. The simplest polariscope is made by laying a $1 filter on top of a flashlight and hand holding another above it. This is awkward, but it works.
Hanneman Polariscope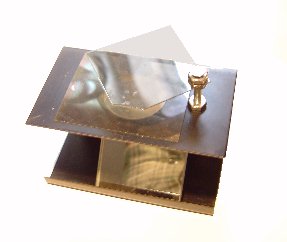 I learned on a Hanneman polariscope, which is as basic as they come. Rather than having its own light source, it comes with a small mirror that reflects light up through a polarizing filter. A bolt holds another filter by its corner, which swivels for ADR testing. All the text books say that you have to rotate the filter, not swivel it to one side, but I found that the technique worked.
The Hanneman polariscope uses a loupe that is mounted directly above the top filter. I found this awkward to use …