Premium Content for Members Only
(Editors Note: This is the second in a series of articles on how to convert your faceting machine to a digital readout. The last installment was general. This and following will give detailed instruction for specific machines.)
The machine is disassembled and a 0.252 hole bored in the angle shaft to accept the potentiometer shaft.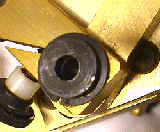 A 6-32 hole is tapped in the angle shaft to lock the potentiometer shaft. A small flat is filed on the pot shaft to insure there …
To read this entire article and hundreds more like it,
Become a Member
Already a member? Simply login to your account.