Smoky Quartz Value, Price, and Jewelry Information
---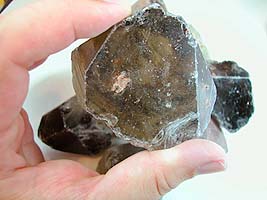 Smoky Quartz Value
The International Gem Society (IGS) has a list of businesses offering gemstone appraisal services.
See the entire Gem Price Guide.
Start an IGS Membership today for full access to our price guide (updated monthly).
Smoky Quartz Information
Comments
Smoky quartz is also mistaken for topaz. It comes in every shade of brown, from a light tan to nearly black. "Chocolate citrine" is a pleasant brownish/yellow color. Smoky quartz is known for its large sizes. The person who wants a really big gem, without a really big budget, often ends up with one of these.
Sources
Cairngorm Mountains, Scotland.
Minas Gerais, Brazil; Madagascar; Switzerland.
United States: California; North Carolina.
Stone Sizes
Smoky quartz: is in the same size league as citrine, but larger stones get very dark and opaque. Smithsonian Institution (Washington, D.C): 4500 (California) and 1695 (Brazil), plus others.
by