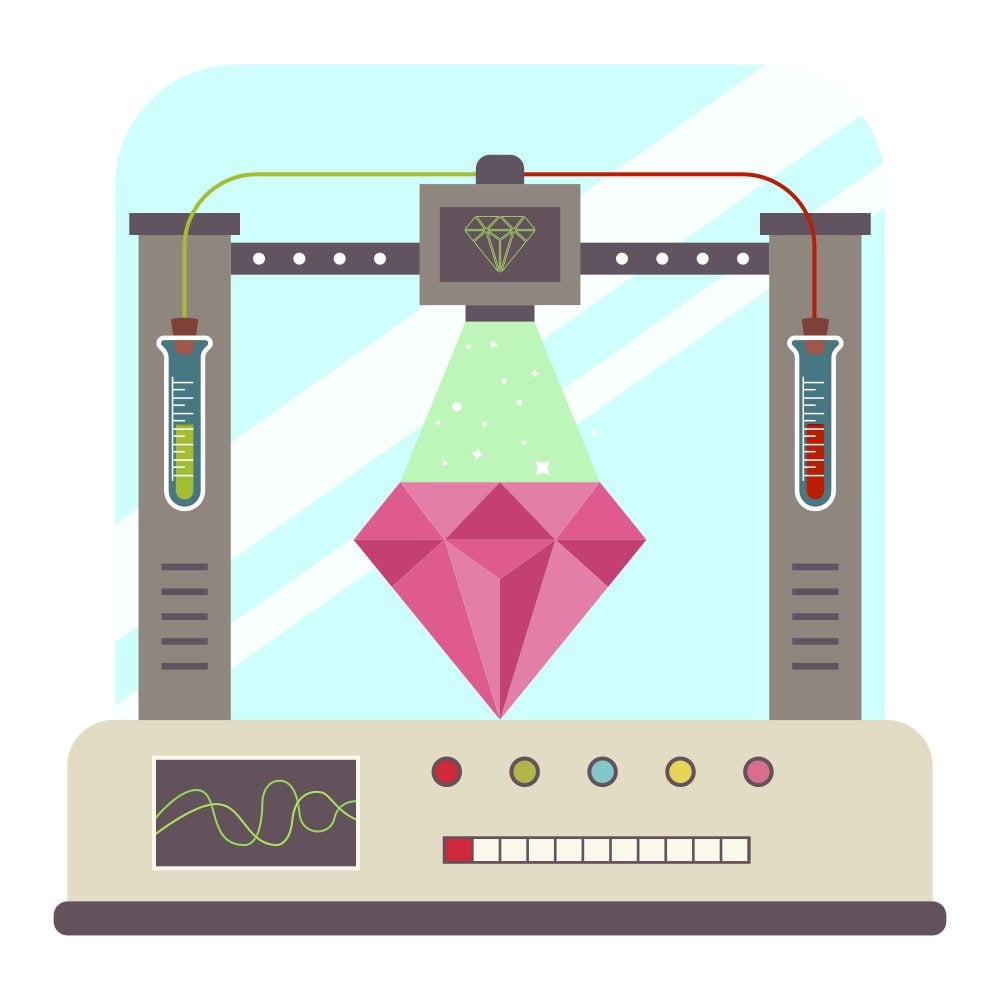 Recently, CNN spoke to independent diamond industry analyst Edahn Golan regarding the recent surge of lab grown diamonds. Golan revealed to CNN that sales data for March 2022 showed a 63% increase in engagement rings featuring lab grown diamonds compared to March 2021. During the same time frame, engagement rings featuring a natural diamond saw a 25% decrease in sales. According to Golan, the February data was even more staggering for lab grown diamonds. In the previous month, engagement rings with lab grown diamonds saw an 80% increase compared to the previous year, while their counterparts featuring natural diamonds fell 13%.
We reached out to Golan to learn more about the surging interest in lab grown diamonds. He spoke about how the consumer appetite for lab grown diamonds is strongest in the US. "Consumer demand for lab-grown [diamonds] is very much limited to the US. It is not an international trend, at least of yet. That means that lab grown diamonds have limited [international] appeal, probably due to cultural differences," he said.
"That said, the US is an exceptionally large consumer market. In 2020, lab diamond's share of diamond sales was about 3%. In the following year it grew to 5%, and by the first quarter of 2022, its share already stood at 7%. This indicates that consumer acceptance and interest are growing and, with it, demand. With that in mind, continued growth is to be expected," said Golan.
Golan's research mirrors similar research conducted by jewelry insurer BriteCo. According to BriteCo, lab grown diamonds saw nearly 10% growth in popularity among engagement ring buyers from 2020 to 2021.
We also spoke with diamond industry analyst Paul Ziminsky, who does not think natural diamonds and lab grown diamonds are strictly competitive. "Lab grown diamonds are affecting the natural diamond market, but perhaps not as much as many would think," Ziminsky told us when asked if lab grown diamonds are affecting the market for natural diamonds. "Lab-diamonds now represent a high-single-digit percentage of global diamond jewelry demand – up from almost nothing five years ago – but notably the product has also brought new consumers to the market, so it hasn't been a zero-sum game."
Some believe the choice between a natural diamond and a lab grown diamond may be decided by age. Alexander Weindling, CEO of Clean Origin, said customers under forty have knowledge and interest in purchasing lab grown diamonds for environmental and ethical reasons. However, customers over fifty are far more reluctant to share those concerns.
Golan believes that lab diamond companies' focus on blood diamonds may not be the best approach. "There is a lot of talk about natural diamonds and conflict by [lab grown] folks. Speaking negatively about a competing product is not an effective way to generate sales. As a marketing approach, this is greatly inhibiting [lab grown] sales and slowing down its growth," he said.
According to Google Trends, the term "lab-grown diamonds" saw a noticeable uptick in searches immediately following Putin's invasion of Ukraine in the United States, as did the term "conflict diamonds." With the war lingering on and consumer pressure on major luxury jewelry companies, younger diamond purchasers may purchase lab grown diamonds to alleviate any concern about possibly helping Putin fund the war in Ukraine.
But there is a point upon which all agree: the lower price point of lab grown diamonds is a major selling point over natural diamonds.
"I think the lab-diamond market could eventually be quite large, especially driven by the new market of low-price-point-diamonds. I think markets like China will do especially well with the product," said Ziminksy, when asked what he expects the diamond industry to look like in the next decade and if lab-grown could reach 30-40% of the market. "But I certainly would not count out the natural diamond market; it has been an extremely resilient industry for almost a century for a reason."