A Novices View of Learning How to Facet
---
by
So you want to cut emeralds, eh? This is a novices view of learning how to facet.
Introduction
Emeralds, Sapphire, Amethyst, Rubies, Garnets
I could go on and on. Gemstones fascinate, they are timeless, and they are beautiful. Everyone loves them, but few can craft them. That is the honor of the gem cutter. If you are reading this article then you are probably one of us, or want to be. Either way, there will be something in here for all, from a few stories of my personal experience to some good old-fashioned info and opinion. Please enjoy and thank you for your time.
The Faceting Machine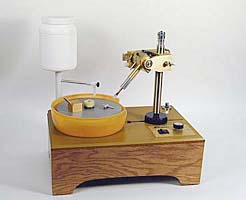 I remember clearly the agony of finding a good machine and the worry involved and stress and questions and time and.. and .. and
I finally found the right machine, which has been wonderful to …