CustomMade.com Review – September 2021
Save Money on Your Jewelry With These Sales and Coupons
* See website for exclusions and restrictions.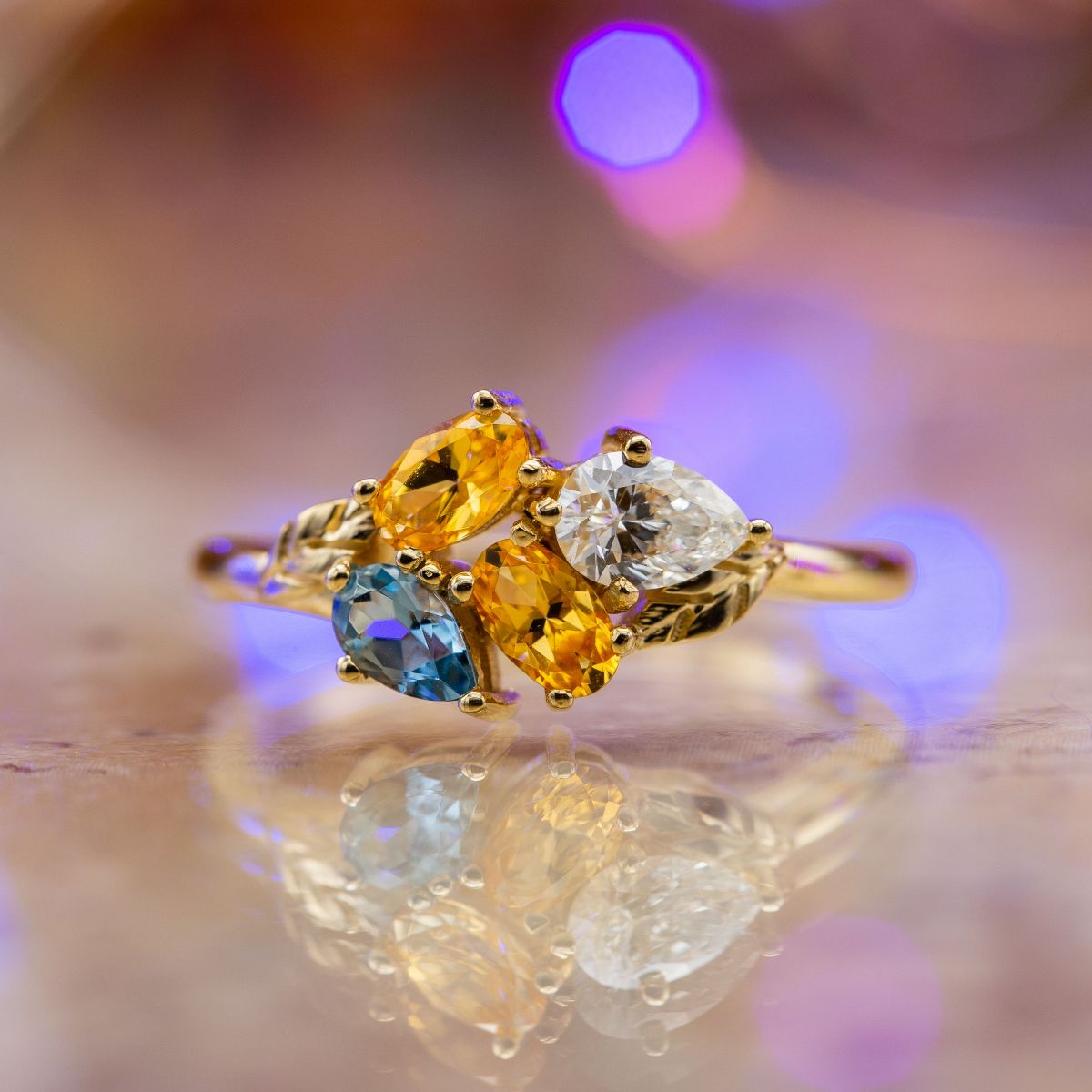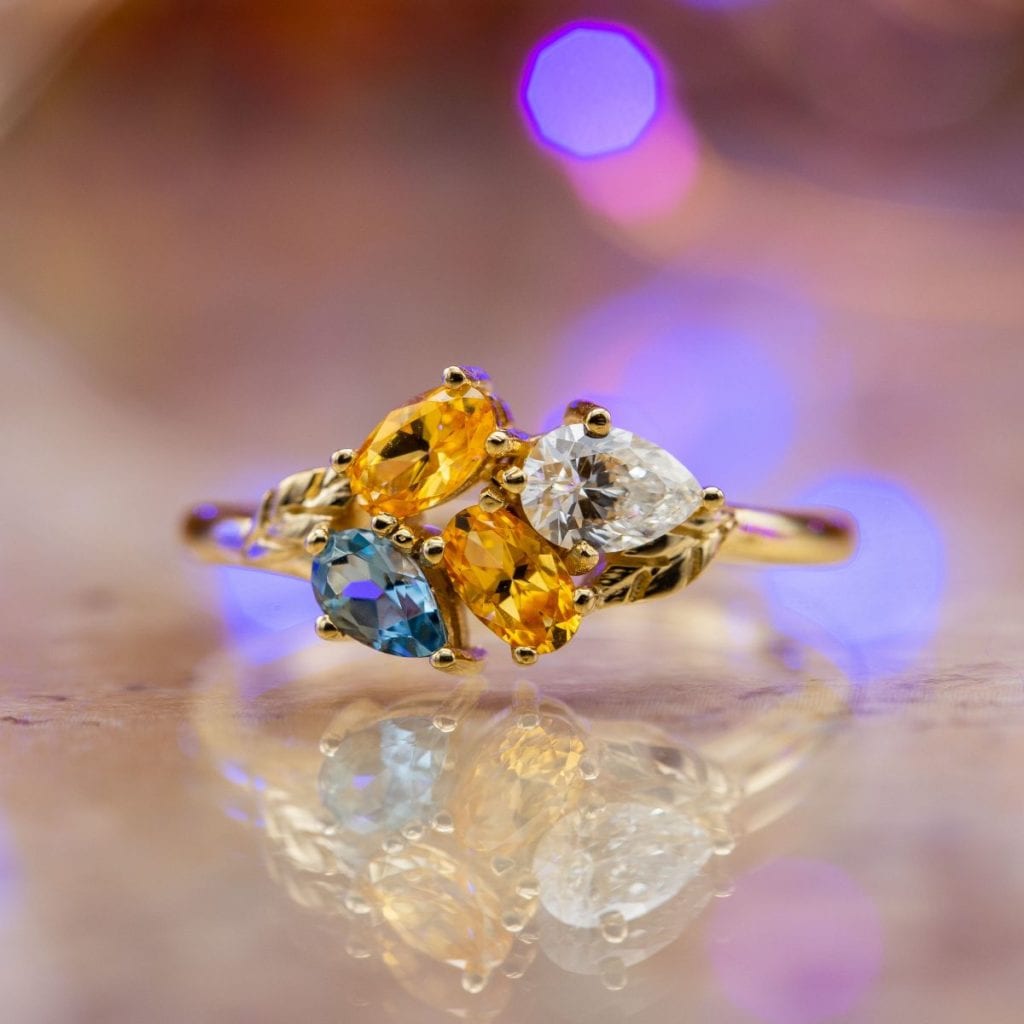 CustomMade is definitely unique amongst online jewelry sellers. Mostly because they don't "sell" anything. Instead, they actually MAKE every item, truly from scratch every single time. This means you get a higher quality item and something that truly is unique. They focus mostly on engagement rings and wedding bands, but they also make some amazing signet rings and other specialty jewelry.
While many online jewelers claim to do "custom" they're really just allowing you to "mix and match" different components to blend together a ring. If you want a version of the same ring everyone else has, this can work well. But if you want to do anything special or unique, you kind of need someone willing to start from scratch and do it right. That's what CustomMade does.
It's a very different approach…. basically CustomMade has an entire team at your disposal to help you create the perfect engagement ring. They have on-staff sketch artists (to sketch ideas with you), CAD designers, jewelry consultants, and of course jewelers. They make everything here in the United States, and their quality control is top notch.
Before we dig into their process, here's a few other places online where you can read reviews of their service and research them.
Here's how they do it.
Creating an engagement ring with CustomMade goes beyond the typical online buying experience, where you choose a stone, a setting, maybe have it engraved and that's your ring.
CustomMade first lets you explore the possibilities before matching you with the right team of people to bring your ring to life. And when we say team, we aren't kidding. Through your own personal jewelry consultant, you'll work with an artist, gem expert, 3D designer, and jeweler to turn your ideas into a real custom ring.
The CustomMade Engagement Ring Experience
CustomMade guides you step by step through the entire process of creating an engagement ring. Even if you know nothing about diamonds and engagement rings, CustomMade makes it easy to make something really special for your intended.
Which engagement ring style is right for you?
Finding your dream ring just got easier. Take our free quiz and figure out your engagement ring style today!
Step 1: Getting to Know You and Helping You Get to Know Diamonds
The first step is to get to know you, your future fiancée, and your tastes. CustomMade begins with a style questionnaire that includes a series of questions that will help your jewelry consultant understand what you're looking for. This is the part where you can upload images of rings you like, as well.
Next, they'll walk you through a series of guides to get you familiar with the diamond-buying process. You'll learn about the 4Cs of diamonds and how to play with color, cut, carat, and clarity to get a beautiful diamond that matches your budget. You'll also learn about fancy diamond shapes, fancy color diamonds, and other engagement ring gemstones.
Step 2: Sketching Out a Rough Draft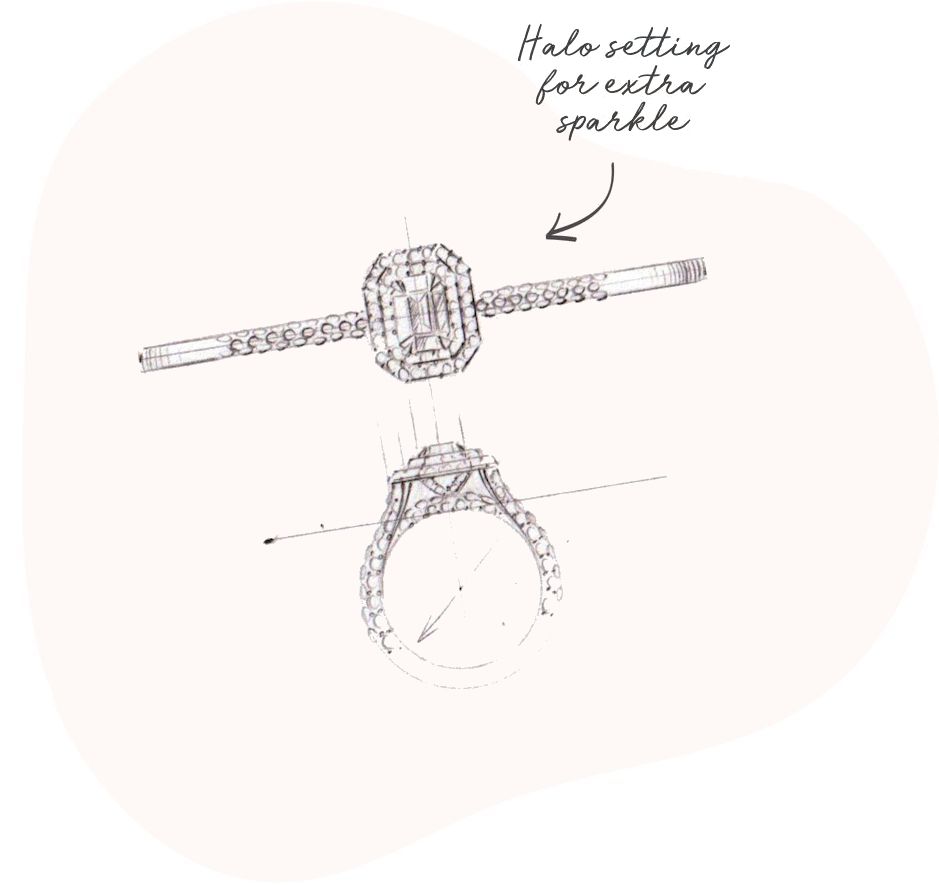 Once you're ready, you can connect with a jewelry consultant. The consultant will take your questionnaire and any photos you've uploaded and use them to start fleshing out design and style ideas. They'll talk to you about settings, center and side stones, personalizing the ring, and, of course, budget.
The results of that conversation are passed on to a jewelry artist, who will sketch out some ideas for you. You'll work with the jewelry artist to choose the one you like, and tweak it until it's just right.
Do you have diamond buying questions?
We offer free, no-obligation advice to help you feel 100% confident about making a decision on your diamond purchase
Step 3: Finding the Perfect Stone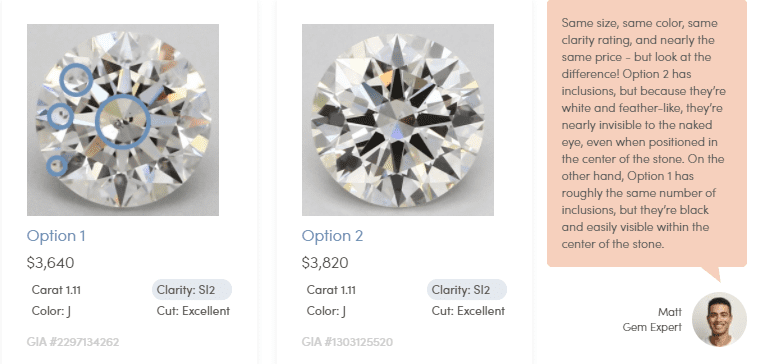 Next, you're on to the gem expert, who will talk to you about what's important for you in a stone and what your budget is. The gem expert will present you with an array of options, using 360-degree videos, that fit your budget. They'll work with you until you have the right shape, cut, color, clarity, and carat weight. If you want a fancy colored diamond, they will help you find the right shade and intensity.
Step 4: Giving Your Ring Form
Once you've chosen your gem (or gems, if you're considering a two-stone, three-stone, or other multiple-stone setting), it's time to see your creation in 3D. CustomMade will take your ring and your stone(s) to their CAD artist to create a 3D model.
This is your opportunity to see how it will look from every angle, and to make adjustments until it's absolutely perfect.
At this point, you will have received a ring-sizing kit to confirm the size of your ring. Keep in mind that CustomMade does not offer free resizing unless they get the size wrong.
Step 5: Finalizing Your Perfect Ring
Once you've given the thumbs-up, your 3D model moves on to CustomMade's jewelers, where jewelers will create the ring and provide the customer with high-res photos of the finished piece.
At this stage, you can have your ring engraved with either a message or symbol on the inner band for an additional $50.
Once you give the final okay, the ring is shipped to you.
The whole process runs through a direct messaging and project management system on CustomMade's website. You can send messages or chat via your phone or computer in real time. All of the ring details, sketches, videos, and discussions are stored in one convenient place, so you can review them whenever you like.
How Customizable Are CustomMade Rings?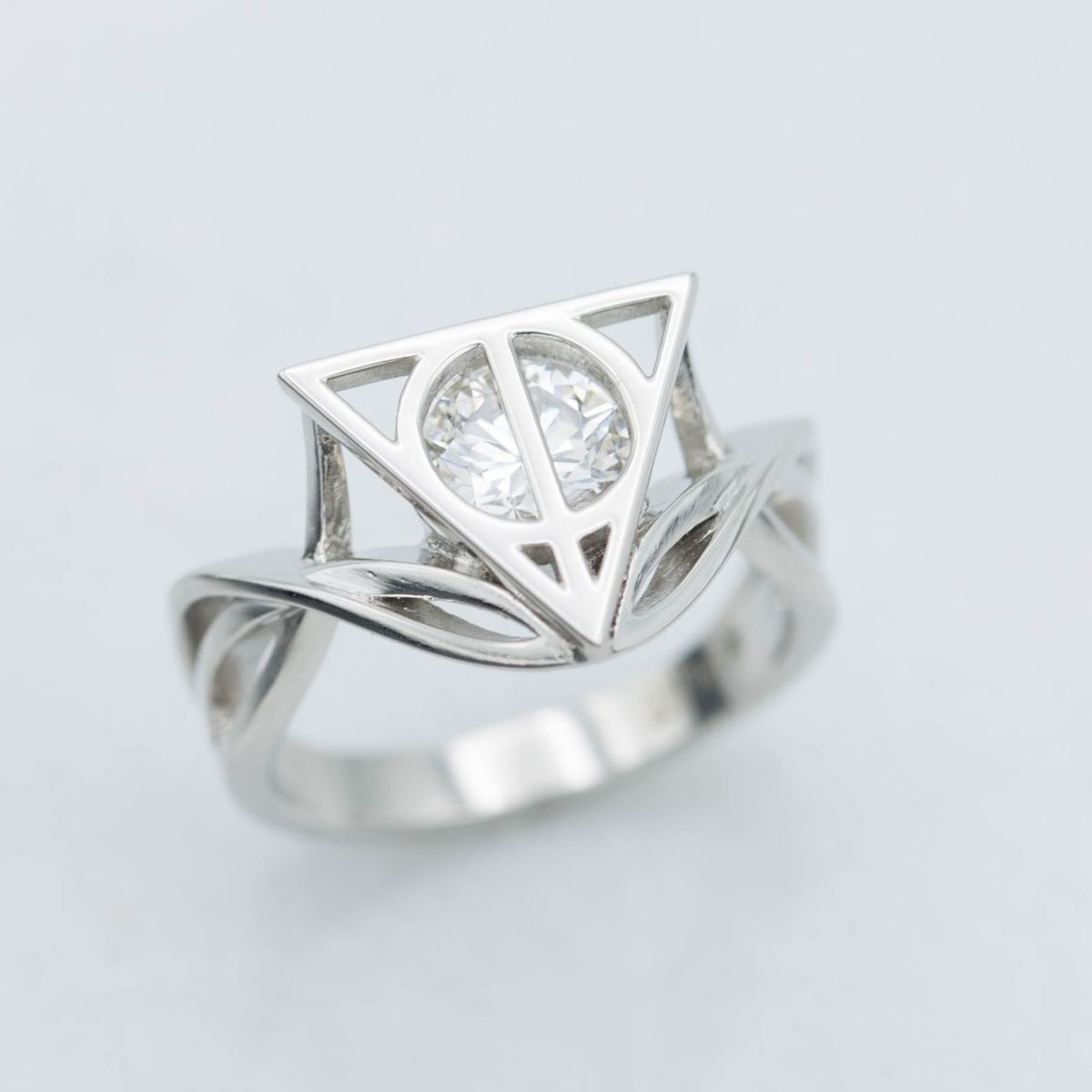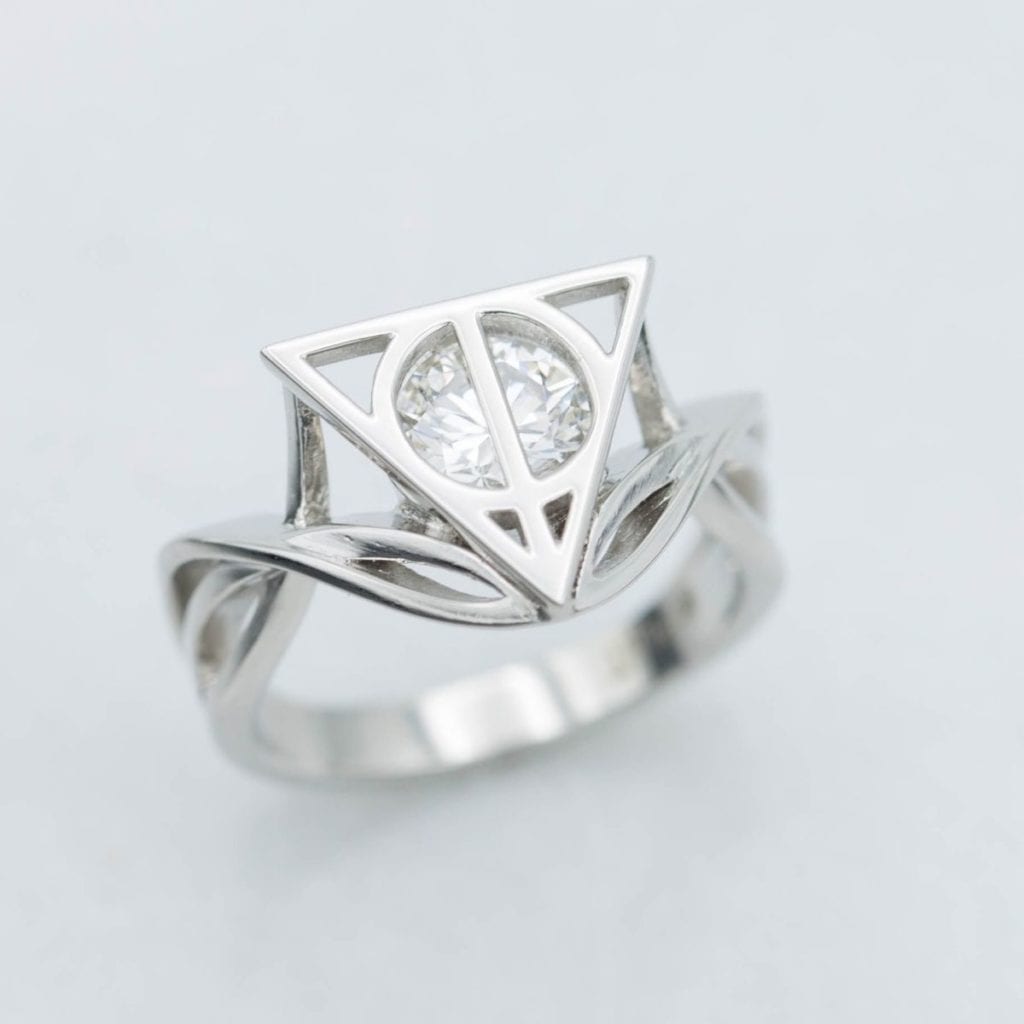 A lot of online diamond retailers will put forth their ring-builder tools as a way to customize your engagement ring. And many do offer a wide array of diamond and gemstone options, as well as settings and ring metals.
At some point, though, their selection does become finite. If you don't see what you're looking for in their ring builder, you can contact them to create a one-of-a-kind ring.
CustomMade, however, doesn't offer a ring-building tool. They get straight to building unique ring that is 100 percent you.
Diamond Selection
CustomMade keeps very few diamonds in stock. Instead, they work with trusted diamond suppliers. That gives them the flexibility to offer thousands of natural and lab-created diamonds to their customers. Once they know what their customer is looking for, they can reach out to their suppliers to find just the right stone.
Because they work with so many virtual inventories, there's really no limit to what they can offer you. For example, while retailers like James Allen and Blue Nile offer ten different diamond shapes, CustomMade can get you any shape you like, from trillion, to hexagonal, to tapered, and anything else you can think of.
The same goes for fancy colors. If you're looking for something exceptional, say a salt-and-pepper or Argyle diamond, CustomMade can get it for you.
They can even have diamonds custom-cut to either contemporary cuts, such as the standard brilliant or radiant, more vintage looks such as a rose or old European cut, or even a Hearts and Arrows diamond.
Finally, if you're looking for an alternative to diamonds, such as moissanite or cubic zirconia, CustomMade can help you with, too. They also make rings with gemstones, such as natural or lab-created rubies and sapphires, or morganites and aquamarines.
Metal Selection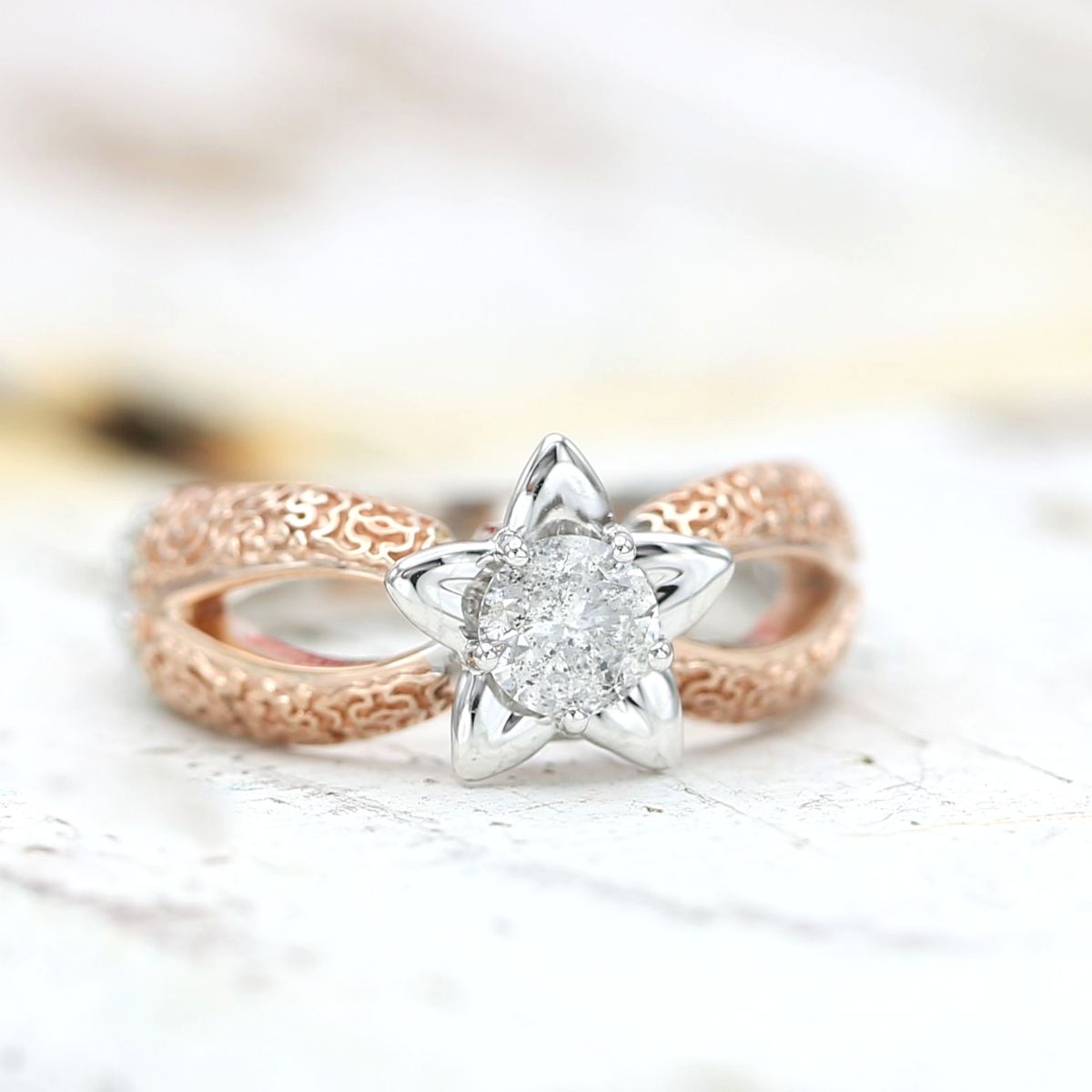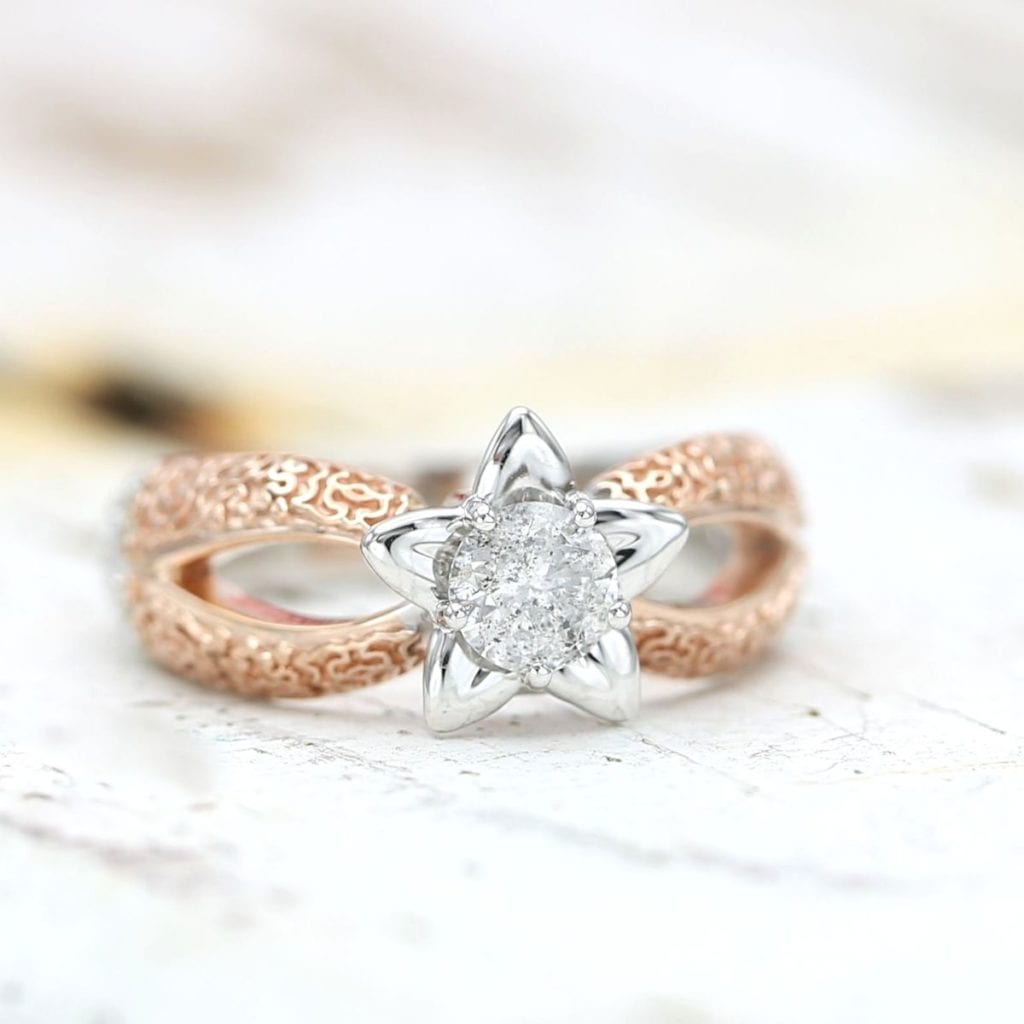 CustomMade can make your ring out of 10K, 14K, or 18K, white, yellow, or rose gold. They also work with platinum and sterling silver.
The setting, style, and design of your ring, however, is completely up to you. They can create contemporary, art-deco, or vintage-inspired rings, like most engagement ring retailers. But the options don't stop there.
They've made rings with nature and animal themes and even rings inspired by video games.
It's really up to you what your ring will look like. There are no templates and no restrictions.
Customer Service at CustomMade
Other diamond retailers offer live chat, email, and a toll-free number for questions. But you can imagine that it works a little differently at CustomMade. Since every part of the process goes through their platform, you are almost constantly in contact with someone from their team.
You can get in touch with your jewelry consultant at every step of the process, and they will already know the ins and outs of your particular ring.
That saves so much time, since you won't have to explain your particular situation every time you have a question.
Once your ring is finalized on your fiancée's hand, it comes with a lifetime manufacturer's warranty, as well as certificates of authenticity for all metals and stones. And, if any of your accent stones valued under $100 fall out within the first year, CustomMade will replace them for free.
They also offer lifetime customer services, so if you ever have a question or issue, you can get in touch and they will help you out.
One thing to note, however: since every ring is completely custom made, it cannot be returned or refunded.
They don't offer a traditional upgrading policy, either, since every design is created for your specific stone. It would be unlikely that another stone would fit in the same setting. But they will work with you if you need to replace the center stone for any reason.
But, again, at every step of the creation process, you are in control of how the ring looks, and CustomMade implements quality checks at every stage. So, it's pretty unlikely you're not going to like the ring.
How to Save Money on CustomMade
What you spend on a CustomMade engagement ring depends, of course, on the metal, stone, and design features you choose. That's why, at the beginning of the process, CustomMade lets you explore diamond characteristics and the kinds of trade-offs you can do to stay within budget.
A fancy-cut diamond, for example, tends to be less expensive than a round brilliant, while fancy-colored diamonds are always more expensive. To save even more money, you can choose a lab-created diamond or a moissanite.
If your heart is set on a natural round diamond, you can go for an eye-clean diamond, rather than a diamond with a high clarity grade. That means the diamond looks clean to the naked eye, although it may have flaws and inclusions visible when it is magnified.
When it comes to metals, white gold is less expensive than platinum, and 14K gold is less expensive than 18K gold, although it is softer and more prone to scratching and denting.
The whole process at CustomMade is set up to let you play with all of these options until you get the ring you want at a price you are happy with.
Is CustomMade Worth It?
Custom engagement rings are growing in popularity, as couples look for something that reflects their unique relationship. So, CustomMade is absolutely worth it if you're looking for a completely one-of-a-kind ring. You don't have to know exactly what you want, they will help you!
The ability to work with an entire design team and control every aspect of your ring is truly unique among engagement ring retailers.
Will CustomMade make a piece with my own gem?
Yes! They design pieces with customer-provided gems all the time and they have a whole process for it.
Is CustomMade.com diamond pricing good?
CustomMade tends to be less expensive than James Allen or Blue Nile, and they have a huge selection. The Company will also match any competing diamond price (lab grown or mined diamonds).