by Fara Braid
Whenever discussing gemstones and their links in the ancient world, one must consider that no matter how holy the ultimate purpose of the finished product, they were obtained through trade. Merchants traveled far and wide accumulating pretty stones that would entice the wealthy and the holy of the lands they passed through. They were well versed in the superstitions of those they traded with, and also formed a few of their own.
If ever there was a stone of merchants, malachite would be it. Always beautiful with its varied bands of green and black, easily worked by artisans into intriguing amulets, malachite was always popular. Why else would it earn a reputation as the stone of the salesman? Malachite kept with money was thought to increase wealth. Worn during business transactions it helped bring better sales and more profitable deals.
Much like turquoise, malachite was believed to have the ability to foretell impending disaster by breaking into pieces, as well as protecting the wearer from the danger of falling. These are all very important traits to a merchant, camels tend to be tall beasts, a fall could be dangerous! Why do I say camels? Well, Malachite mines have been found in the Sinai, which have been worked as early as 4000 B.C.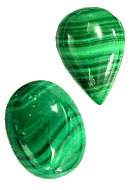 A guardian stone for travelers, it was definitely a protective stone. Pieces of malachite bearing resemblance to an eye were worn in some parts of Italy to protect against the Evil Eye. These pieces were usually triangular in shape and often set in silver.
Other malachite amulets carved with the rayed figure of the sun were supposed to be particularly powerful. The power of light was useful against the 'dark' influences of necromancers and demons. Malachite beads hung on infants' cradles protected them from evil spirits and lent tranquil sleep. Malachite held in the hand was also reputed to be soothing and sleep inducing for adults.
Of course, these are all good selling points, as well. The fact that the stones were also very beautiful, each unique in its patterns with no two looking alike, would definitely lend to its popularity. And, of course, green is the color of growth and fertility. In America, green is also the color of money.