This article is compliments of the Wire Artist Jeweler. If you would like to learn more about wire wrapping, go to their web site at www.wag.on.ca.
Simple Beginners' Project This Beginners' Project was published in the March 1999 issue of Wired.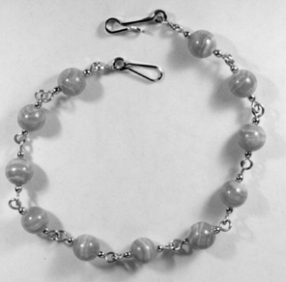 BEFORE PICKING UP YOUR TOOLS AND CUTTING ANY WIRE, PLEASE READ THESE INSTRUCTIONS THROUGH CAREFULLY AND COMPLETELY TO MAKE SURE YOU UNDERSTAND THEM!
START HERE!
The Bead BraceletThis is a neat, simple, project that will teach you how to string beads with wire.  You can take these skills and create bracelets, necklaces, earrings, etc.  With different types and sizes of beads you can create many different looks.  Don't be afraid to experiment a bit, it's how we all learn a lot of things, by trial and error.  You may, however, want to make that "error" with a cheaper wire!   Enjoy the project, and wear it with pride.What you'll need for this project:

1-1/2 ft (45 cm) of 21 round hard
6 inches (15 cm) of 22 square hard
11 beads (4 mm or 6 mm – your choice)
22 little gold-filled beads (2mm, optional)

Approximate cost of materials:  $12.00 using gold-filled wire.

TOOLS YOU'LL NEED…

Cutters
Flat-Nose Pliers
Round-Nose Pliers

1.   Your first step is to see the Helpful HInt below!  Then cut 11, 1-1/4″ (or whatever size is right for you) pieces of 21 round hard.  Take one piece and, with your round-nose pliers, make a loop at one end.
2.   Now, with your round-nose pliers still in the loop, bend the loop backwards slightly to that it is now centred.
3.   Thread on the bead of your choice.
4.   Bend the wire at the top of the beads over at a right angle and cut off about 3/8-inch from the bead.
5.   Now, with your round-nose pliers, begin to curl the wire in.
6.   Continue to curl it into a loop until it meets and forms a circle.
7.   Repeat steps 1 to 6 until you have used up all 11 pieces of the wire you prepared.   All of your bead links are now done.  To join them together, take your flat-nose pliers and open up one of the loops sideways (below), link another loop onto it (below, right) and close again sideways with your flat-nose pliers (bottom, right). Continue Step No. 7 to link all of the beads together.
8.   Make two S hooks to go on either end of the bracelet.  (See January's beginners' project.)
| | |
| --- | --- |
| 9.   Cut a 2-1/2 inch length of 22 square hard wire.  With your round-nose pliers, make a loop at each end of the wire as shown at right. | |
| 10.   With your round-nose pliers still in the loop, pull back slightly to centre the loop.  Do both loops. | |
| 11.   With your round-nose pliers, hold the wire in the centre and slowly bring it around so you have a U bend, and the two loops meet evenly. | |
12. Hold the U bend with your flat-nose pliers about 1/8-inch from the end, and gently squeeze together. 
14.   Place your round-nose pliers about 5/8-inch from the end (where the marks are in the picture), as shown below.
16.   With the pliers still in the hook, move them to the back of the loop and bend backwards, as shown here.
17.   Then bend forward again.

13.   Using your flat-nose pliers, bend the loop on the tip up on an angle.
15.   Bend it around as shown in the two illustrations below. HELPFUL HINTS

To make loops of the same size, mark your pliers with masking tape (see the January, 1999 issue).
Before you cut the 11 pieces of wire into the 1-1/4-inch size, work one piece to completion:  This will establish whether your loop is the same size as the one in the project.  If you prefer a larger loop, cut your pieces longer.
18.   Attach this hook to your bracelet by opening your S hooks sideways and closing them again.  Use the eye described in February's beginners section for the other end of your bracelet.  You're done!  You should now have something that resembles the illustration at right.
All designs and images on this website are © 1999 by the Wire Artists Group. All rights reserved. Any unauthorized use, reproduction, or transfer of the site or its content, in any medium, is strictly prohibited.