Online Faceting Designs & Diagrams: Aquacisir
---
by
Aqua Cisir by Jeff R. Graham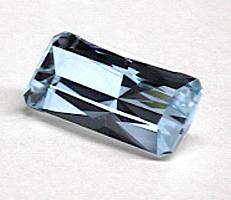 Aqua Cisir – Cutting Remarks
Shown at left is a 9.5 x 19 mm ~7 carat Aqua Cisir cut from flawless Aquamarine by Jeff Graham. "Aqua Cisir" performs well low with RI materials like Quartz and Beryl.
This cut is not intended for beginners in spite of its simple appearance. In terms of skill and technique requirements, I would rate Aqua Cisir as about a 6 on a 10 scale. The corners are designed to 'float' and if your L/W deviates from 2:1 somewhat it won't hurt anything, but you will have to make corresponding adjustments to the affected angles.
The keel can be a little hard to meet depending on your skill and the accuracy of your machine. The long keel facets could also be problematic for novices due to chipping on the edges, especially with Quartz. The flash and yield of this cut are exceptional, and this is a very fast design to cut for intermediate/professional faceters.
Enjoy cutting your "Aqua Cisir"… Drop me an email to let me know your results and what you've cut, or feel free to inquire if you have any questions or need some help regarding this design.


Random – Cosine – ISO
Detailed faceting instructions by Jeff Graham available at The Rock Peddler

About the author
Jeff R. Graham
The late Jeff Graham was a prolific faceter, creator of many original faceting designs, and the author of several highly-regarded instructional faceting books such as Gram Faceting Designs.
All articles by this author