What to Look for in Polished Jewelry Pieces
If you're creating a piece of jewelry for competition, take the time to finish every detail. The same holds true if your jewel holds very expensive gems. A custom-made jewelry piece costing several thousand dollars deserves attention to every detail.
For less expensive pieces, finishing every little detail can be too time consuming to justify the labor. For example, polishing between every wire may not be worthwhile for a pair of amethysts in basket earring settings. The insides of these wires hardly show, so it makes no difference to the jewelry's appearance.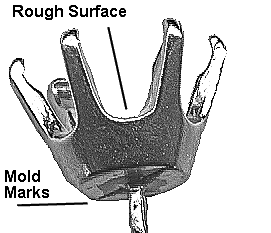 Unfortunately, some jewelers get plain lazy when finishing their jewelry. For example, cast settings have a rough surface that needs smoothing. Without buffing, they will never take a high polish. Yet, you'll commonly find this, even in jewelry costing over $100. Worse yet, I've seen earrings that still have rough metal on the back, where the mold went together. This will irritate the customer's ear. Taking such a shortcut has no excuse.
If you're shopping for jewelry, examine the polish on the store's goods. Look at the surface carefully to see how smooth it is. A well-finished piece of precious…