Premium Content for Members Only
90% of the quality is in the last 10% of the work.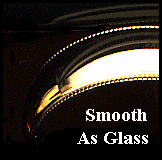 A brilliant polish is the last and one of the most important steps in finishing a piece of fine jewelry. A high polish dazzles the eye and creates desire. It says, "Look at me, I am special!"
One would think that this is automatic, but it is frequently neglected. The truth is that obtaining a high polish requires a fair amount of work. Compromises are often in order. …
To read this entire article and hundreds more like it,
Become a Member
Already a member? Simply login to your account.