Product Review, Opal The Smart Chart
---
by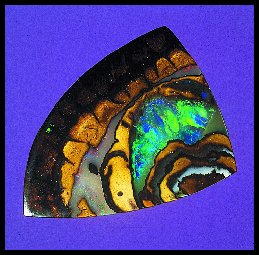 The joy of opals is that there is always something new to be discovered. They are the most unique of all gemstones with a constantly varying display of types, colors and patterns. While this variety makes them a joy to work with, it also makes them a monster to value.
The newest thing in the opal world is the opal The Smart Chart. This is a software package designed to help you value your opals. It has two segments. The first one is educational and contains over 25 screens of text with many previously unrecorded tips. It details all the criteria that go into valuing opals. Here you will find information, not just on on opal varieties and grading factors, but also production from the major fields and current pricing. Of course, it is lavishly illustrated to tantalize the senses as well as the intellect.
---
Valuing opal
While the information segment is valuable, the primary purpose of this software is to lead you to realistic value for your gems. The The Smart Chart provides the means to access over 30 million opals in photographic form. This is cleverly set up by taking you through a series of illustrated screens. On …
Premium Article
This is a Premium Article. Please become a member to read this entire article and gain access to hundreds more like it.
Membership options
Full Article Details
---
Reading time
4 min 59 sec
---
Here's what you get if you unlock this article:
Valuing opal
'She won't be right' mate! We do need an opal valuation system! by Peter Brusaschi
Plus, additional member-only benefits:
Exclusive access to other premium articles and courses
Unlimited access to our gem pricing guide
Participate in our member-only forums
Membership options