Sanidine Value, Price, and Jewelry Information
---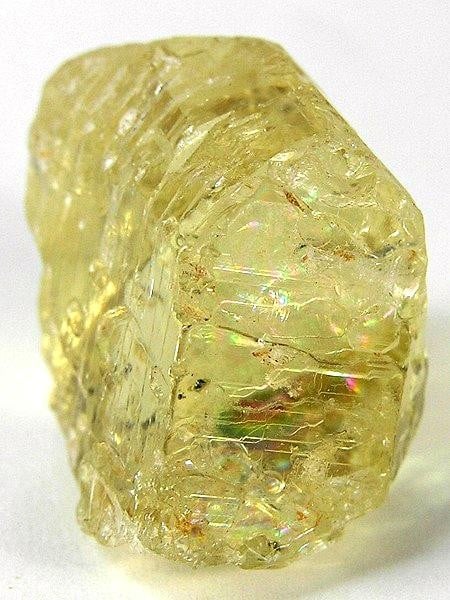 Sanidine Value
The International Gem Society (IGS) has a list of businesses offering gemstone appraisal services.
Sanidine Information
Comments
Sanidine is a mineral of volcanic rocks, with little gem significance. It is uncommon and rarely seen as a gem. While occasionally brown or yellow, most examples are colorless. While the properties are closer to microcline, it is usually classed as a plagioclase.
Name
Sanidine is also from the Greek, sanis, meaning board, in reference to the tabular crystals. Anorthoclase is from Greek words for not upright because the cleavage is not 90°.
Occurrence
A component of acid igneous rocks. Oregon; California.
Near Koblenz, Germany: brown transparent gems; S.G. 2.57-2.58; birefringence 0.007; indices: 1.516-1.520/ 1.520-1.525/1.522-1.526.
Ashton, Idaho: sanidine crystals in volcanic luff, up to 1 cm, colorless, well formed. Indices: 1.516-1.519/ 1.520-1.522/1.521-1.523; 2V=8-19°; birefringence 0.003-0.005.
Stone Sizes
Sanidine is not a common mineral and is hardly ever seen as a gemstone. Crystals tend to be colorless and nondescript and are rare in cuttable sizes.
by