Star Sapphire Value, Price, and Jewelry Information
---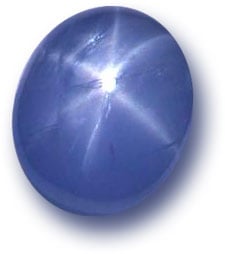 Star Sapphire Value
See our article called Phenomenal Gems to read more about the grading and valuation of stones with asterism.
The International Gem Society (IGS) has a list of businesses offering gemstone appraisal services.
See the entire Gem Price Guide.
Start an IGS Membership today for full access to our price guide (updated monthly).
Star Sapphire Information
Data
Value
Name
Star Sapphire
Is a Variety of
Sapphire
Crystallography
Hexagonal (trigonal).
Refractive Index
1.757-1.779
Colors
All except red.
Luster
Vitreous to adamantine.
Polish Luster
Vitreous to subadamantine.
Fracture Luster
Vitreous.
Fracture
Conchoidal, Frequent parting
Hardness
9
Specific Gravity
3.99-4.10; usually near 4.0
Birefringence
0.008-0.009
Cleavage
None
Dispersion
0.018
Luminescence
See "Identifying Characteristics" under the Sapphire main gem listing.
Wearability
Excellent
Enhancements
Heat treated: common. Diffusion treatment (places a thin blue coating on colorless sapphire): occasional. Irradiation (turns colorless gems yellow, orange, or light blue.): rare.
Transparency
Transparent to opaque.
Absorption Spectrum
See "Identifying Characteristics" under the Sapphire main gem listing.
Phenomena
Asterism.
Birthstone
September.
Pleochroism
Very pronounced.

Blue sapphire: intense violet-blue/blue-green
Green sapphire: intense green / yellow-green
Orange sapphire: yellow-brown or orange/colorless
Yellow sapphire: medium yellow / pale yellow
Purple sapphire: violet/orange
Brownish-orange sapphire: brownish-orange / greenish
Padparadscha sapphire: orange-yellow / yellowish-orange

Optics
RI: o = 1.757-1.770; e = 1.765-1.779 (usually 1.760, 1.768); Uniaxial (-).
Star Sapphire is a type of sapphire displaying an optical star-like effect. This effect is caused by asterism. You can read more about asterism in our Phenomenal Gems article.
by