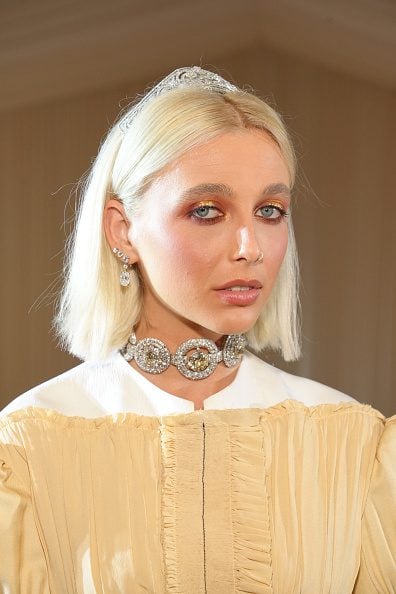 The annual Met Gala is known for being the topic of conversation and controversy. Celebrities often use the event to make political statements at this uber-exclusive party. This year's Met Gala did not disappoint thanks to Kim Kardashian's dress and, more interestingly, Emma Chamberlain's mysterious necklace.
Along with her expensive Louis Vuitton dress and vintage tiara, Chamberlain also wore a choker believed to belong to the Maharaja of Patiala. According to the Times of India, in 1928 the 34-year-old Maharaja decided to turn a 234.65-carat yellow diamond – the "De Beers" – into an heirloom necklace, which became known as the Patiala Necklace.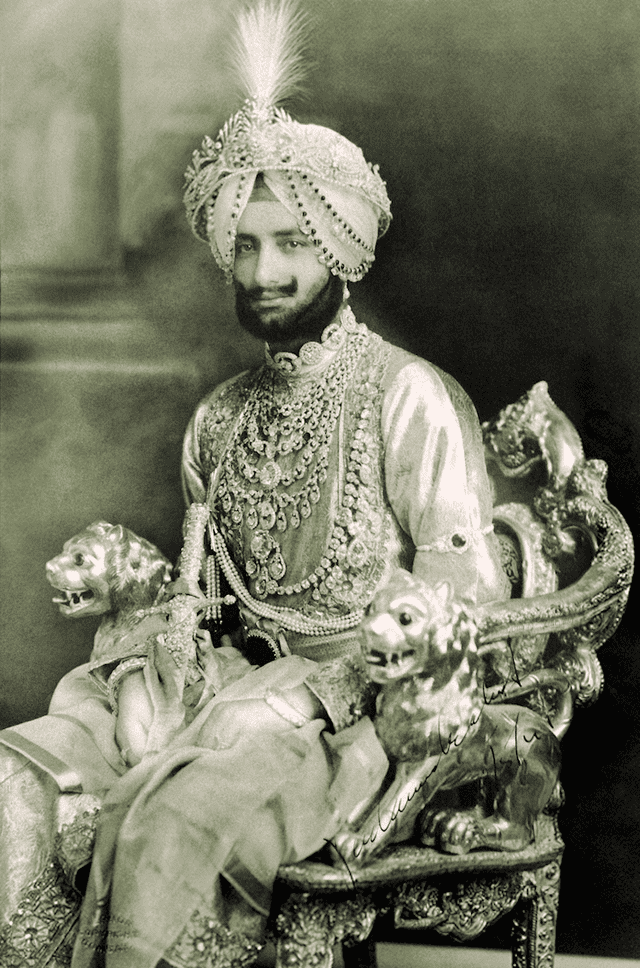 The stunning necklace has five rows of platinum chains containing 2,930 diamonds along with Burmese rubies. According to some estimates, it would cost US $30 million to create today in its original form.
The Patiala Necklace has a mysterious history. It went missing from the Patiala royal treasury in 1948. Some say the family separated the necklace and stones. Others claim the necklace was stolen. The De Beers diamond would reappear at a Sotheby's Patiala Royal Family auction in 1982 without the necklace. Later, in 1998, Cartier allegedly bought the necklace from a second-hand London jewelry store and replaced the missing stones with replicas.
Cartier loaned the necklace to Chamberlain, their new brand ambassador, for the Met Gala. Social media quickly took exception. Many immediately compared it to the Patiala Necklace.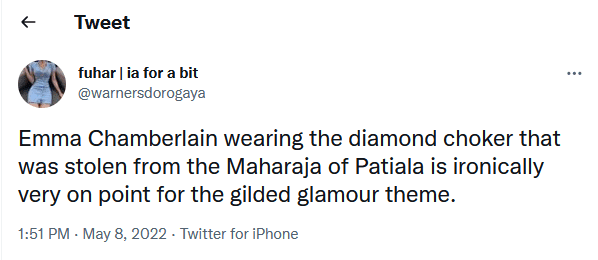 https://mobile.twitter.com/warnersdorogaya/status/1523178714489815041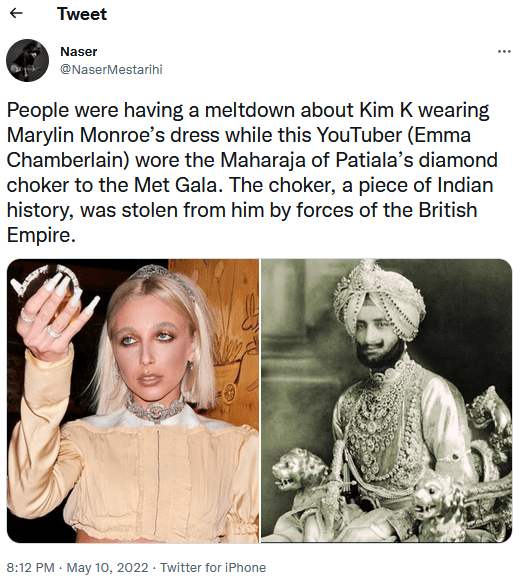 https://mobile.twitter.com/NaserMestarihi/status/1523999348014649344
Chamberlain and Cartier have yet to comment on the origins of the necklace.