Premium Content for Members Only
Step 6: Appraising
Lesson 2
An appraisal is an opinion of value. If you take a pair of earrings to a jewelry store, the owner will be giving you their opinion of what it would sell for in their store. If you take it to three stores, you can get three different appraisals. The values can be both honest and vary considerably.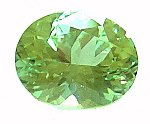 Appraisals are usually done by comparing recent sales of like items. That makes appraising things …
To read this entire article and hundreds more like it,
Become a Member
Already a member? Simply login to your account.