by Fara Braid
Long ago, a beautiful maiden was on her way to worship at the Temple of Diana, when she had the extreme misfortune of crossing the path of the wine god Bacchus. He was in a bad temper, having just endured some slight from a mortal, and had vowed to take his revenge upon the next person he met. He spied the maid and unleashed his two guardian tigers upon her. As the great beasts bounded towards the hapless lass, Diana intervened and spared her that terrible fate by turning her into a pure, clear stone. Bacchus was immediately remorseful, and poured his wine over the stone as an atonement, staining the crystal a deep violet hue. And so the maiden Amethyst lent her name to the crystal that was revered by the ancients for its power to cure drunkenness and calm physical passions.
Perhaps this calming of physical passions is why the early Christians associated this stone with Christ. Always a stone of deep spirituality, its purple colours represented purity of spirit, in a godlike way. Perfection. The chastening and purifying effects of suffering are represented by the purplish/reddish colour of this stone. This allusion to wounds, as in the suffering of Christ, was also seen to aid in the healing of them. An ages old cure for pimples involved moistening an amethyst and rubbing it over the afflicted areas.
The spiritual overtones of Amethyst are carried through many cultures. It was often seen as a stone of peace. The calming presence of this stone was thought to soothe dreams, bringing the dreamer more in tune with the Divine. This clarity and peacefulness were thought to have a calming effect on the mind, allowing it to flow freely in both mental and metaphysical dimensions. Many psychics keep amethyst with their tarot cards or other oracular instruments.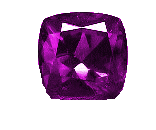 Amethyst was one of the gems worked by the early Egyptians into the form of amulets. Whilst later Egyptian artisans designed much more elaborate and breathtaking displays, these earlier amulets seemed to be of a more practical variety. As amulets were designed as both prayers and protections and usually set with the more common ancient holy stones, its inclusion signifies how long it has been revered. Carnelian and Beryl were also shaped into these protective devices, most often in the form of animals and were more likely fetishes designed by early magicians than by a more organized priesthood as came to pass later on.
The stone of Pisces, which starts in the month of February and is ruled by the planet Jupiter (for one), Amethyst is a busy little stone. February is also the month celebrating St. Valentine, who it has been said wore a ring with the likeness of cupid carved in amethyst. With it's reputation for calming passions, this seems unlikely, unless one considers that in medieval times, true chaste love was highly valued and WAS signified by Amethyst.
A parting poem on Amethyst (author unknown)
The Amethyst.

From passion and from care kept free

Shall Pisces' children ever be

Who wear so all the world may see

The Amethyst