Online Faceting Designs & Diagrams: Simple Heart
---
by
Simple Heart by Jeff R. Graham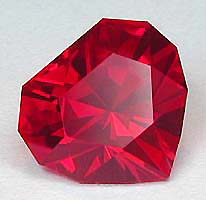 Simple Heart – Cutting Remarks
Shown at left is a 11.9 x 11mm x 7.1mm deep ~ 6.48 carat Simple Heart cut from man-made Ruby by Jeff Graham.
Take a look at my online article about cutting "Simple Heart" in a piece of Ruby Corundum (pictured at left). Cutting Sapphires – "Simple Heart"
I have had a lot of people ask me for a very simple heart to cut in smaller sizes. Most other hearts that are available out there (not that there are very many), need to be cut in a larger size, although my "SweetHeart" will cut fairly small with no problem, it does have more facets. This heart has a very low number of facets (44, including the table). I only used the bare minimum needed to have a nice heart shape/outline.
This design is pretty straight forward to cut… The only thing that you will need to be careful of is to be sure that when you cut P1 & P2 that they line up over the center of the dop. Like almost all hearts this design is 1-fold symmetry and because of this you could cut it to center point, but not be centered on the dop. So be sure you are cutting it centered, when you start. I have you cut P1 and P2 from opposite directions to help facilitate centering.
Tip: You can cut the pavilion to a temporary meet point at 43 degrees to make the center point equal (over the dop) and then cut the correct angles…
This can be cut in R.I. 1.62 to 1.93 with no changes.
Enjoy cutting your "Simple Heart"… Drop me an email to let me know your results and what you've cut, or feel free to inquire if you have any questions or need some help regarding this design.


Random – Cosine – ISO
Detailed faceting instructions by Jeff Graham available at The Rock Peddler

About the author
Jeff R. Graham
The late Jeff Graham was a prolific faceter, creator of many original faceting designs, and the author of several highly-regarded instructional faceting books such as Gram Faceting Designs.
All articles by this author