Any time you have a blocky piece of rough that's not square enough for an
emerald cut
, try the Hayek cut. Named after the Nobel Laureate economist
F. A. Hayek
, this design was developed to fit a specific piece of beryl rough. However, you'll find this cut very useful for faceting other types of gems, too.
Gemstone Recommendations
To the right, this beauty has a Barion-style pavilion, which accounts for its great brilliance.
In rough with light to medium colors, the Hayek cut will have outstanding optical performance. However, I would caution against using this design for darker rough material.
This is a fairly simple design to facet. Now that you have it in your repertoire, you should find multiple occasions to cut it for your customers.
Diagrams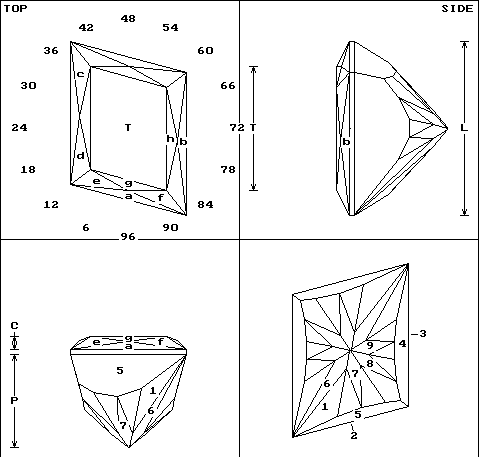 Hayek Cut Instructions
Angles for R.I. = 1.56
45 facets + 4 facets on girdle = 49
96 index
L/W = 1.500 T/W = 1.066 T/L = 0.710
P/W = 0.807 C/W = 0.110
H/W = (P+C)/W+0.02 = 0.937
P/H = 0.862 C/H = 0.117
Vol./W^3 = 0.628
Pavilion
| | | | |
| --- | --- | --- | --- |
| Step | Angle | Index | Notes |
| 1 | 43º | 96-06-12-18-24-30-36-4248-54-60-66-72-78-84-90 | Cut to temp center point (TCP) |
| 2 | 90º | 44-92 | Meet with step 3 at edge from step 1 |
| 3 | 90º | 24-72 | See step 2 |
| 4 | 75.5º | 24-72 | Meet at 1-2-3 |
| 5 | 75.5º | 44-92 | Meet at 1-2-3 |
| 6 | 42º | 09-57 | Add the mains last |
| 7 | 41.5º | 45-93 | |
| 8 | 41.4º | 33-81 | |
| 9 | 41º | 21-69 | |
Crown
| | | | |
| --- | --- | --- | --- |
| Step | Angle | Index | Notes |
| a | 42º | 04-52 | Steps a to f meet at corners |
| b | 42º | 24-72 | |
| c | 30.7º | 25-73 | |
| d | 31.5º | 23-71 | |
| e | 32.2º | 05-53 | |
| f | 31.4º | 03-51 | |
| g | 25º | 04-52 | Meet e-a-f |
| h | 22.1º | 24-72 | Meet c-d-b |
| T | 0º | Table | Meet h-d-e-g and g-f-c-h |