Agate Value, Price, and Jewelry Information
---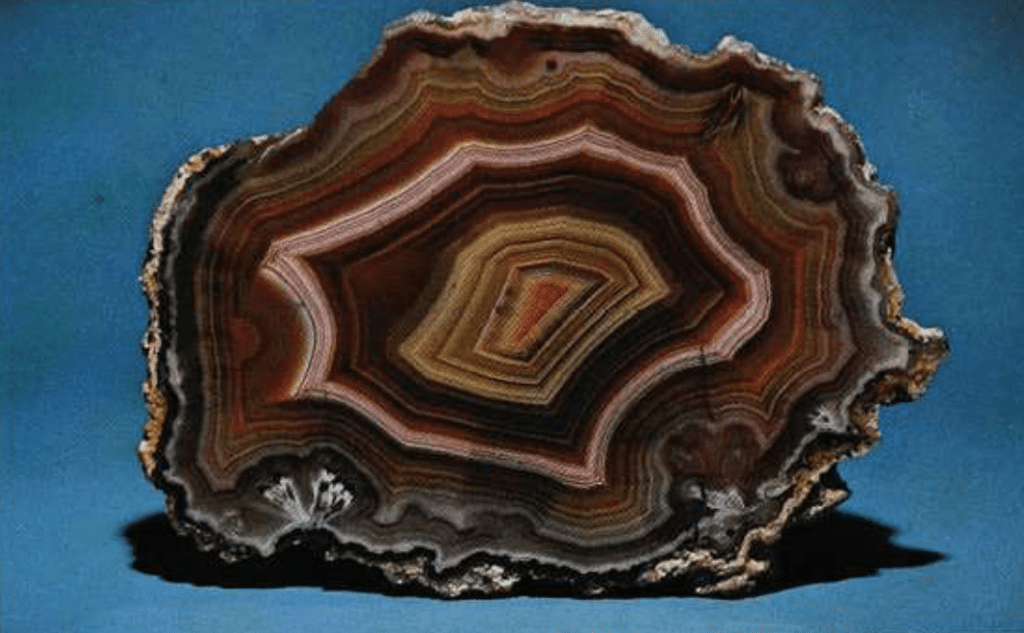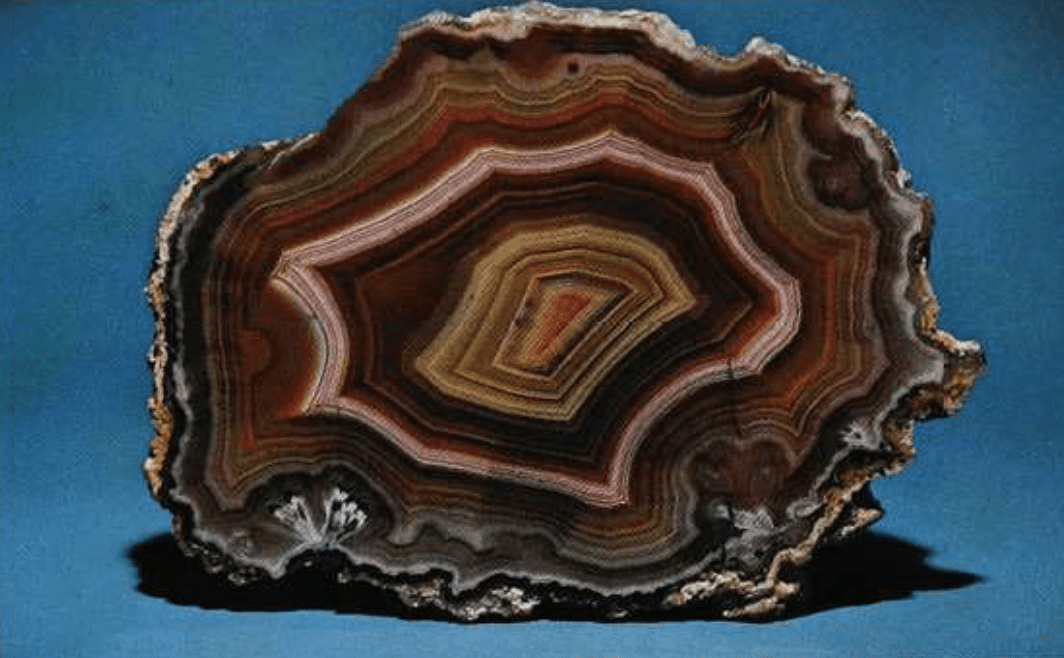 Agate is a variety of chalcedony, a cryptocrystalline form of quartz. Translucency, patterns of color, or moss-like inclusions may distinguish this stone from other forms of chalcedony. Agates can show a wide variety of vivid, multiple colors. These are principally the result of traces of oxides of iron, manganese, titanium, chromium, nickel, and other elements. All agates take a wonderful polish and are tough enough for most jewelry uses. Designers often take advantage of the intriguing patterns these stones have to offer to create unique and fascinating pieces.
Agate Value
In general, agate values are quite modest. Their prices reflect mainly labor and artistry rather than the value of the material itself. Agates of large size or with particularly distinctive, fine, or landscape-like color patterns are at a premium. Custom cut pieces or stones from collectible locations would be substantially more expensive.
The International Gem Society (IGS) has a list of businesses offering gemstone appraisal services.
See the entire Gem Price Guide.
Start an IGS Membership today for full access to our price guide (updated monthly).
Agate Information
Varieties of Agate
The color patterns in agates usually take the form of flat or concentric layers or bands. Mossy or dendritic inclusions can sometimes create the impression of vegetation and landscapes.  Varieties of this gemstone are described by their color patterns, inclusions, or source.
Banded
With regular color layers and bright colors, this variety is one of the most popular. These stones are found all around the world, but Brazil is one of the most productive sources. Many of the richly colored, banded agates you see for sale are dyed.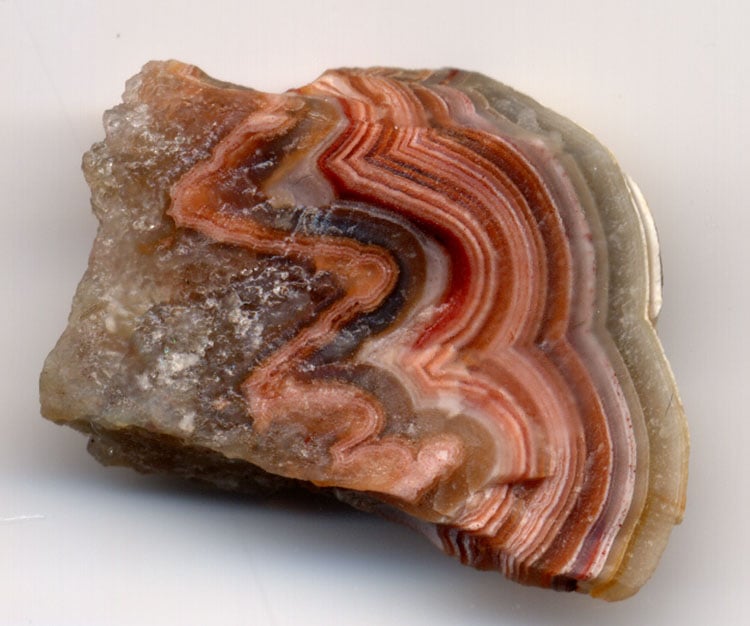 Moss, Plume, and Dendritic
These stones contain mossy inclusions of mineral oxides that may be any color. Stones that present plant-like patterns are called moss agates. Those with feather-like patterns are called plume agates. Those with tree-like, branching patterns are called dendritic agates.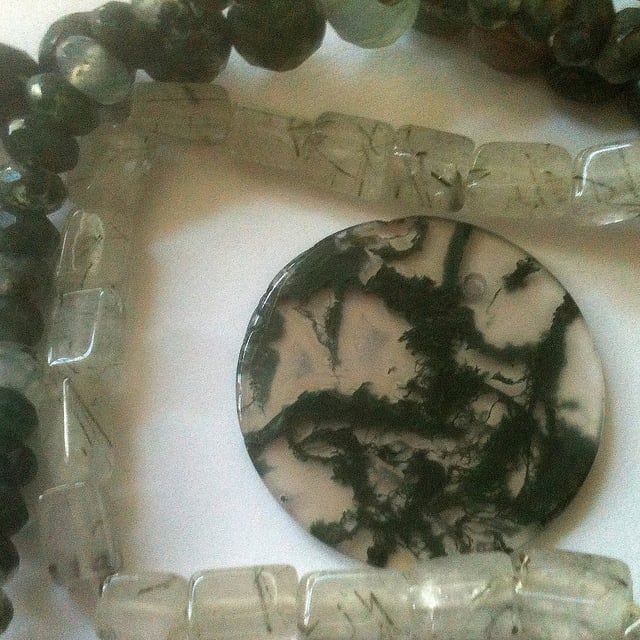 Picture or Scenic
Some inclusions can create the appearance of whole landscapes, complete with lakes, shorelines, trees, and shrubs, within an agate. Stones that show these "natural pictures" are treasured.
Fire
Inclusions of plate-like crystals of limonite make fire agates iridescent. Cutting and polishing can enhance this effect.
Lace
Noted for their delicate designs, these stones are banded with intricate swirls and loops. Mexico is one of the premier sources of this material.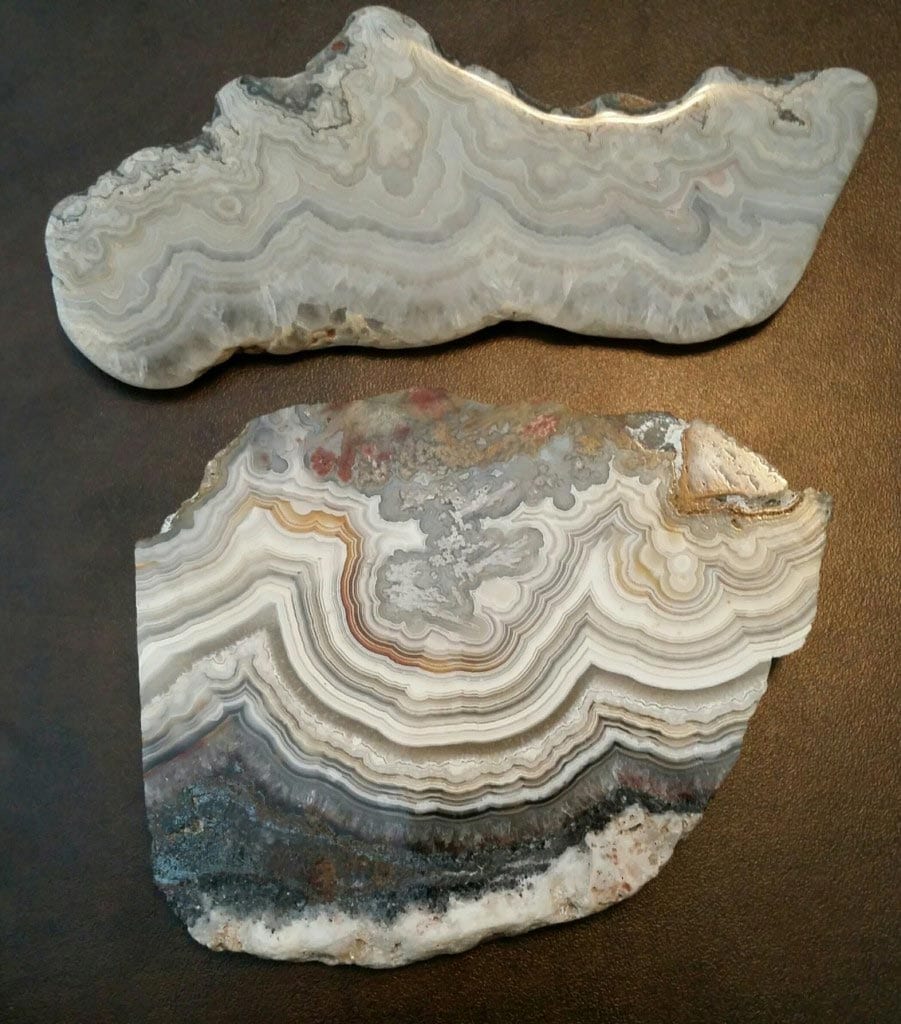 Iris
These stones show iridescent colors reflecting from between the color layers.
Shell
Embedded, silicified shells create patterns in these agates. Turritella agate is composed mostly of shells and shell fragments of the gastropod turritella and certain other species.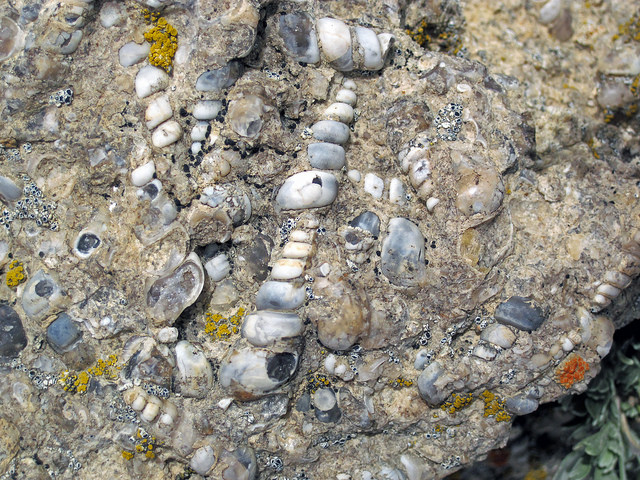 Petrified Wood
Fossilized ancient tree trunks and limbs may have their organic components replaced by agate stone over millions of years. In some cases, their woody structure may also be preserved and visible with a microscope. The agate's color may be very bright and strong.
Synthetics
For information on synthetic quartz in general, consult the quartz gem listing.
Enhancements
Dyeing is an ancient and common practice for enhancing agates. (Chalcedony stones are relatively porous). This is usually a stable process.
A celebrated secret process for dyeing agates was developed in Idar-Oberstein, Germany, in the 19th century. When the agate deposits in this town were depleted, emigrants to South America shipped grey agates back to Idar-Oberstein. These pieces were dyed and the results were extraordinary.
Dyeing enhancements should be disclosed to consumers.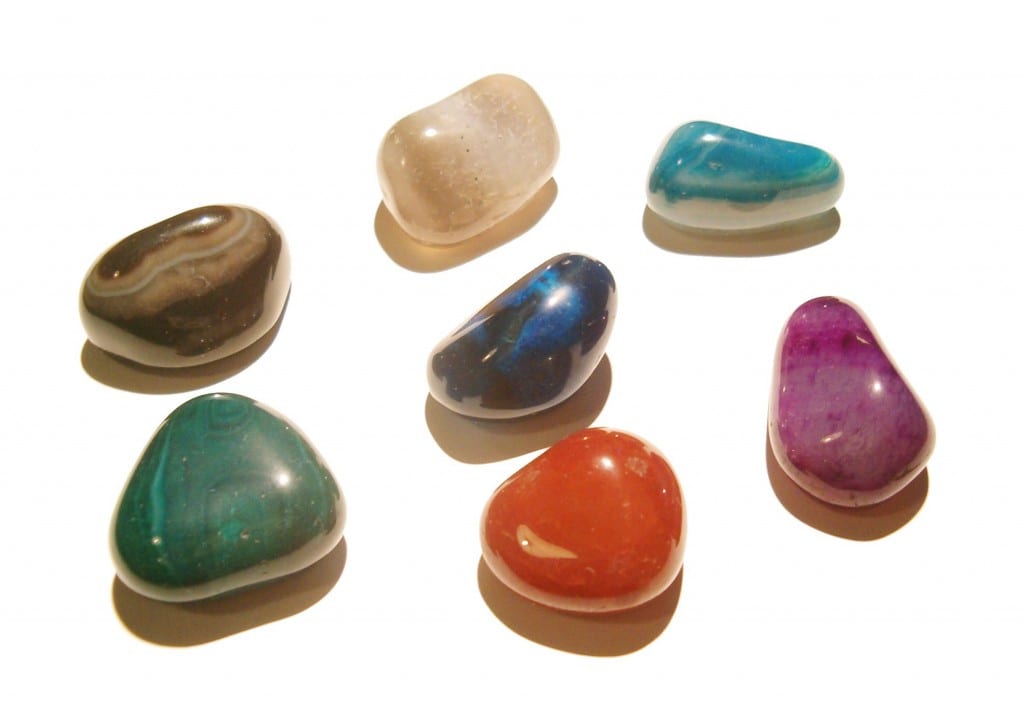 Sources
Moss agates: India; Scotland; United States Northwest.
Scenic agates: Yellowstone National Park; Wyoming; Montana.
Banded agates: Brazil; Uruguay; Madagascar; Mexico; United States.
Lace agate: Mexico; Arizona; Namibia.
Fire agates: Mexico.
Petrified wood: Arizona; New Mexico; California; Washington; Oregon; various European countries; many other localities.
Stone Sizes
Agates are usually nodular, but masses can be several pounds and many inches in diameter.