Online Faceting Designs & Diagrams: Blink
---
by
Blink by Jeff R. Graham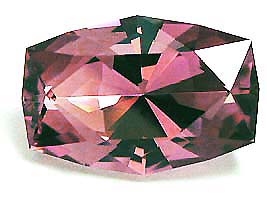 Blink – Cutting Remarks
Shown at left is a 15.4 x 10.2mm x 7.9mm deep ~ 7.23 carat Blink cut from Top Nigerian Rubellite Tourmalineby Jeff Graham.
I am always looking for a way to cut Tourmaline crystal shapes. This is another "Money Cut", it has a fairly low number of facets and cuts fast with very high performance. This is not an easy stone to cut, you need to be at the correct L/W or things will not meet on the table without some adjustments.
Note: It helps to cut in the table so you can tell where C6, C7 meet. If you are not sure cut them a little short and do them after table. The P6 tier is made to be scaled in (42 to 68 degrees, it will not effect the light return much at all) to save rough.
Notice that the L/W on this stone is 1.50 and that it has a very high light return for a stone of this L/W. It is keeled and will return a nice yield in crystal shaped rough, but because the way the keel is designed it will still have a nice brilliant look. I named it Blink because straight on every facet works (reflects), but as the stone is rocked it will "blink", it is an interesting look and a nice way to use long rough.
Enjoy cutting your "Blink"… Drop me an email to let me know your results and what you've cut, or feel free to inquire if you have any questions or need some help regarding this design.


Random – Cosine – ISO
Detailed faceting instructions by Jeff Graham available at The Rock Peddler

About the author
Jeff R. Graham
The late Jeff Graham was a prolific faceter, creator of many original faceting designs, and the author of several highly-regarded instructional faceting books such as Gram Faceting Designs.
All articles by this author