Online Faceting Designs & Diagrams: Button
---
by
Button by Jeff R. Graham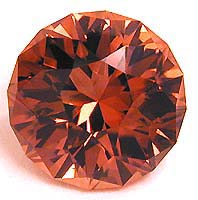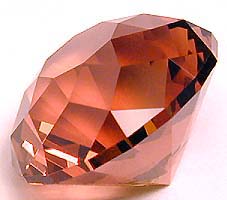 Button – Cutting Remarks
Shown at left is a 12mm x 6.06 mm deep ~ 7.06 carat "Button" cut from flawless Nigerian peach Tourmaline by Jeff Graham.
I recently found a container of old shell and mother of pearl buttons from the 1920's. Some of these buttons were hand faceted and had interesting dome shapes, which I though would be nice reproduced in a gemstone design. Here is the "Button" I came up with… This design is a simple one to cut, basically a round brilliant variation that has a very high light return. I prefer it in a larger size, (8mm+) and in light color material. It has very nice sparkle and will deepen the color of light material quite a bit.
Enjoy cutting your "Button"… Drop me an email to let me know your results and what you've cut, or feel free to inquire if you have any questions or need some help regarding this design.


Random – Cosine – ISO
Detailed faceting instructions by Jeff Graham available at The Rock Peddler

About the author
Jeff R. Graham
The late Jeff Graham was a prolific faceter, creator of many original faceting designs, and the author of several highly-regarded instructional faceting books such as Gram Faceting Designs.
All articles by this author