IGS may receive customer referral fees from the companies listed in this page.
Learn more.
Radiant-Cut Diamonds Buying Guide: Modern & Durable
Save Money on Your Jewelry With These Sales and Coupons
* See website for exclusions and restrictions.
Radiant-cut diamonds have the outline of
emerald-cut diamonds
but show far more brilliance. They lengthen the finger and come at a big discount compared to rounds, making them great options for engagement rings. Learn the pros and cons of this modern cut and how it compares to other diamond shapes, so you can find the best quality radiant-cut stone for your budget.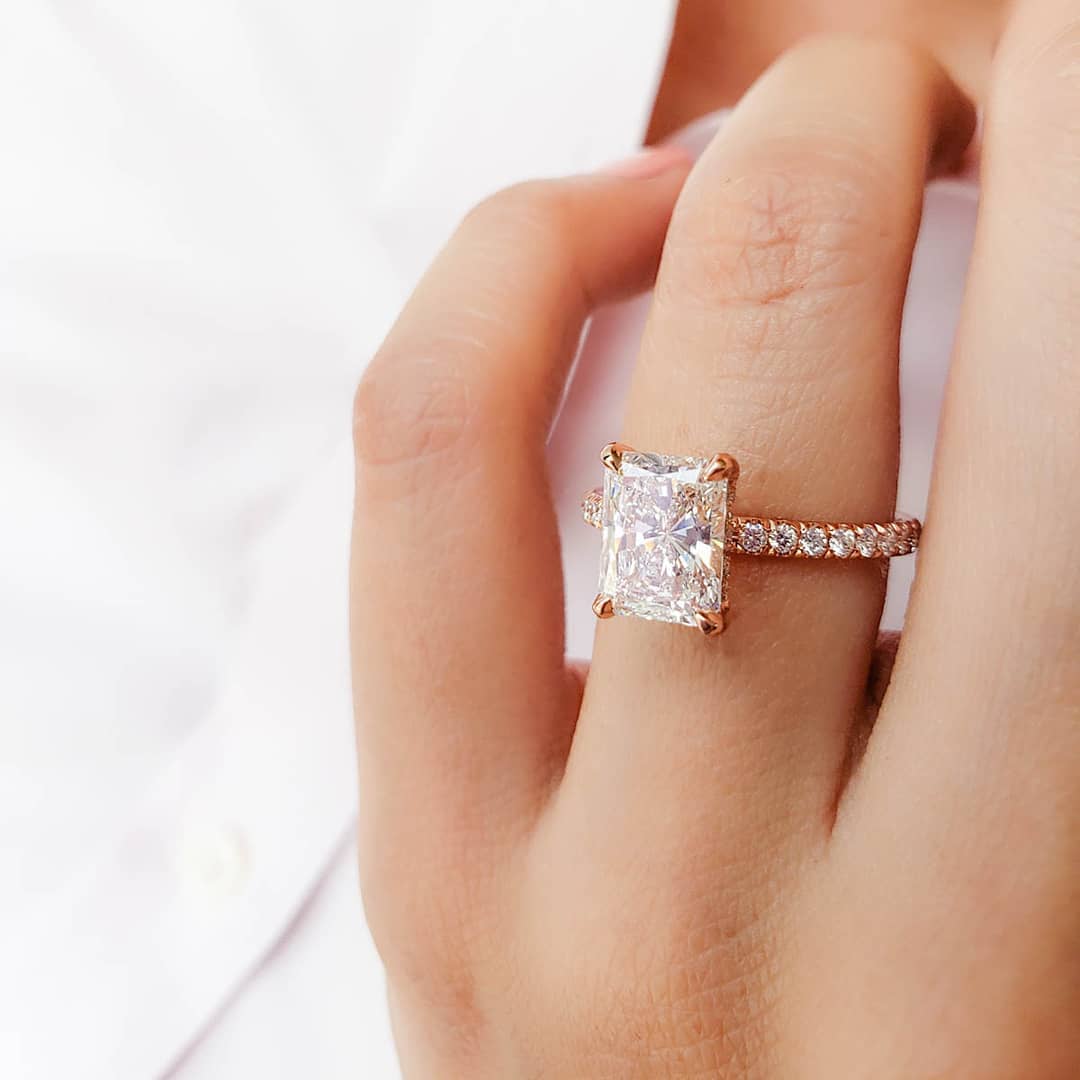 Radiant-Cut Diamonds: Pros and Cons
Radiant-cut diamonds are some of the sparkliest on the market. Invented in 1977, this diamond cut is the most modern diamond shape. However, it can still look like a classic. Whether elongated or square-shaped, a radiant-cut diamond will stand out from the crowd, giving your engagement ring a unique look.
While choosing a diamond shape is mostly a matter of style, we'll compare radiant cuts with round, princess, and cushion cuts for those of you on the fence.
Round vs Radiant
When compared with the classic round diamond, radiants have a somewhat smaller face-up size, about 4% smaller. However, the diagonal measurement on a radiant cut can trick the eye, making it appear larger than a round brilliant of the same carat weight.
Of all diamond shapes, round brilliants provide the most light return and sparkle. Still, a radiant cut is one of the most brilliant cuts and will result in a very sparkly diamond.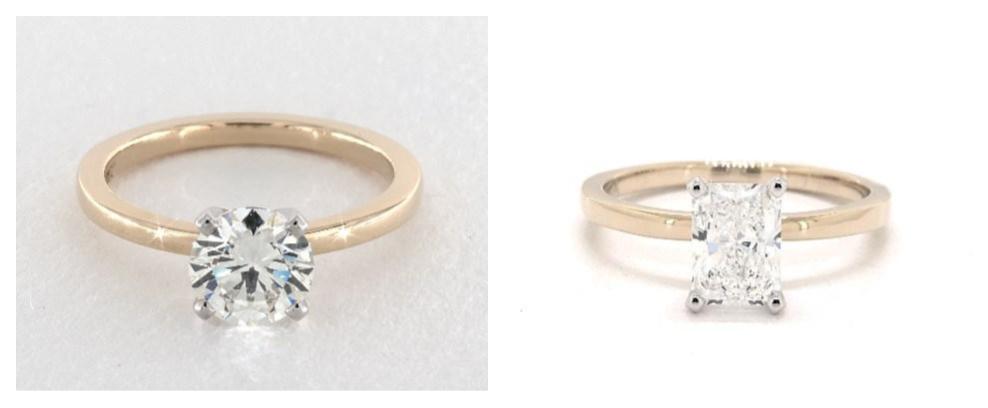 Princess vs Radiant
Princess-cut diamonds have a different facet pattern than radiant-cut diamonds, but the main difference that non-experts will notice is their shape. While princess cuts are square, radiant cuts have beveled corners. This makes a radiant more durable than a princess, since its sharp corners are more likely to snag and chip.
Typically, radiant-cut diamonds are elongated, whereas princess-cut diamonds are square. However, there are also square radiant-cut diamonds and elongated princess-cut diamonds.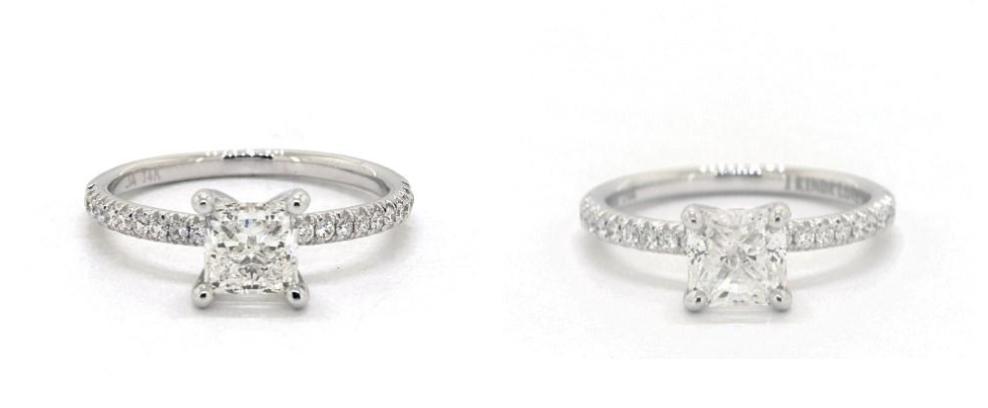 Cushion vs Radiant
Cushion-cut diamonds have a gentle curvature, while radiant-cut diamonds have straight sides. If you're considering a three-stone ring setting, the outlines of radiants make them a great option.
On the other hand, cushions show more dispersion or fire, flashes of colored light, than radiants. If you prefer this kind of sparkle, a cushion cut might be your best bet.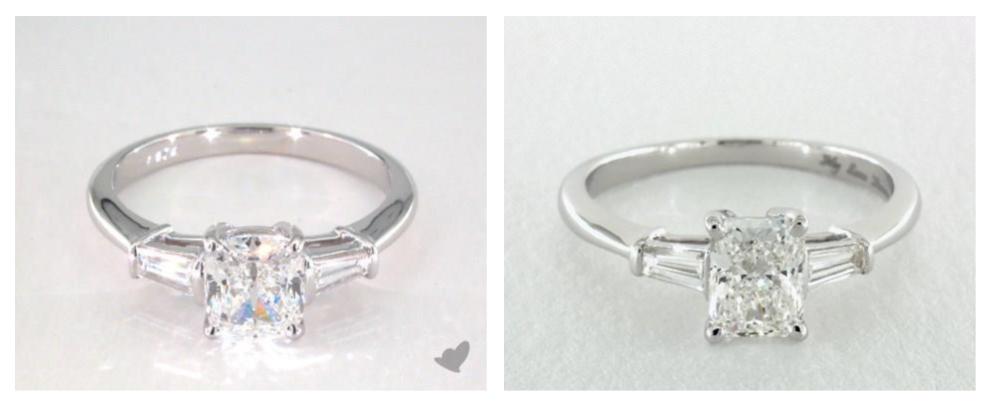 Evaluating Cut Quality in Radiant-Cut Diamonds
If you opt for a radiant-cut diamond, you'll have to learn how to evaluate its cut quality. Most of a diamond's beauty comes from its cut. However, with fancy diamond shapes like radiants, this is largely subjective. Since the GIA and other gem labs don't grade radiant cut quality, you'll have to judge it for yourself.
Ultimately, you'll look for the diamond with the most sparkle, but there are a few parameters you can set to help you find a fantastic radiant.
Shape Appeal
Like other fancy gem cuts, radiants get their appeal mainly from their shape. Make sure the corners are evenly truncated. Avoid outlines with overly truncated corners because these will appear off-shape. Take a look at the diamonds below or compare them on the James Allen site.
Images © James Allen. Used with permission.
Length-to-Width Ratio
Radiant-cut diamonds come in a wide range of length-to-width ratios (L/W). This is a matter of personal preference, but most consumers prefer a L/W of 1.15 to 1.35 for elongated shapes or under 1.05 for square radiants. Check out these diamonds from James Allen and see what you like best.
Images © James Allen. Used with permission.
Bowtie Effect
Like ovals, pears, and marquise-cut diamonds, radiant-cut diamonds have a bowtie region — a dark band across the center of the stone. Poorly cut diamonds will show a dark bowtie, but a well-cut radiant will still have good sparkle throughout the stone. Always take a close look at this part of the diamond to ensure that it sparkles well. A radiant with a large bowtie region that doesn't sparkle isn't worth your money.
For example, take a look at these three videos of radiant diamonds. This diamond shows a dark and unattractive bowtie, while the bowtie on this diamond is slight and only visible from certain angles. Still, you should always try to choose a stone with a bowtie that doesn't go dark, like this radiant-cut diamond.
Depth and Table
Restricting the total depth percentage and table ranges will help you find the best radiant-cut diamond. While this won't eliminate all poor performers, it will narrow your search.
For the best quality, limit your search to diamonds with a depth of 61-67% and a table of 61-69%.
Keep in mind that there are great diamonds outside these ranges, too, like this deeper diamond from James Allen. If you have a tight budget or want to see more choices, widen your search parameters to a depth of 59-70% and a table of 58-71%.
Time Saving Shortcuts
See all radiant cut rings at..
Best Clarity Grade for Radiant-Cut Diamonds
To make the most of your diamond budget, you'll want to spend on the best cut and get the minimum clarity grade without negatively impacting the diamond's appearance.
Because of the intense brilliance or light return of a radiant-cut diamond, inclusions in a low clarity grade diamond are tough to spot. You can find eye-clean diamonds in SI1 and SI2 clarity grades. If your budget is tight, look at I1 diamonds as well, though there may be few to choose from.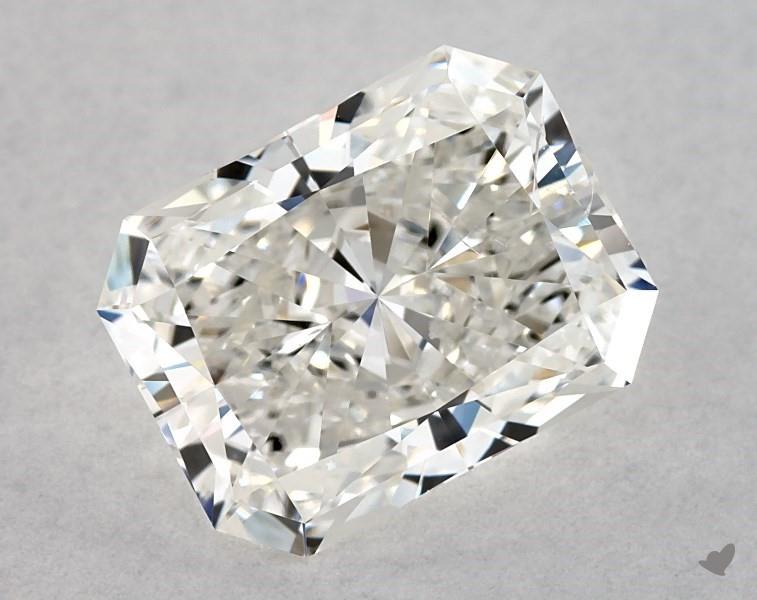 Always check for large, dark inclusions under the table facet. These can be seen with the naked eye.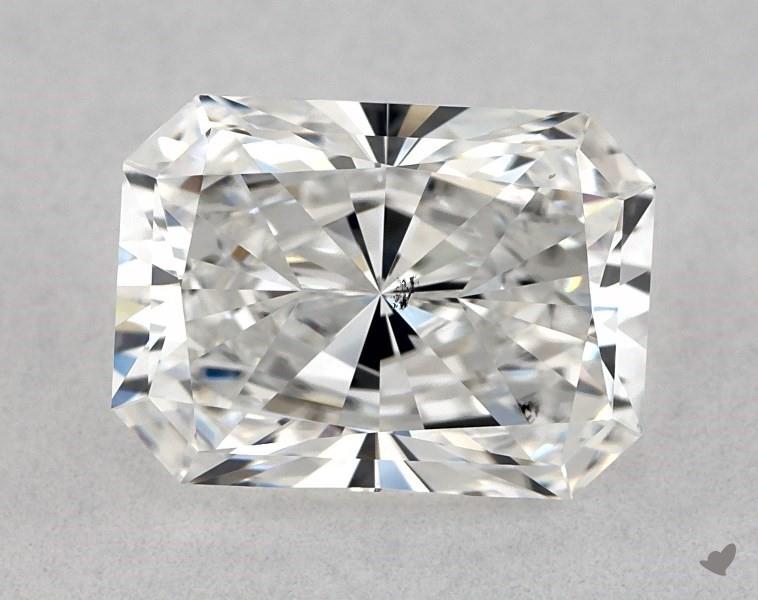 For diamonds two carats and up, consider VS2 clarity as well. Since larger diamonds will show inclusions more readily, you may have to opt for a higher clarity grade for a larger diamond to ensure it's eye-clean.
Best Color Grade for Radiant-Cut Diamonds
Like other fancy shapes, radiant-cut diamonds show more color than round brilliants. Still, an H or I color radiant will appear white in any engagement ring setting. Some J and K color diamonds will look great, too. Lower color grades are perfect for setting the diamond in yellow or rose gold. Since the color of the metal reflects in the diamond anyway, even the top color grades (D-F) will also show a slight tint in these settings.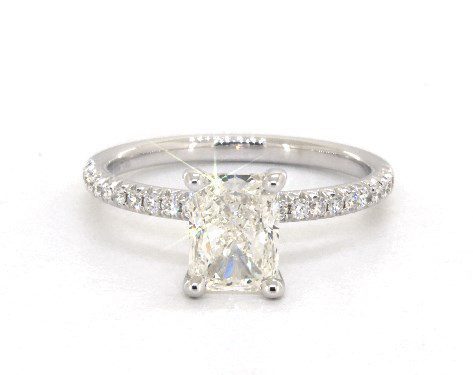 While you could opt for a whiter color grade, you'll be paying more for a difference that you'll probably never be able to see. Try our diamond color quiz and see for yourself.
Radiant-Cut Summary
1. The diagonal measurement on a radiant cut can trick the eye, making it appear larger than a round brilliant of the same carat weight.
2. A radiant cut is more durable than a princess cut because it has beveled corners that won't chip or snag.
3. Inclusions in a low clarity grade radiant cut diamond are tough to spot – you can find eye-clean diamonds in SI1 and SI2 clarity grades.
Best in Show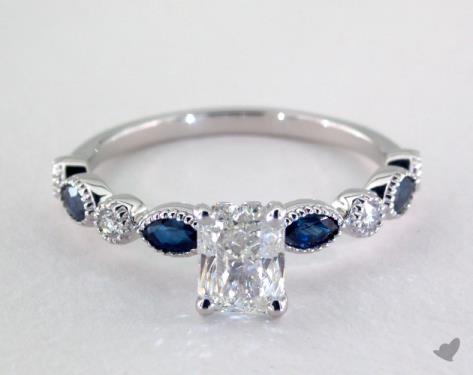 1.32 Carat G-VVS2 Radiant Cut Diamond Vintage Round Diamond and Marquise
Sapphire
Engagement Ring
Finding the Best Radiant-Cut Diamonds Online
If you're buying a radiant-cut diamond, remember that you won't be able to tell the cut quality from a grade report alone. It's absolutely essential to see the diamond perform up close to find one with great cut quality and avoid clarity that's not eye-clean.
Both James Allen and Blue Nile offer magnified, 360° videos of their diamonds, making them the best options for buying a radiant diamond online. However,
James Allen has a major advantage for those looking for an engagement ring. They offer hundreds of engagement ring settings to choose from, including many styles that Blue Nile doesn't offer.
Still, Blue Nile has a major plus for those who are picky about shape — if you're looking for a replacement stone for an existing setting, for example. Their search options allow you to filter results by L/W.
If you're not sure about finding the best cut quality, or if you're looking for something truly unique, consider working with CustomMade. Their jewelry experts can help you find the best stone for your style and place it in an engagement ring that's truly unique.