Azurite Value, Price, and Jewelry Information
---
Faceted azurite is a great rarity, but even small stones are extremely dark, virtually black.
Azurite Value
The International Gem Society (IGS) has a list of businesses offering gemstone appraisal services.
See the entire Gem Price Guide.
Start an IGS Membership today for full access to our price guide (updated monthly).
Azurite Information
| | |
| --- | --- |
| Data | Value |
| Name | Azurite |
| Crystallography | Monoclinic. Crystals may be large and perfect, tabular, prismatic; also massive, earthy, banded, stalactitic. |
| Colors | Light and dark azure blue. |
| Luster | Vitreous (crystals) to earthy or dull. |
| Fracture | Conchoidal. Brittle. |
| Hardness | 3.5-4 |
| Specific Gravity | 3.77 |
| Birefringence | 0.110 |
| Cleavage | Perfect 1 direction. |
| Luminescence | None |
| Spectral | Not diagnostic |
| Formula | Cu3 (CO3)2(OH)2 |
| Pleochroism | Strong, in shades of blue. |
| Optics | RI: α= 1.730; β = 1.758 γ = 1.836; Biaxial (+), 2V ~67° |
| Etymology | In allusion to the color, derived from the Persian word lazhward, meaning blue. |
| Occurrence | Secondary mineral in copper deposits. |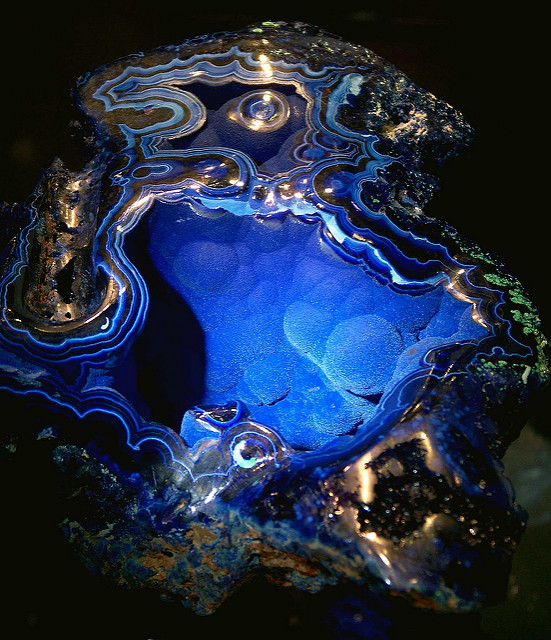 Comments
Azurmalachite is a mixture of azurite and another copper carbonate, malachite.
Burnite is a mixture of azurite and cuprite (copper oxide).
Azurite occurs in fine crystals in many localities. When it occurs in massive form, the material is almost always mixed with malachite. In this form, it is cut as very attractive cabochons and large decorative items, such as boxes. Azurite's intense blue color is distinctive, thus making it very desirable among mineral collectors and gem hobbyists.
Artists have used blue pigments made from azurite since ancient times. Perhaps not surprisingly, people have confused this stone with lapis lazuli, another well-known historic source of blue pigments.
Sources
Chessy, France: material is sometimes called chessylite, fine crystals in large groups.
Morenci and Bisbee, Arizona: banded and massive material, also crystals.
Eclipse Mine, Muldiva-Chillagoe area. Queensland, Australia; gemmy crystals up to about 9 grams.
Kelly, New Mexico, also other localities in that state.
Italy, Greece, Russia.
Tsumeb, Namibia: fine, tabular crystals, some facetable in small bits.
Zacatecas, Mexico: fine but small crystals.
Stone Sizes
Facetable crystals are always tiny. Cut gems are all less than one carat. It is pointless to cut larger stones, as they would be so dark as to be opaque. Gem cutters sometimes take dark blue crystalline material and create cabochons up to several inches across.
Care
Due to azurite's relatively low hardness, store jewelry made from this material in a cloth bag or box, away from other gems. Harder gems could scratch them. (A knife could scratch the surface of most of these stones). Consult our gemstone jewelry cleaning guide for more care recommendations.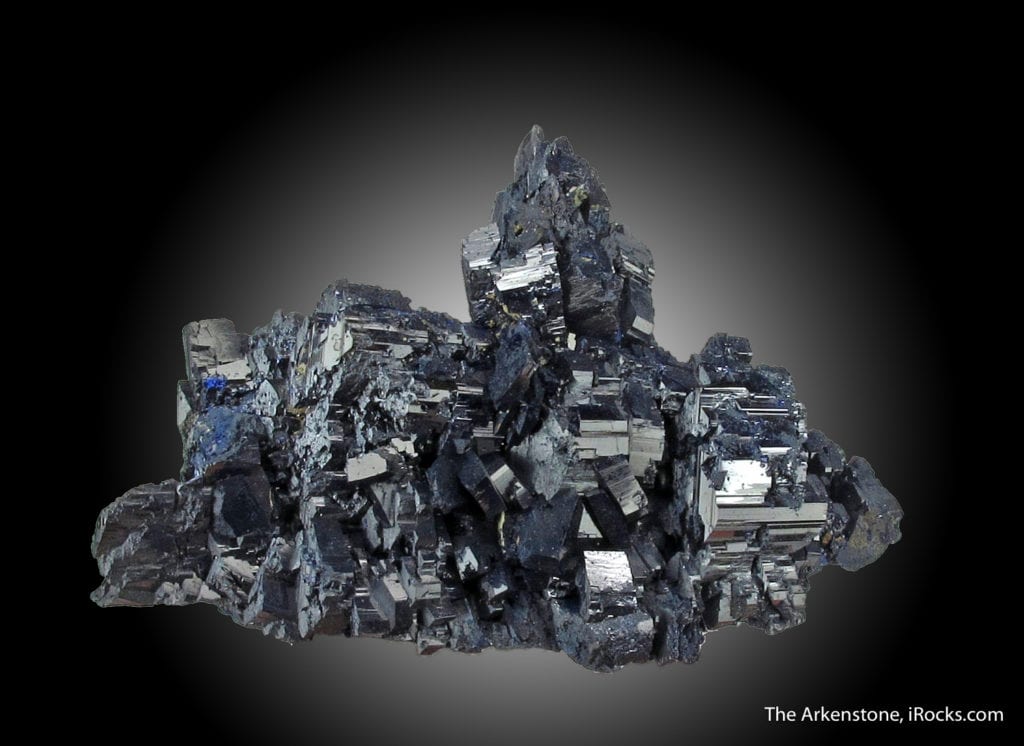 by