One of the featured Kraft Masters this year is a friend of mine named Jason Penn. Jason demonstrated carving/cabbing a black jade pendant set with a fresh water pearl.
Black Jade – Black Jade
This black jade is from a fairly recent find in the USA which is not a traditional producer of jade.
While this material is called black Jade it is very slightly different than traditional jade. Technically there is 2 molecules of copper in this material that normal jade does not have.
For all practical purposes this material is black Jade and works like any Jade I have ever cut with the exception of this black Jade is easier to work and polish than a lot of Jade I have used. The hardness is basically the same and it really works well and polishes easily and nicely. Which if you have cut Jade you know this is not always the case.
There are many types of cabbing machines on the market. The type of work that you want to do will determine what type of cutting machine you need.
Left Jason is setting up a pretty standard 6″ cabbing machine.
As I have said, this unit that Jason is using is mainly designed to be a cabbing machine and is not designed to do traditional carving.
However with a little adjusting and with some expert experience this machine can do some modest carving/cabbing.
The pendant that Jason is demonstrating is mostly a cab, with a small amount of carving techniques used to create the flowing lines, curved top, and slightly concave back on the pendant.
Carving generally requires a foredom or similar tool or a fixed arbor with a drill type chuck that will hold various types and shapes of diamond and carbide carving bits. Look further down in the article Jason uses a foredom to drill the hole for the pearl and also to polish the pendant.
Jason has 100, 600, 1200, 3,000 grit wheels on the machine from left to right. This machine uses 6″ laps, there are machine that use 8″ laps. But because of cost you will find that 6″ laps are predominantly used in cabbing.
Notice that the fine grit wheels are all different colors in the pictures.
The colors of the laps designate the grit of the lap. This is a general rule of thumb, but remember that grits and colors will vary from manufacturer to manufacture.
The types of laps that you would need to use depend on the type of material that is being cut and of course the wheels can be easily changed. Assuming that you have the other wheels on hand.
The set up Jason is using for this black Jade pendant is pretty generic and the type of set up that would be used for most of the commonly cabbed/carved stones.
There is several ways to drill a hole for the pin that will hold the pearl.
Normally an ultra sonic drill would be used because that type of drill makes such a clean easy hole.
However at the demonstration an ultra sonic drill was not available. They are delicate to move and expensive.
So the next best thing… Jason is using a foredom and diamond bit to create a hole for the metal pin that will hold the pearl. Both the pin and the pearl are friction fit and glued in on the finished pendant. The gluing is the last thing that is done. The pendant has to be completely finished and polished before this last step.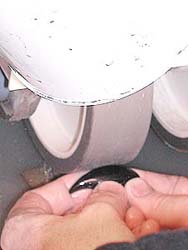 Doing some final touching up before polishing is a very good idea, because it is easy to miss some thing (like scratches and flat spots) before polishing.
On black Jade it is particularity a good idea to give the pendant a final once over because the black of the material hides imperfections from the casual observer. The pendant needs to be examined very closely before going on to the polish.
Above Right: The touching up has been done and Jason is using a foredom with a felt buffing wheel and alumina oxide to polish the pendant.
There is several ways to polish something like this pendant. Jason is using a foredom, which would be used in most cases, anyway.
However if he was at home in his work shop he would use a large leather foam padded wheel turning at slow speed to polish the larger flats and domes of this pendant. The foredom would still be used to polish the smaller and harder to reach places on the pendant.
The foredom is being used to polish the entire pendant here because of the location, it was not possible to bring the large leather wheel. There is no basic difference in the final polish of the pendant. The only difference is that polishing the whole pendant with the foredom takes a little longer to do.
Note: The hole for the pin and pearl.
As you can see there is a thick slurry of the aluminia oxide used during the polishing. The polish is .5 micron (very fine) and mixed like a very thick paste.
The foredom wheel is used at a slow speed to keep the polish from splattering all over the place. But if you have not guessed carving/cabbing is not real clean hobby. Expect to get dirty.
As you can see this black Jade takes a very nice high bottle glass polish, with no problems.
You can see the drilled hole for the pendant to be hung from (top 12:30 position).
On some materials you would not want to drill a hole or make a drilled hole that close to an edge. But Jade is typically very tough and will wear well. So it is not a problem.
Below is more pictures of this jade pendant and also some other lapidary jewelry done by Jason Penn.