Peridot Value, Price, and Jewelry Information
---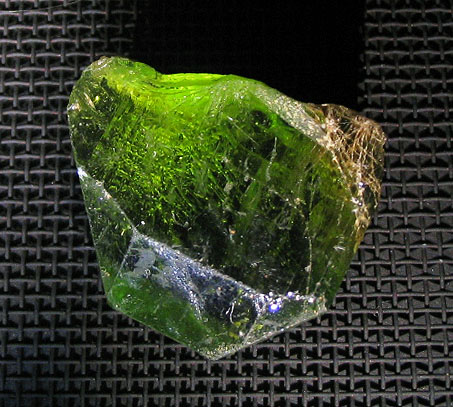 Peridot is an ancient gem, often referred to as chrysolite, a term still used in referring to intermediate members of the olivine series. There is considerable variation in shade of green depending on the locality of origin.
Peridot Value
The vast majority of peridot rough produces sub-carat sized stones which in commercial quality are quite inexpensive. Both Sinkakas and Federman agree that stones in the 1- 4 carat range, or those with custom cuts, may command $40/ct. or more, while those over 4 carats increase exponentially in value to $100-150/ ct in largest sizes.
The International Gem Society (IGS) has a list of businesses offering gemstone appraisal services.
See the entire Gem Price Guide.
Start an IGS Membership today for full access to our price guide (updated monthly).
Peridot Information
| | |
| --- | --- |
| Data | Value |
| Name | Peridot |
| Varieties | Fayalite, Forsterite, Tephroite |
| Crystallography | Orthorhombic. Crystals rare, usually striated prisms, corroded grains; often as rolled pebbles, or in nodules called bombs in volcanic areas. |
| Refractive Index | 1.635 - 1.673 |
| Colors | Forsterite: green, pale lemon yellow. Fayalite: green, yellowish, amber brown, brown, olive green. The color of olivine is due to ferrous iron. The best green gemstones have an iron content of about 12-15%. More Fe than this results in an unattractive, muddy color. Very bright green colors may result from a trace of Cr. |
| Luster | Oily to vitreous. |
| Fracture | Conchoidal. Brittle. |
| Hardness | 6.5 (fayalite) to 7 (forsterite). |
| Specific Gravity | 3.3 - 3.4. Varies with composition, see table below. |
| Cleavage | Imperfect to weak. |
| Dispersion | 0.020. |
| Heat Sensitivity | No |
| Luminescence | None |
| Wearability | Very Good |
| Enhancements | None |
| Special Care Instructions | None |
| Birthstone | August |
| Formula | Mg2SiO4-Fe2SiO4. Rarely Mn also present. |
| Pleochroism | None in forsterite. Peridots: weak, green to yellow-green. Fayalite: greenish yellow/ orange-yellow/ greenish yellow. |
Comments by Donald Clark, CSM IMG
To my mind, peridot is an under appreciated gemstone. Perhaps this has become the case due to the public's familiarity with low quality, olivey material which is inadequately cut and polished. Admittedly it can look pretty awful, but the lime and apple green stones given custom cuts and polishes are something else again.
Peridot belongs to the forsterite-fayalite mineral series which is part of the olivine group. It is one of the "idiochromatic" gems, meaning its color comes from the basic chemical composition of the mineral itself, not from minor impurities, and therefore will only be found in shades of green. Historically important sources in Egypt have been superceded by today's main sources in Arizona and Pakistan. The high birefringence of this gemstone necessitates careful orientation in cutting to prevent "fuzziness" of reflections through the table. A distinctive, disk-like liquid and gas "lily pad" inclusion can often be seen under magnification.
Comments by Dr. Joel Arem
Catseye and star peridots are known but are very rare. The low hardness of peridot means that ringstones will show scratches rather rapidly and may become badly chipped. The cleavage may allow an occasional stone to split if it is struck a sharp blow. Peridot is an ancient gem, often referred to as chrysolite, a term still used in referring to intermediate members of the olivine series. There is considerable variation in shade of green depending on the locality of origin. Brown gems rich in iron are not commonly seen but can be very beautiful, especially when the color is more golden than brown.
Inclusions
Glass balls that look like bubbles in Hawaiian material; some U.S. localities contain inclusions of Cr-spinel (not magnetite as previously thought); also noted are biotite grains, and lotus leaves, which are petal-like liquid inclusions around Cr-spinel crystals.
Names
Chrysolite from the Greek, meaning yellow stone. Forsterite after J. Forster, a mineralogist. Fayalite is named after the Fayal Islands in the Azores because it was believed to occur there in volcanic rocks. Olivine from the Latin oliva (olive) because of the similarity in color. Peridot is from the thirteenth-century English peridota.
Occurrence
Forsterite occurs in magnesian limestones that have been altered by heat and pressure from igneous intrusion; fayalite is rare, occasionally seen in lithophysae (balls of cristobalite) in obsidian. Intermediate olivines are a main constituent of basic igneous rocks, and concentrations in basalts and ultrabasic rocks can be mined for gem content.
Riverside, San Bemardino County, California; Bolton, Massachusetts.
Hawaii: in volcanic bombs.
New Mexico and Arizona: peridot occurs as grains, which are used by ants to build large hills; these grains are erosional fragments from a parent rock, now eroded away. Peridot is mined on the Navajo Indian Reservation, and stones cut from these fragments are usually small (under 5 carats), with an occasional larger gem.
Kenya: brown crystals.
Zabargad (Zebirget), Egypt (Isle of St. John): this is the most ancient source for peridot as well as a source of some of the most confusing name mixups in gem literature. Zabargad (Zebirget, Zebirged) is an island in the Red Sea that is often shrouded in fog, making it difficult for ancient navigators to find. The location had been lost, in fact, for centuries and was rediscovered about 1905. The island is located 35 miles off the Egyptian coastal port of Berenica. Crystals of peridot are found in veins of nickel ore in an altered peridotite rock. The color of the gem material is a medium green, not too dark, and very rich.
Burma: peridot is found in masses on the slopes of Kyaukpon, near Mogok. The material yields dark green, oily gems of fine color, transparent, some of several hundred carats in size. This is the world's only major source of very large peridot.
Norway: peridot is found at Ameklovdalen, Sondmore. The gems are paler than from other localities and are of a lovely lime-green hue because the material contains less Fe. Cuttable pieces are very rare in large size and seldom yield cut stones over 5 carats.
Mexico: one of the world's largest deposits of olivine is located in the state of Chihuahua. The material is similar to Arizona peridot but also occurs in brown grains.
Emali, Kenya; gem quality.
Ratnapura, SriLanka: olive-green gems; also nearly colorless material that is the closest in composition to forsterite of any gem olivine known.
Mt. Batchelor, North Queensland, Australia: yellowgreen, dark green, gemmy; potential for stones up to about 20 carats.
Umba district, Tanzania; Minas Gerais, Brazil; Ross Island,Antarctica: some cuttable material.
USSR; Finland; Italy; Germany; Greenland: New Caledonia.
%MgO

%FeO

a

β

γ

Birefringence

Specific Gravity

2V-sign

Forsterite

64.65

0

1.635

1.651

1.670

0.035

3.22

82° (+)

Mogok, Burma

57.8

1.11

1.654

1.671

1.689

0.036

3.22

86°

Zabargad, Egypt

54

8-10

1.652

1.669

1.688

0.036

3.34

–

Norway

51.86

8.5

1.650

1.665

1.686

0.036

3.30

–

Tanzania

51.2

7.7

1.650

1.658

1.684

0.034

3.25

–

Arizona (light green)

49.8

8.2

1.649

1.665

1.686

0.037

3.28

–

Arizona

49.5

10.4

1.652

1.671

1.689

0.037

3.34

–

Mexico (light green)

49.8

8.6

1.651

1.669

1.684

0.033

3.33

–

Mexico (brown)

48.2

11.0

1.655

1.673

1.690

0.035

–

–

New Mexico

49.4

8.7

1.652

1.671

1.688

0.036

3.33

–

Sri Lanka (olive)

48.1

10.8

1.651

1.660

1.690

0.039

3.36

–

Sri Lanka (almost colorless)

–

3.6

1.640

1.657

1.675

0.035

3.2

–

Kenya (yellowish)

–

–

1.650

–

1.686

0.036

3.45

–

Kenya (brownish)

–

–

1.651

–

1.681

0.038

3.35

–

Fayalite

0

70.51

1.827

1.869

1.879

0.052

4.39

134°(-)

(Greenish peridots generally have a density of 3.3-3.4; brownish stones about 3.5)
by Barbara Smigel at Artistic Colored Stones; Dr. Joel Arem; Donald Clark, CSM IMG