The Parts of a Flex Shaft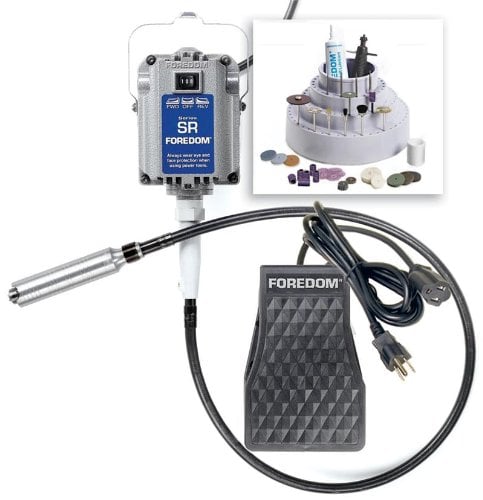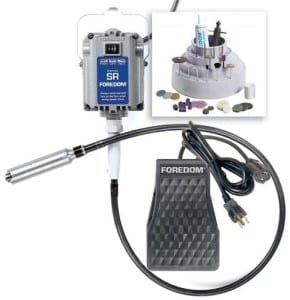 The flex shaft includes a motor, a flexible shaft that connects the hand piece to the motor, and a foot pedal to control the speed of the motor.
The hand piece has a jawed chuck to hold very small attachments like drill bits, burrs, discs, and brushes. The flex shaft tools are placed in the chuck, which is then tightened with a chuck key.
Pressing on the foot pedal (similar to a sewing machine pedal) controls how fast the bits, burrs, discs, and brushes spin.
You can purchase the motor, flexible shaft, hand piece, and foot pedal all in one kit. Many kits also include various tool attachments. This is the ideal way to get started. After you have the basics, you can purchase additional attachments and even different hand pieces.
Flex Shaft Manufacturers
Foredom
Foredom is one of the top manufacturers of flex shafts, kits, and attachments. It's the most commonly used flex shaft among bench jewelers. You can purchase the kits as well as individual pieces from the Foredom website. Amazon and Rio Grande also offer Foredom flex shaft kits.
Choose an SR motor, one of the…