IGS may receive customer referral fees from the companies listed in this page.
Learn more.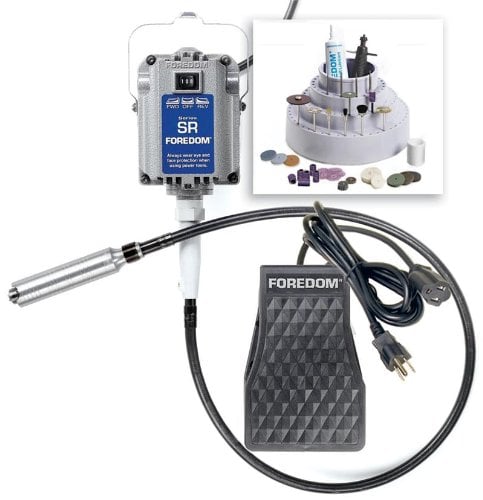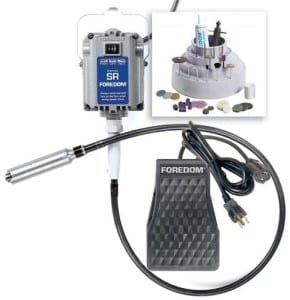 The flex shaft is a motorized machine designed to assist with drilling, cutting, carving, and polishing jewelry. The tool includes a motor, a flexible shaft that connects the hand piece to the motor, and a foot pedal to control the speed of the motor. The hand piece has a jawed chuck to hold very small attachments like drill bits, burrs, discs, and brushes. The flex shaft tools are placed in the chuck which is then tightened with a chuck key. Pressing on the foot pedal (similar to a sewing machine pedal) controls how fast the bit, burrs, discs, and brushes spin.
You can purchase the motor, the flexible shaft, the hand piece and the foot pedal all in one kit (many kits include various tool attachments too). This is the ideal way to get started. After you have the basics, you can purchase additional attachments and even different hand pieces.
Flex Shaft Options:
Foredom is one of the top manufacturers of flex shafts and flex shaft kits (motor, hand piece, foot pedal, and attachments). It is the most commonly used flex shaft among bench jewelers. The kits and the individual pieces can be purchased from their website. Amazon and Rio Grande offer Foredom flex shaft kits on their websites as well.
Choose a motor that's an SR motor which one of the most powerful ones which will go forward and reverse. It operates at 1/6 horsepower at 18,000 rpms and 115 volts. Foredom measures their horsepower in maximum efficiency, not in maximum output, like Dremel. If Foredom measured in max output, their flex shaft's horsepower would be the equivalent of 1/4 horsepower. That's a big motor.
There are different hand pieces available for the flex shaft. The most popular and most versatile hand piece is the Foredom H.30 hand piece. It can accommodate small and large attachments to perform light or heavy work. The Foredom H.20 hand piece is also a common choice, but it uses smaller attachments than the 30 and is geared towards lighter bench work.
Dremel is also a well-know manufacturer of flex shafts. They offer kits on their website as well as individual pieces. Amazon offers the Dremel on their website.
The 9100 Fortiflex is Dremel's most powerful motor. It operates at 1/5 horsepower at 23,000 rpms.
This is the recommended hand piece to use with this model.
Various attachments for the flex shaft:
Attachments are available from Rio Grande, Amazon, and Otto Frei.
Burrs for cutting, carving, and setting gemstones
Jewelry Flex Shaft Recommendations
Photo
Name
Top Reviews on Amazon
SE Flex Shaft Grinder Set

"I have several handheld motor tools (mostly Dremel) that work very well for many light applications. They all suffer from one limitation, however - prolonged use for grinding or cutting, especially with metal, would result in the motor housing becoming uncomfortably hot. I've never had one actually fail, but they do sometimes reach a high enough temperature that I feel obligated to let them cool down in the middle of a job. Also they are fairly heavy to hold for long periods of time when trying to do precision work.

I didn't want to spend a ton of money on a flex shaft motor, but saw this and it seemed to fit my budget (=inexpensive). I've been very happy so far and like the pedal operated on/off and speed control much more that I anticipated. The motor sounds less stressed than with the smaller tools. So far it's been fine for occasional cutting, drilling, and grinding use on small metal brackets, ABS and styrene plastic, using small drums for sanding wood, etc. The handpiece stays cool and is relatively lightweight. In practice, the flex shaft is no more constraining than the power cord on the handheld motors. So far I've successfully used a wide variety of rotary bits and tools with the included chuck. I can't say how a collet would work because I haven't felt the need for anything beyond the stock chuck and haven't had an issue with bit centering or shank slipping."   read more

SEAAN Flex Shaft Grinde

"The 1/4 horsepower motor is so powerful. And i can adjust the speed with the peddle. It's a good flex shaft grinder, thanks."   read more


Go2Home Flex Shaft

"So far this is an exceptional grinder. I do engraving on metal and stone so work and I needed more power than I could get from a standard size rotary tool with a flexible shaft. This model with the 780w motor seems to be just what I need for the time being. Having an extra set of carbon brushes for the motor is a big plus as I know they will need to be replaced eventually. So far, I am very satisfied with my purchase." read more

Flex Shaft System

"Plenty of power, easy to use and control and the price is great! I use it to clean and cut gems and rocks as well as polish them, so i need to be able to vary the speed a lot. The eurotool works great. Way, way better than my dremel and quite a bit better than my foredom for much less money." read more

55pc Electric Flexible Shaft

"I had another rotary tool with a flexible shaft and liked it very much. But it basically was a hand held type tool with a flexible shaft added to it. It did the job but was not very strong. Finally it got where if I had to put any pressure at all on the tool it would just stop turning. So I saw this tool and got it to try out and see if it was any better. There is no comparison at all in the performance of the two. This tool is so much stronger and easier to use it is just not even close !!! Love the foot control with variable speed !!!! Great tool !!!"  read more
As an Amazon Associate, we earn from qualifying purchases referred from our site.