IGS may receive customer referral fees from the companies listed in this page.
Learn more.
Diamond Tennis Necklaces: 2022 Buying Guide
Save Money on Your Jewelry With These Sales and Coupons
* See website for exclusions and restrictions.
Diamond tennis necklaces are popular and very versatile. You can wear them to a black-tie event or with a T-shirt, and they can come in any type or color of metal. Let's take a closer look at the tennis necklace and some traditional as well as new styles for 2022.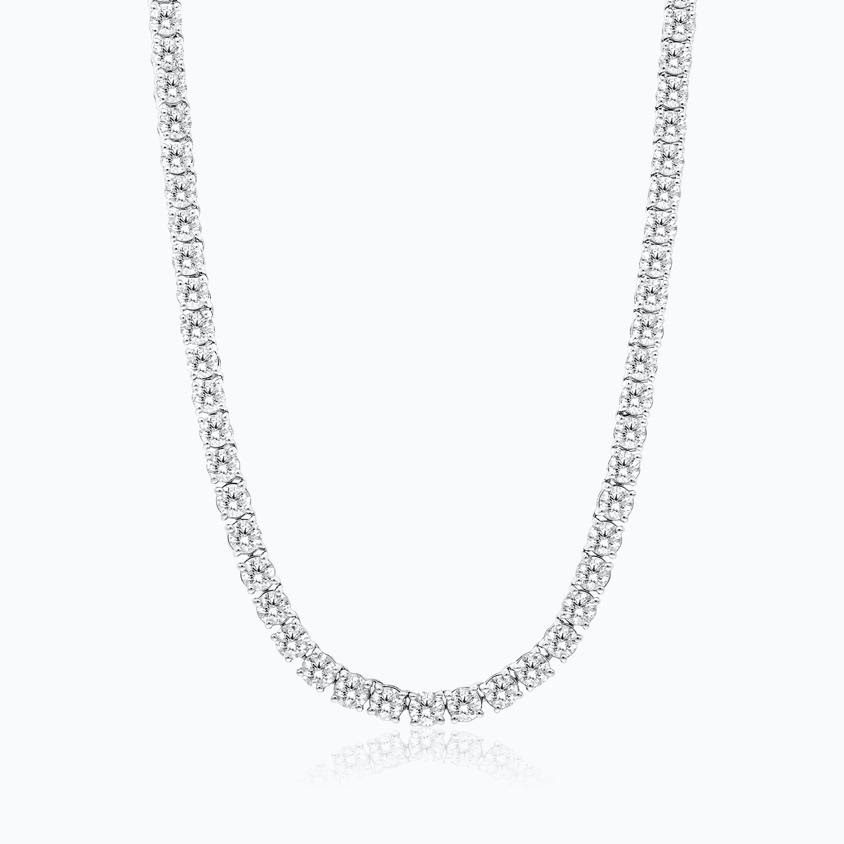 What is a Tennis Necklace?
The timeless tennis necklace is a continuous strand of individually set gemstones flexibly linked together. As long as the stones completely encircle the neck, leaving no open gaps, tennis necklaces can be any length.
Since the strands can bend, these necklaces lay smoothly against the neck and chest. They will move with you and have an attractive, organic quality. You might find tennis necklaces also called eternity or rivière necklaces. Rivière means "river" in French, and elegantly characterizes this jewelry's fluid movement.
Where Does the Term "Tennis Necklace" Come From?
Diamond tennis necklaces aren't new. Some trace the roots of this jewelry style to Napoleonic France in the early nineteenth century. However, the association of this type of necklace with the term "tennis" is far more recent.
The term "tennis" was actually first applied to a bracelet made in this style. In a US Open match, the American tennis player Chris Evert wore a delicate and flexible single-strand diamond bracelet. During play, it was thrown from her wrist. She famously stopped the competition and refused to restart play until the bracelet was located and found. After this widely publicized event, the term "tennis" was used to describe this jewelry style for both bracelets and necklaces.
When did this event take place? Although you'll find many sources that date it to 1987, in an article for The Adventurine, Marion Fasel pins down the actual year of this US Open match to 1978.
What Makes Tennis Styles so Popular?
Pairing fine jewelry with casual attire became very popular during the 1980s and early 1990s. The tennis style was just perfect for this trend. Today, thanks in part to key social media influencers, the demand for tennis necklaces continues to grow.
Both men and women can wear tennis styles for formal and informal occasions. Since it's so versatile and has withstood the test of time, tennis style jewelry is very desirable. The Chris Evert incident notwithstanding, it's also a very secure way to wear diamonds and gemstones. Each stone in a tennis necklace or bracelet is carefully mounted into its own link. This minimizes the chances that you'll lose a stone. It's no wonder they remain so popular.
Traditional Tennis Necklaces
Want to keep things simple, classic, and sophisticated? Consider a single delicate chain with a low total diamond carat weight.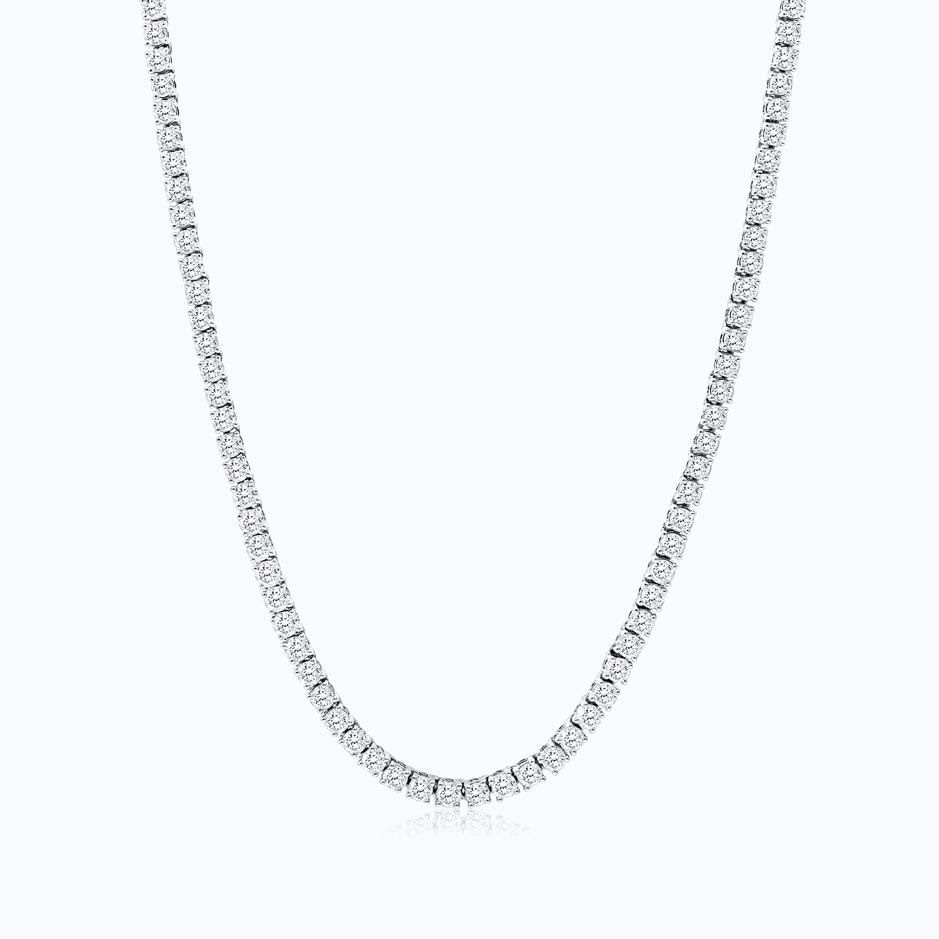 If you want to make a bigger impact, pump up the carat weight of your strand. Additionally, layering multiple strands of different lengths will also add lots of volume to your look.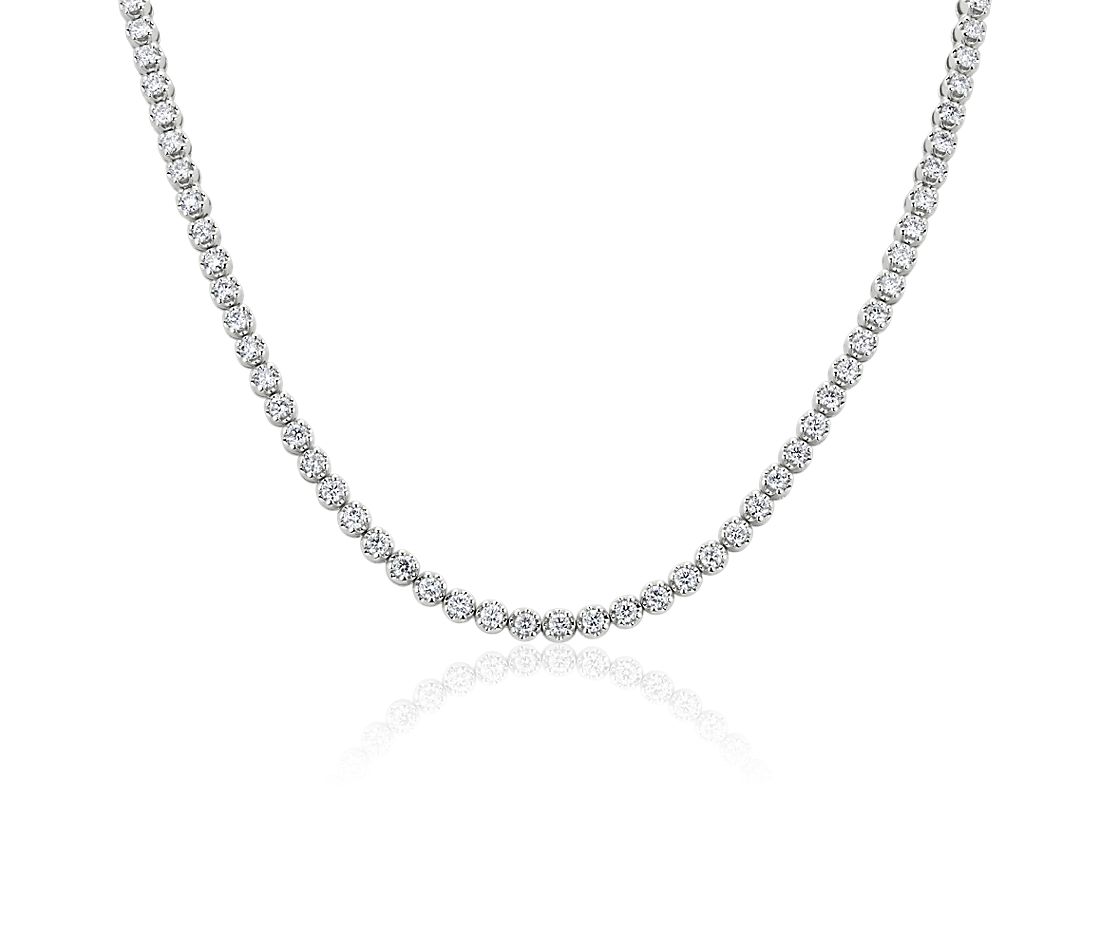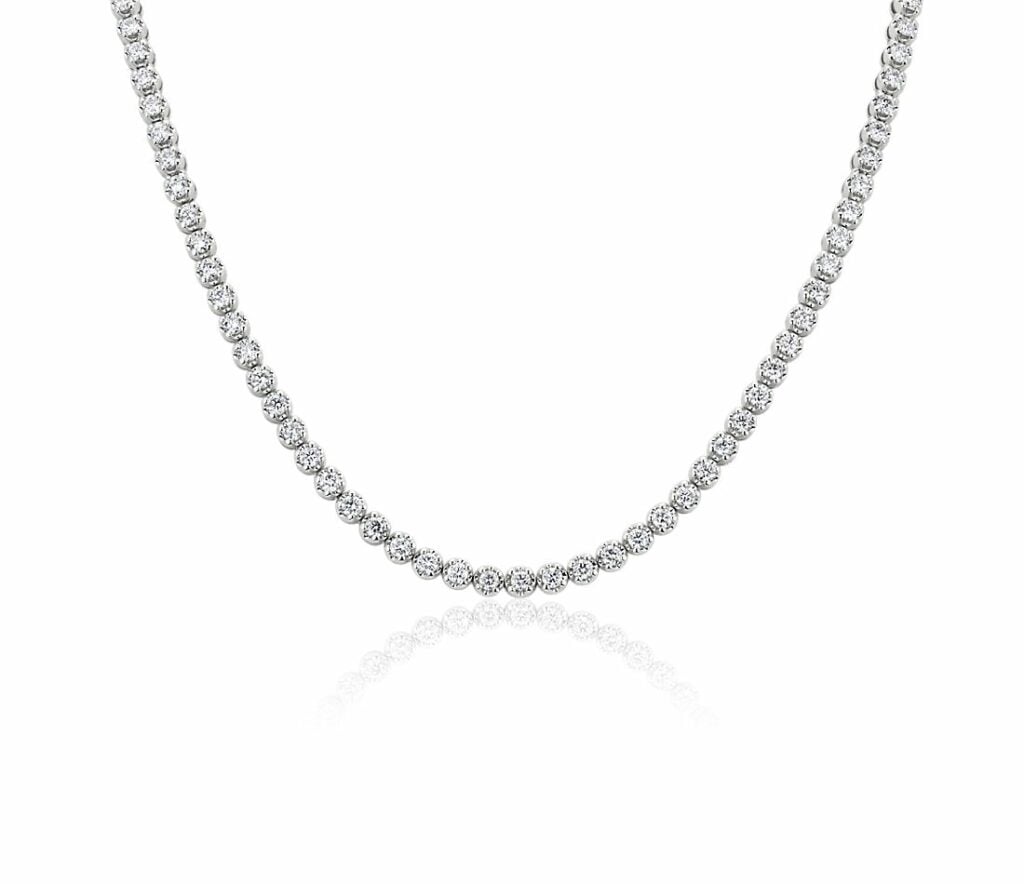 New Options for Tennis Necklaces
Even with a style as classic and elegant as the tennis necklace, jewelry makers can update the original design in many ways.
Using Prongs to Create the Illusion of Fancy Shapes
Traditionally, tennis necklaces feature round diamonds, each set with four prongs. If you alter the number of prongs holding the diamonds, the outline of each link will change.
For example, thanks to a few small design changes, the diamond tennis necklace shown below has a dramatically different visual impact than a traditional piece. At first glance, the diamonds seem to have triangular or perhaps heart-shaped cuts.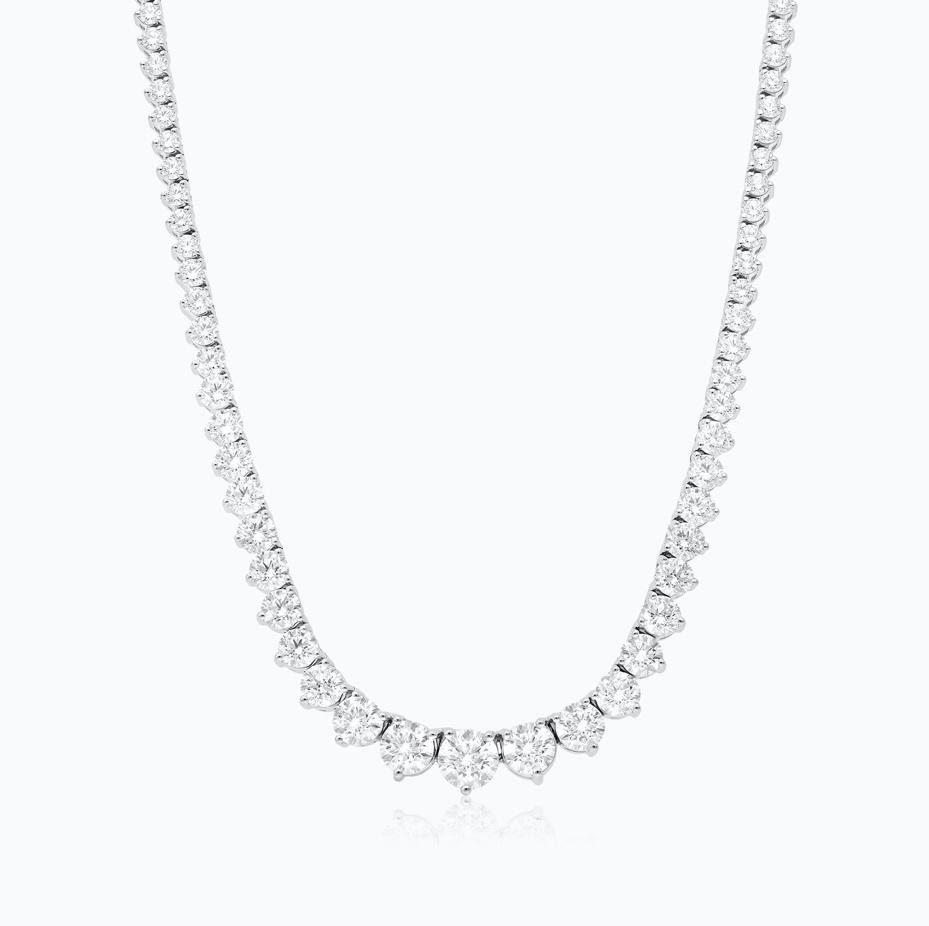 However, these diamonds are simply rounds set with three prongs. Setting the individual links so that the stone's body hangs beneath the strand also strengthens the illusion. Since fancy cut diamonds are much more difficult to source and match than rounds, especially in such quantities, this tennis necklace really makes a bold statement.
Setting Styles
If done properly, prong settings are a secure mounting option. However, there are many other ways to mount diamonds securely onto the links of a tennis necklace, such as a bezel setting.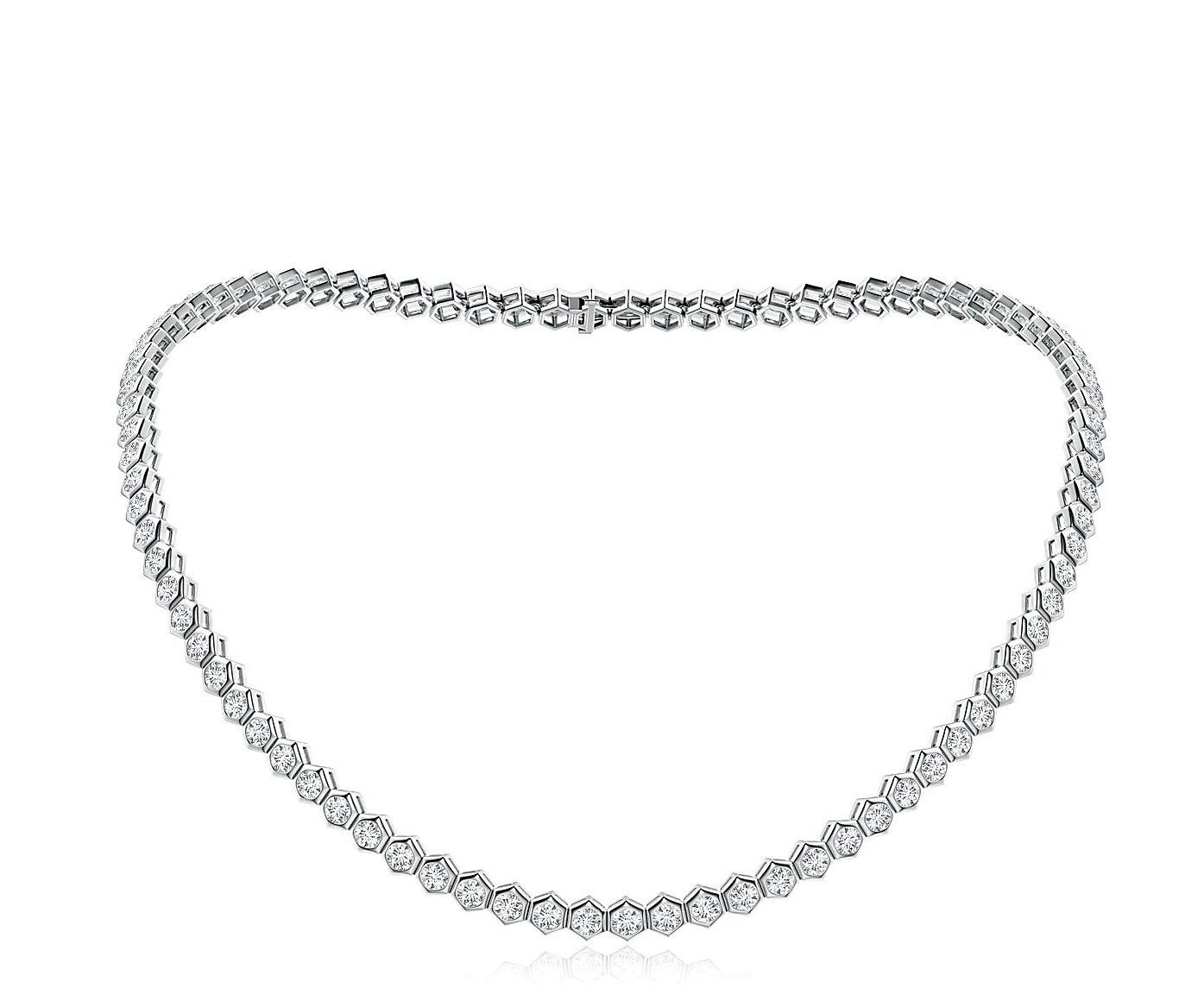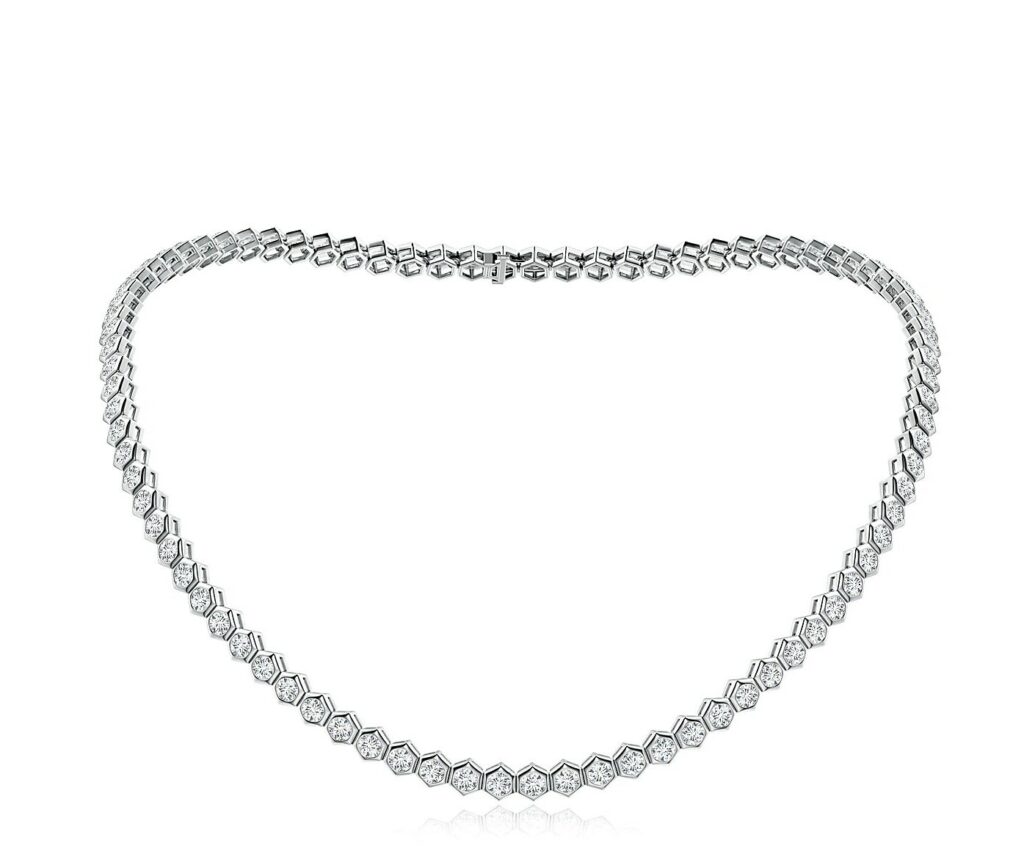 Combining multiple new elements in a single piece can also result in a beautiful and distinctive tennis necklace.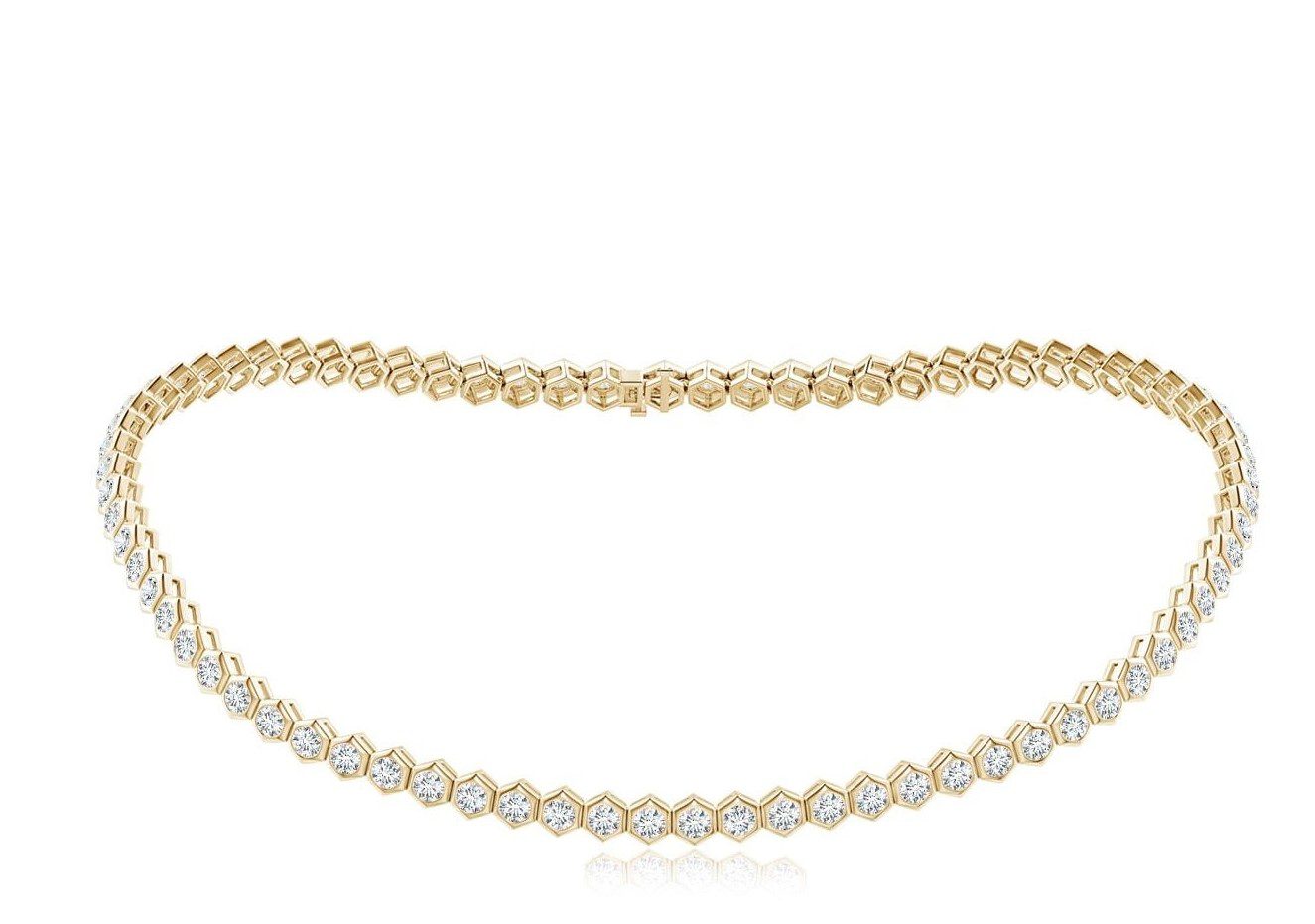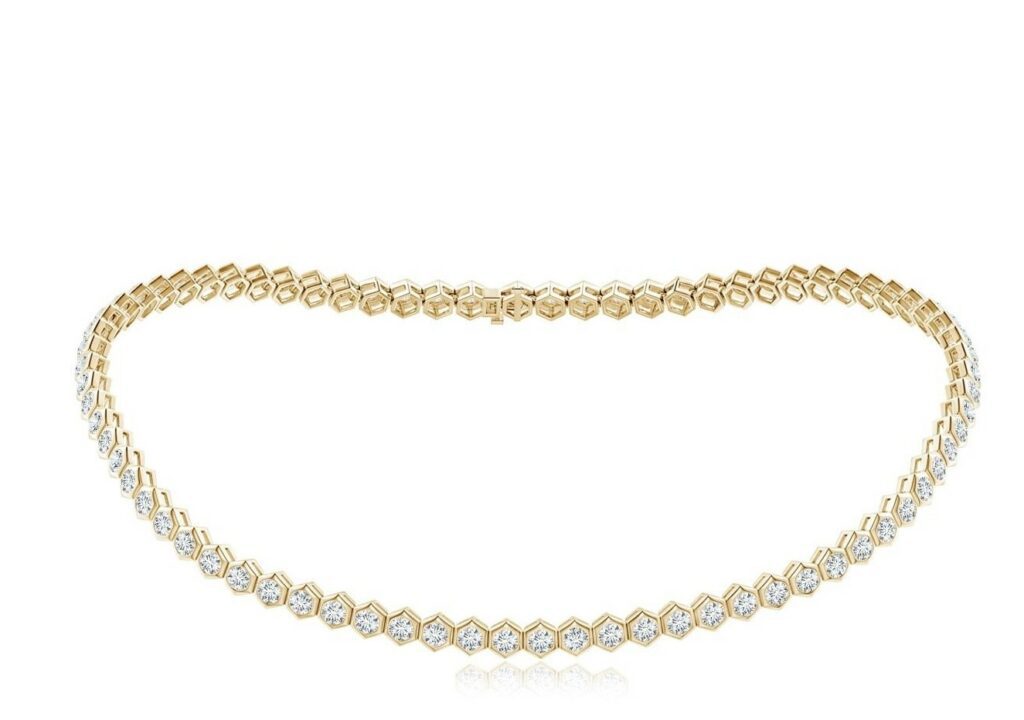 Mixing Diamond Carat Weights
Jewelry designers can also create unique tennis necklaces by mixing diamonds of different cuts and carat weights. Depending on the contrast between the stones, the visual impact can range from subtle to bold.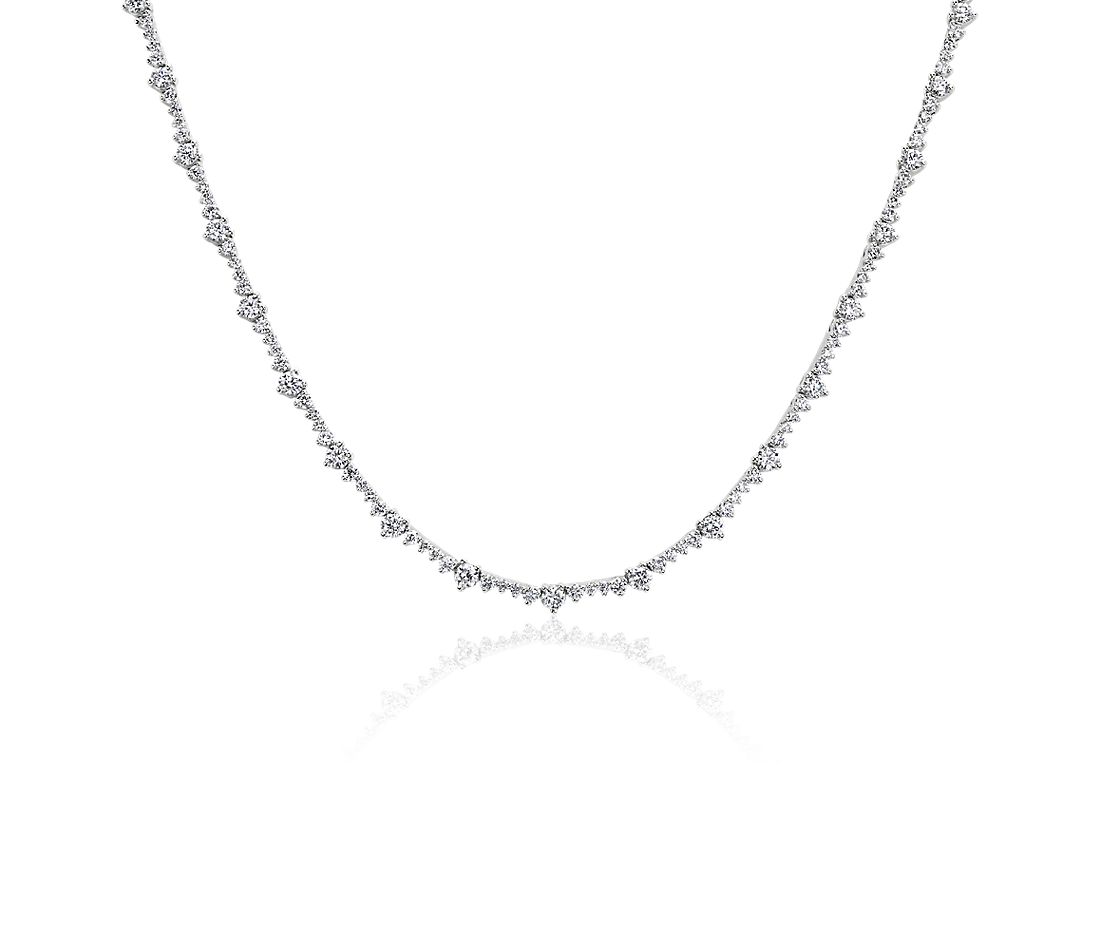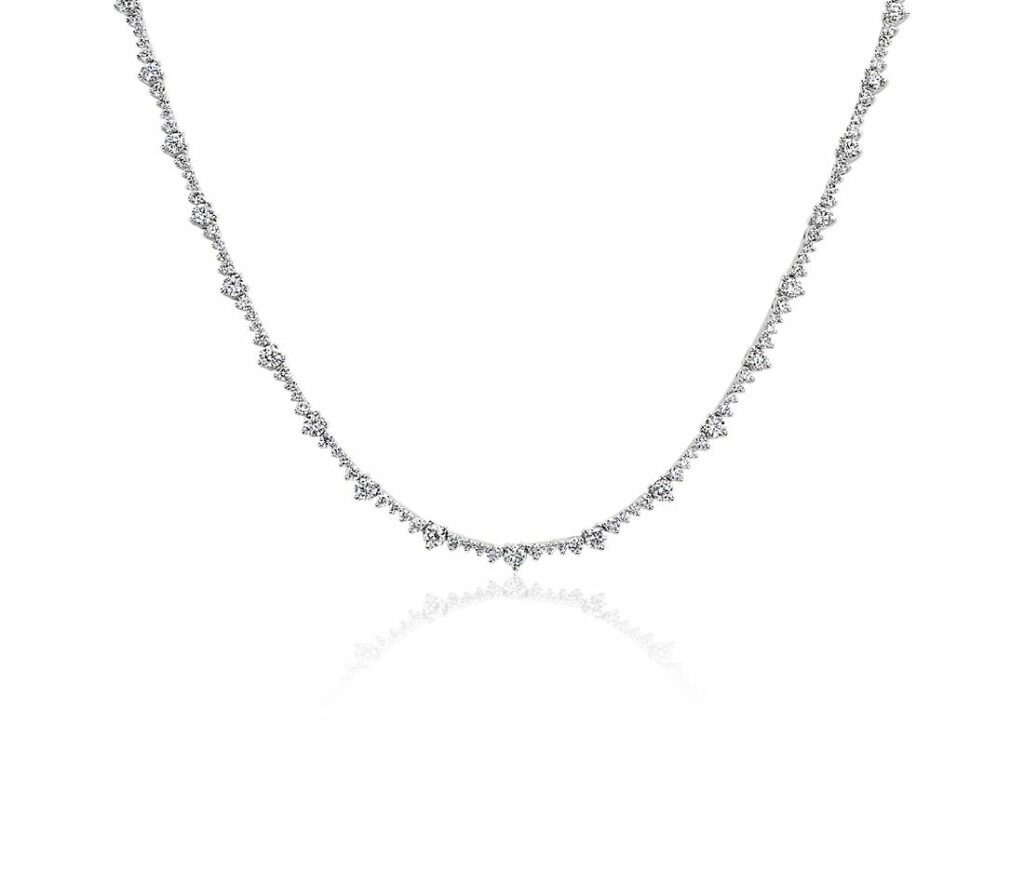 Another fresh take on the tennis necklace is the graduated strand. Jewelry enthusiasts are probably familiar with graduated styles in pearl necklaces. However, designers can also apply the same principle to diamond tennis necklaces. Graduated strands can have more visual impact and glamour than their traditional counterparts.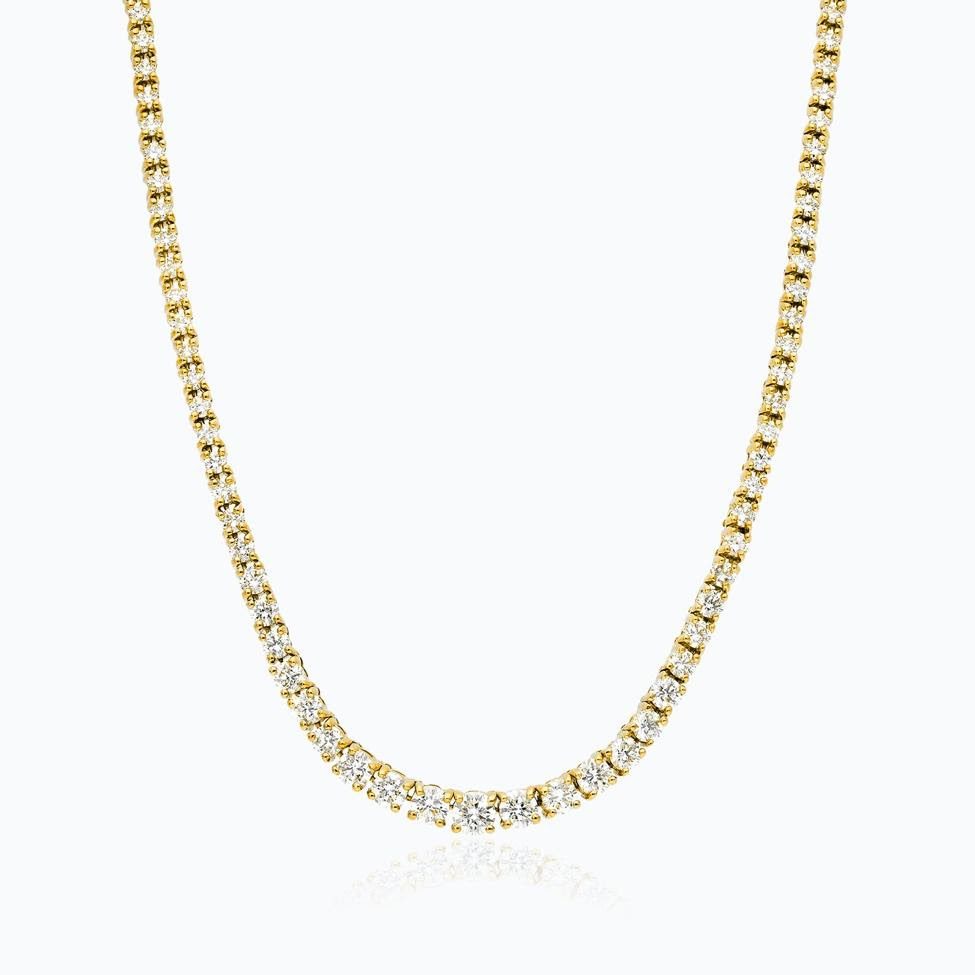 Adding Gemstones to Tennis Necklaces
For a fresh take on the traditional tennis necklace design, look for pieces that feature different gemstones.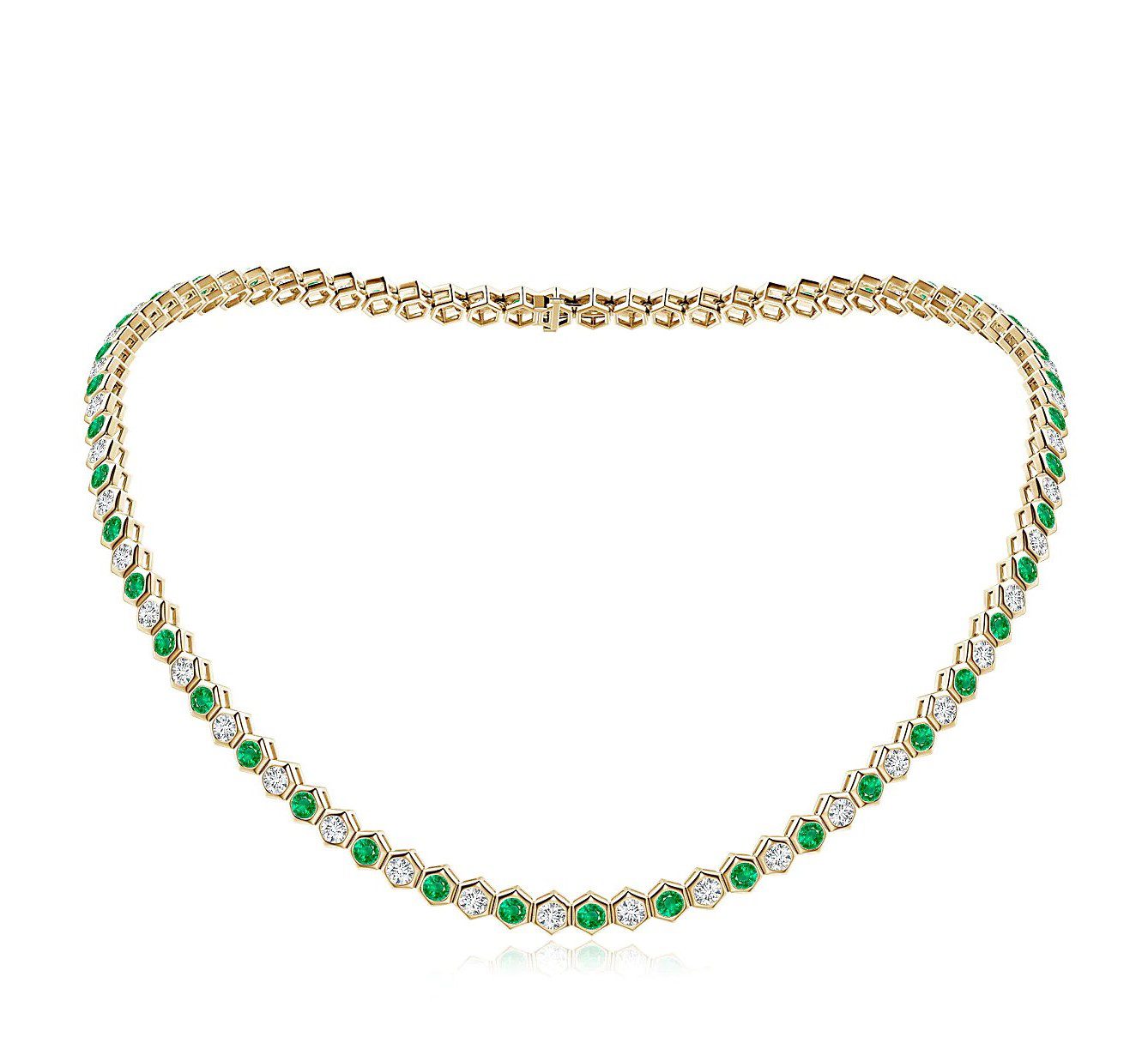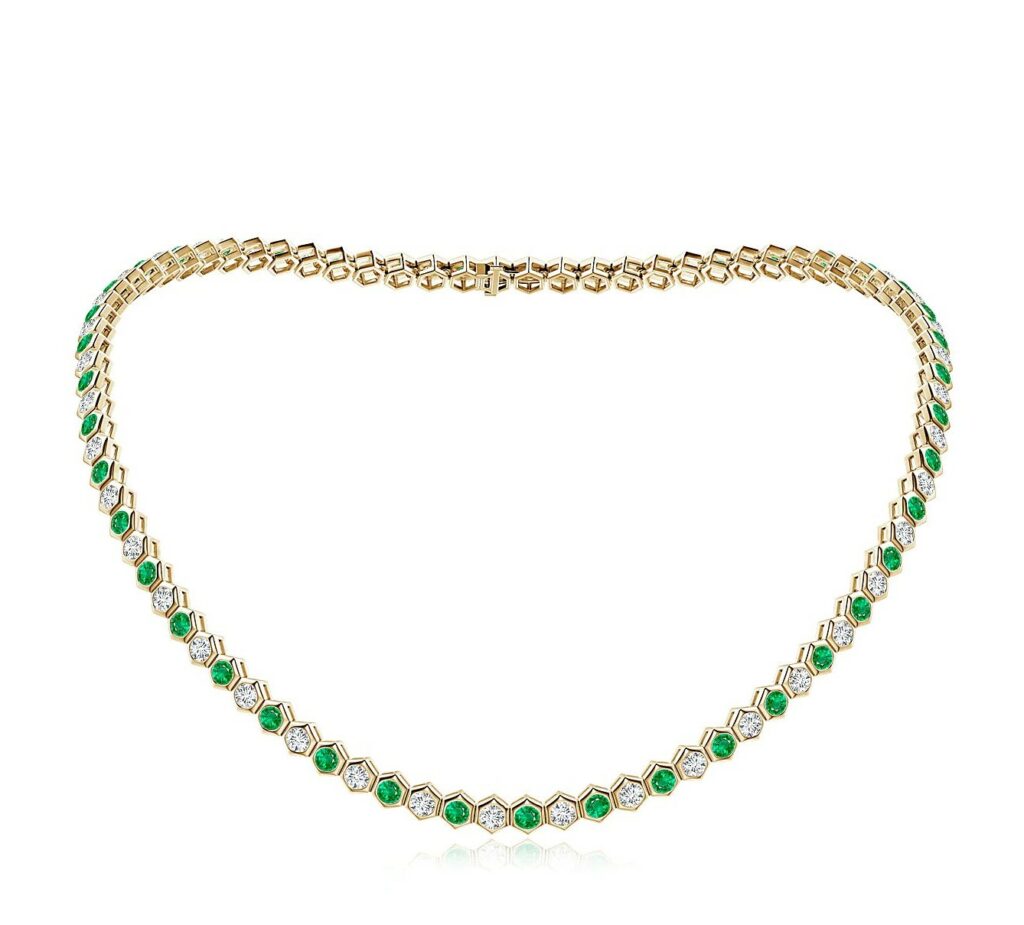 You can find necklaces that combine diamonds with other gemstones or even necklaces made entirely without diamonds.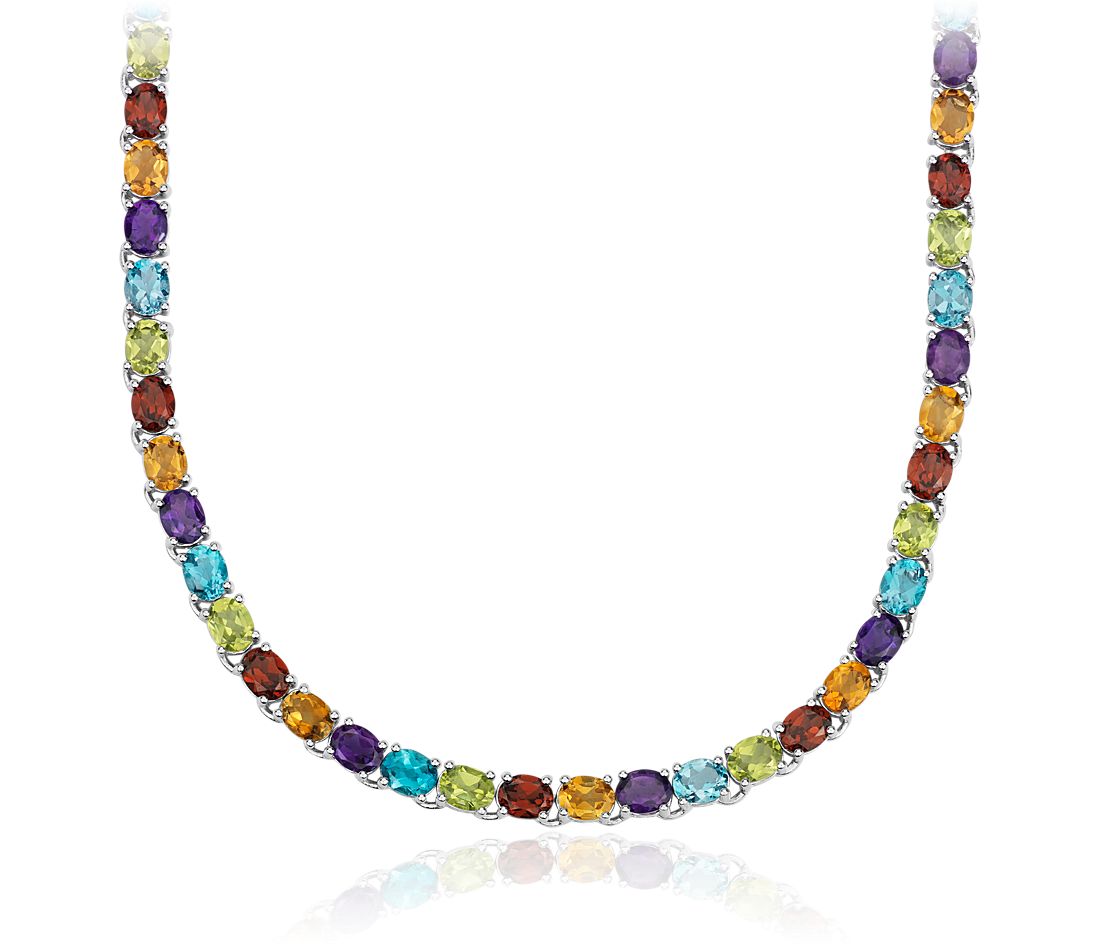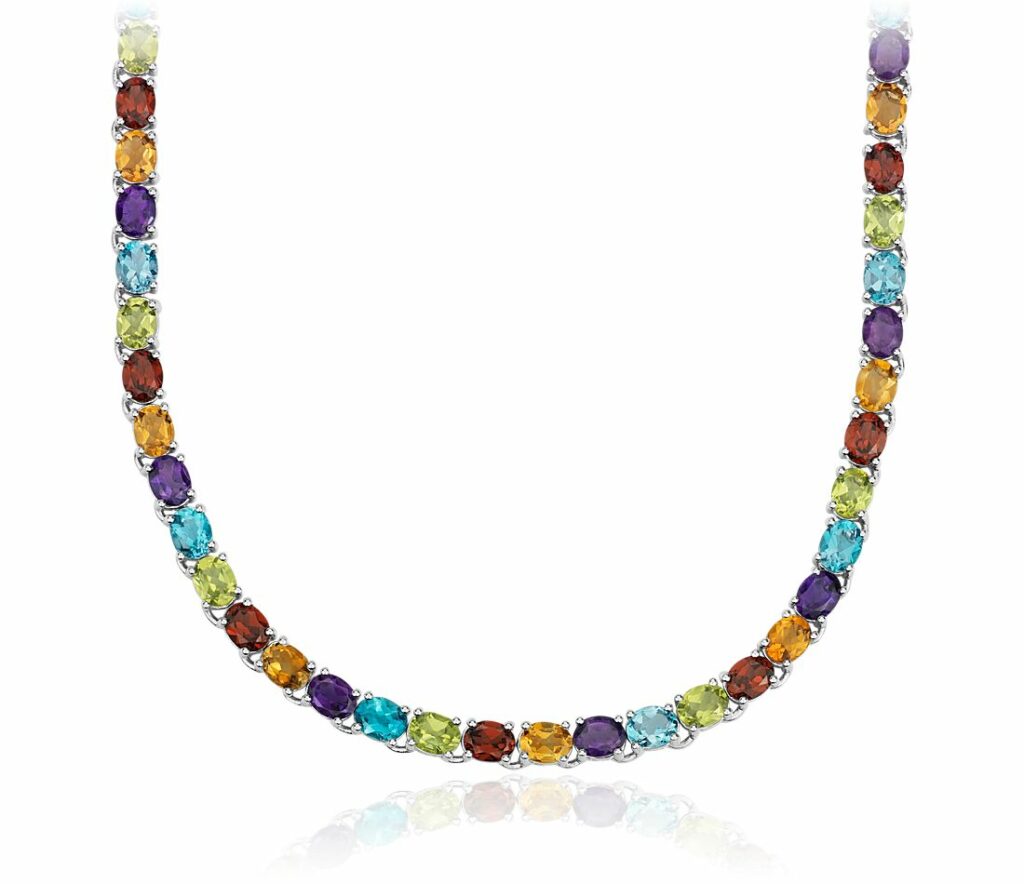 Lab-Created Diamond Tennis Necklaces
We can't talk about diamond tennis necklaces without discussing the synthetic option. James Allen offers tennis necklaces in many styles and allows you to choose either natural or lab-grown diamonds.
There are benefits to choosing lab-grown stones. Most notably, synthetic diamonds cost significantly less than natural diamonds. If you need to replace a synthetic stone, it's much less expensive.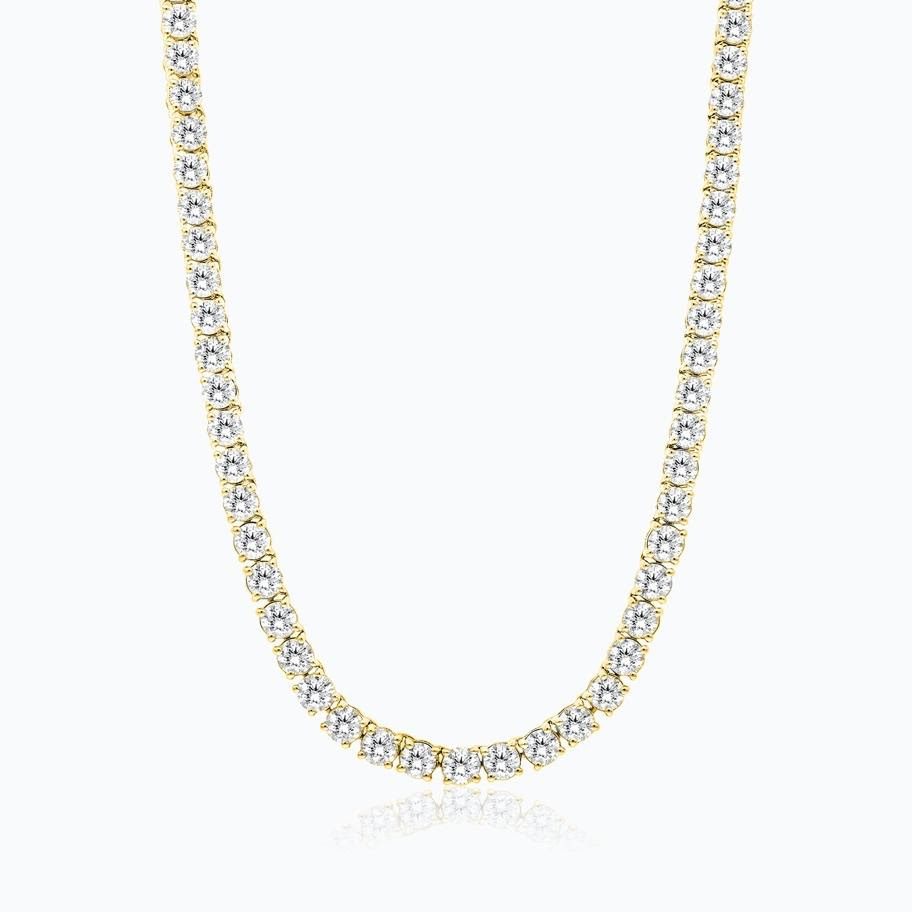 Do you have concerns about the quality of lab-grown diamonds? You may wonder if they can match that of natural, mined diamonds. Yes, they can. Currently, synthetic diamonds can be grown in large, high-quality batches. Lab-grown diamonds can have high carat weight as well as excellent color and clarity grades. They may also have the same diamond grading reports that mined diamonds do, so make sure you're comparing prices for stones of the same weight and quality.
Are you worried that synthetic diamonds won't look like natural stones? Rest assured that synthetic and natural diamonds have the same physical and optical properties. Even trained gemologists need special equipment to tell the difference between them. So, if you wear a synthetic diamond tennis necklace, no one will be able to tell just by looking at it.