Online Faceting Designs & Diagrams: Memory
---
by
Memory by Jeff R. Graham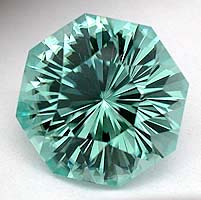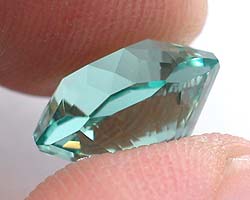 Memory – Cutting Remarks Shown at left is a 11mm x 7.9 mm deep ~ 5.98 carat "Memory" cut from flawless Nigerian Pariba colored Tourmaline by Jeff Graham.
I was asked for a design in memory of a dog named Pansy. All of us animal lovers have lost a friend at one time or another.
So I thought the best title for this was just "Memory". Cut in refractive indexes 1.54 to 2.14 (92.1%) with no changes. This design is for pale to light colored materials and works best in 10mm or larger stones.
Note: This is an intermediate design to cut, it can be more difficult than it looks, but is fun and quite unique. Cut the intermediate facets to center point, they will not all cut to the girdle. Just the corners cut all the way out to the points on the girdle.
Here are a few dogs that we have trained and had to give up… and some in training.
Left: The cute little black Lab is named Cindy. She is/was a puppy in training for "Guide Dogs" for the blind. She is currently being evaluated to become a "Search & Rescue" dog or something else like maybe just a pet (they call it career changed).
Right: Is a gold Lab named Jill, she has graduated and was selected to be a breeder for "Guide Dogs". A breeder is the absolute best that a dog can do in the training and selection process. The dog has to be perfect in all respects to become a breeder.
Left: This cute little girl is named Verbeana. We call her "Beanie" when she is not working.
Beanie is Jill's daughter (from her first litter) and in this picture she is 5 months old (April, 2004).
She is in training to be a Guide Dog for the Blind like her mother.
I took this picture of her when I was working in my orchard (Apple and Peach trees behind her, Oranges, Lemons).
She loves to be out side and "thinks" she is a big help. She loves to carry the "sticks" around the yard as I do the spring pruning on the trees. Like all Labs she tends to carry sticks then chew them.
But chasing a bug or some other insect is almost as much fun. Being both a puppy and a Lab, she does not have much coordination and tends to crash into things.
Left: This little trouble maker is named Holly Ann. She is a black Lab and in this picture she is about 3 months old (June 2005).
She is very sweet, but do not let her looks fool you, she manages to get into lots of trouble.
She is also a guide dog in training and is the replacement puppy for when Beanie went back to the Guide Dog campus for formal training (May 2005).
She loves playing in the sprinkler and as with most Labs carries things around and generally chews things up.
She has a quirky sense of humor and plays "limp noodle" when she does not want to do some thing.
What is "limp noodle"? It is when she pretends that she does not have a bone in her body and just goes limp. If you pick up her front end… the back end falls down and vice versa… She goes totally limp and them looks at you like "make me" or this is a fun game.
Left: Our resident juvenile delinquent, is named Holly Ann. She is a black Lab and in this picture she is about 14 months old (May 2006).
She is headed back to the guide dog campus for formal training June 10, 2006. She is a very sweet dog and we hate to give her back.
She is a real social butterfly and loves every one and is just generally happy all the time.
We do not know if she will pass the training, over 50% of the dogs do not make it. If she does not pass, she will come home and live here.
Aug 2006 Holly Anne graduated training with honors and is currently a working guide dog in Canada. The lady that got her fell in love with her and they are both doing very well. It took Holly a while to get used to the snow and cold of Canada, she was not very impressed with the cold for the first few months and she did not like the snow because she could not see the streets and side walks. Which she has been trained to look for while guiding, the snow covered everything up and confused her. But Holly figured it all out and they are both very happy and doing well.
Oct 2008, Holly and her master are doing very well and the lady says Holly is the best dog she has ever had, she has had several guide dogs over here life. Living in Canada and now likes the snow.
Left: Verbeana, she went to formal training and basically told them she wanted to come home. So she is my girl now…
She lives the life of Riley, sleeps, chews bones, plays and generally enjoys life. She has actually been a big help in training our new young puppies. Because when the puppies see her do a command they get the idea almost right away.
Of course all the young puppies absolutely adore Beanie and they spend a lot of time playing with each other when they are not working.
Beanie is very well trained and is pretty much perfect when she is working. When she is not working… well that is another story. She has a real sense of humor, but not all of use find the same things funny…
Like all dogs she loves to go for a ride and climbs in any car that is available. She was trained to go every where and do every thing. So she still thinks she should be going every where I go… Of course now that she is just a pet and not a working guide dog, there are a lot of places she cannot go. She thinks she should, but has gotten the idea that she cannot always go, if I tell her no, I get a big doggie sigh and she roll her eyes at me and lays down.
Left: Burgess, this boy is about 20 months old and he is one of the most gentle dogs I think we have ever trained. He is about 80 lbs and still really a puppy. He will get larger as he gets older.
We raised him a from a puppy and he is a little bit of a "scaredy cat" around large diesel trucks which caused him to be a career change dog. He did not like the loud noise(s). He did not make the training for a guide dog.
He is like having a big kid around… He is happy all the time and nothing much ever bothers him, except for diesels. He loves to play and he and the new puppy named Newman are best buddies.
Beanie plays with them a little but she often just wants to watch them play and snooze.
Burgess to this point was one of the easiest dogs to train we have ever raised. He learns right away and he wants to please, so he does not ever get ornery and "forget" any of the commands like some of the other dogs tended to do during training. He minds almost instantly with a happy tail waggle.
As we have had him around it is some times hard to believe the things he learns and he is almost always surprising use with new things he does.
As an example, he has learned that one of my sisters always visits on a Sunday afternoon, so about the time he thinks she is about to come, he gets his favorite toy and sits by the door waiting for her. He will wait patiently, even if she is late (which she usually is) for her to come and say hello. How he knows it is Sunday we have not figured out…
Left: Newman, Oct 2008. He is a small (about 65 lbs which is small for a male lab) golden lab and really a very sweet dog.
We thought he would make the guide dog training… But he surprised us all and he had a lot of nerves and was just up-set when he went back to guide dogs for official training. He just did not settle in to the campus.
I was surprised. He was career changed and will be adopted out to some very lucky people. Because he is really a very good dog. Well mannered and well trained.
Although he is a rebel rouser and always looking for some action, he loves to play. He is one of the most loving dogs we have raised. He is very gentle and can be a little rough when he plays because he is really very strong and clumsy (typical lab by the way)… I sure hope he finds a good and happy home. I would have liked to keep him but I am at my limit with 2 large labs running around the house.
Enjoy cutting your "Memory"… Drop me an email to let me know your results and what you've cut, or feel free to inquire if you have any questions or need some help regarding this design.


Random – Cosine – ISO
Detailed faceting instructions by Jeff Graham available at The Rock Peddler

About the author
Jeff R. Graham
The late Jeff Graham was a prolific faceter, creator of many original faceting designs, and the author of several highly-regarded instructional faceting books such as Gram Faceting Designs.
All articles by this author