Online Faceting Designs & Diagrams: Mumble
---
by
Mumble by Jeff R. Graham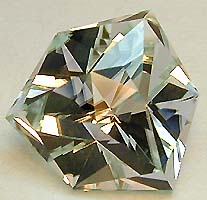 Mumble – Cutting Remarks
Shown at left is a 8.8 x 6mm deep ~ 2.20 carat Cornered cut from Top pastel green Afghanistan Tourmaline by Jeff Graham.
I wanted something that would look different and that I could leave the an apex on the crown, if I wanted to (no table). This looks good either way, although in light colored materials and larger stones the table is a good idea. This is very nice and not hard to cut in a larger stone, but the meets get difficult as the stone gets smaller on the crown. This cuts fast and it works well in Quartz, Tourmaline, Topaz, and Peridot. Cut it in medium colored material (although I did cut it in a light pastel piece of Tourmaline), this is a very bright design and it will over power a light colored stone.
This is a "Money Cut" and I have found that this shape sells very well for those of you that are interested… It will set easily in most trillion mounts, but it is different enough that it seems to catch peoples eye and I have sold all of the ones I have cut.
Enjoy cutting your "Mumble"… Drop me an email to let me know your results and what you've cut, or feel free to inquire if you have any questions or need some help regarding this design.


Random – Cosine – ISO
Detailed faceting instructions by Jeff Graham available at The Rock Peddler

About the author
Jeff R. Graham
The late Jeff Graham was a prolific faceter, creator of many original faceting designs, and the author of several highly-regarded instructional faceting books such as Gram Faceting Designs.
All articles by this author