IGS may receive customer referral fees from the companies listed in this page.
Learn more.
4 Popular Diamond Shapes for Engagement Rings in 2021
Save Money On Your Jewelry, Enjoy These Sales & Coupons
Our aim is to get you the best diamonds and gemstones at the best price possible. That's why whenever we see an attractive discount, special, or promotion at one of our preferred vendors, we let you know.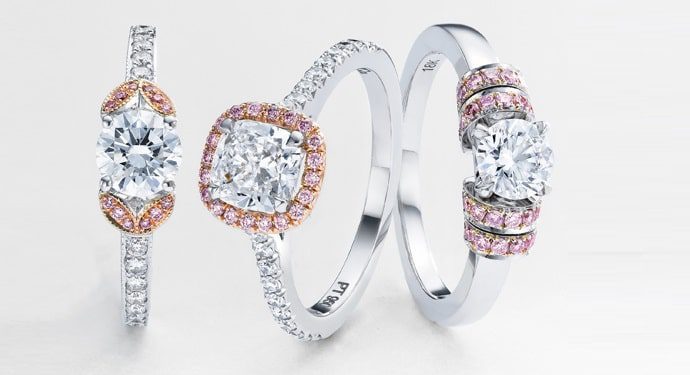 When shopping for that perfect diamond engagement ring, it's easy to fall down a rabbit hole. There are so many shapes and sizes for the center stone. How do you choose?
You could go with the always classic round or opt for a more contemporary rectangular stone with an emerald cut. Or maybe a heart shape diamond has caught your eye.
Whatever you choose, it's important to keep your partner's style and taste in mind. Look for a ring that speaks to your relationship and fits within your budget.
To help you get started, we've rounded up some of the more popular diamond shapes for engagement rings. These are styles you'll definitely see in 2021. Some you'll see for years to come.
Cut vs Shape
The terms cut and shape are often confused. In fact, if you google most popular diamond shapes, you'll find links to articles that mention both emerald cut and oval diamonds.
The cut, however, is a particular way to shape the facets of the diamond to get the most brilliance, fire, and scintillation.
The diamond shape refers to the silhouette of the stone itself. Diamonds with an emerald cut are almost always rectangle in shape, which is why the cut is often confused with the shape of the diamond.
Diamonds shaped like ovals, meanwhile, usually have a brilliant cut, which is used with a lot of different shapes. A diamond with a brilliant cut has 58 facets meant to bring out the most fire, brilliance, and scintillation in a diamond. It's also used in rounds, hearts, marquise, ovals, and other shapes.
Now that we've got that out of the way, let's talk about some of the most popular diamond shapes for engagement rings right now.
1. Round Diamonds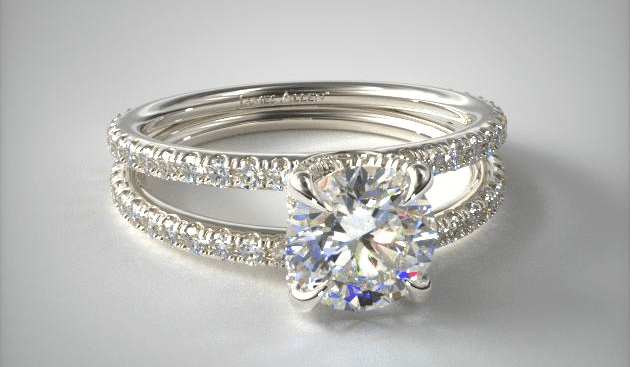 By far, the most popular diamond shape for engagement rings is the round diamond. According to The Knot's annual engagement ring survey, about half of the engagement ring diamonds sold last year, as well the year before, were round.
A round diamond is a classic that complements any finger size. It's a versatile shape that can be used as a solitaire or in a two-, three-, or multiple-stone setting.
A round diamond's brilliant cut hides flaws and inclusions well, so you don't have to go for the highest clarity grade to get a really nice diamond. In fact, we recommend stones within the VS2 to S1 clarity range.
Round diamonds are more expensive than other shapes because of their popularity, but also because they are cut to produce the most sparkle.
Pro Tip: If a one-carat diamond isn't within your budget, which is considered a sort of standard for engagement rings, try a halo setting or two smaller side diamonds to make the center one look bigger.
2. Heart-Shaped Diamonds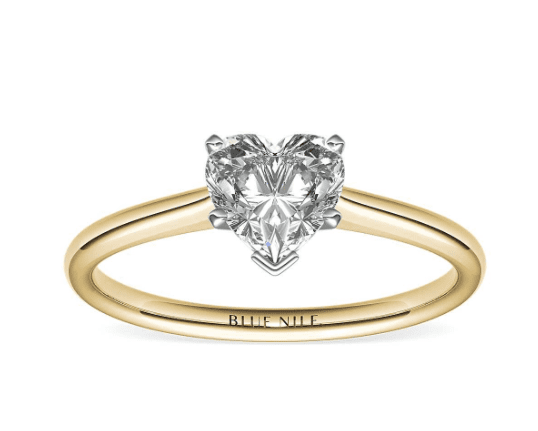 A heart-shaped diamond is a popular choice for an engagement ring simply because its shape conveys its message. They have fallen in and out of favor over the years, but enjoyed a particular moment in the spotlight when Taylor Kinney gave one to Lady Gaga on Valentine's Day 2015.
Heart-shaped diamonds are more expensive than other fancy-cut diamonds. In fact, they're about the same price as a round.
It takes a very skilled lapidary to shape the cleft (the point that turns inward at the top) and the point at the bottom, and make the lobes (the top curves) on each side look even.
But that's what makes a well-cut heart-shaped diamond so special, too. There just aren't as many out there as there are other fancy shapes.
With this shape, you don't want to go much smaller than one carat. The smaller the stone, the harder it is to see the cleft, making smaller ones look pear-shaped.
Heart-shaped diamonds can also show a bowtie, a dark area through the middle that resembles a man's bowtie. It happens when light that enters the diamond isn't reflected back to you. While other shapes, like ovals and marquise can actually look more appealing with this trick of the light, it can be distracting in a heart-shaped diamond.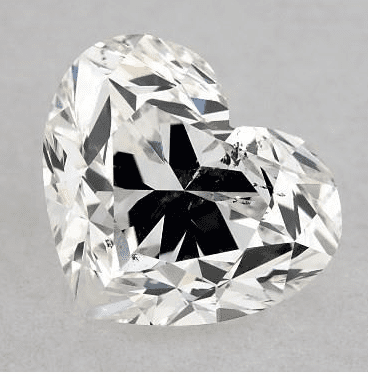 To make sure you have a good stone, hold it under the light and turn it in all directions to ensure it has the most fire and brilliance possible. Look at the two halves to make sure they're even, as well.
If you're looking online, the 360-degree viewing tools on Blue Nile and James Allen can help you see your stone from every angle.
Pro Tip: Consider a halo or bezel setting to keep the fragile edges and point of your heart-shaped diamond from chipping.
3. Oval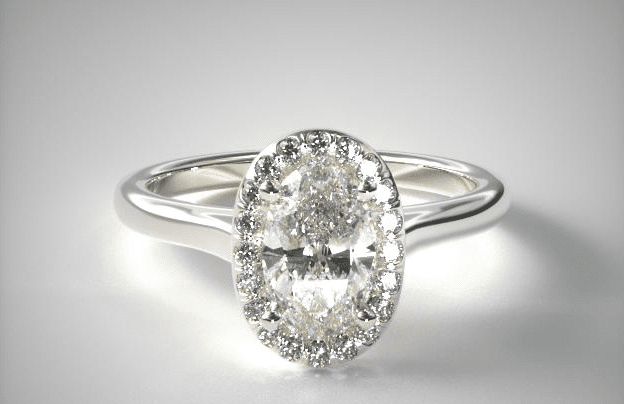 When Blake Lively stepped out with her 12-carat oval diamond engagement ring from Ryan Reynolds, she set off two trends: oval diamonds and rose-gold settings. That was back in 2012, but oval diamonds are still a popular choice for engagement rings.
An oval diamond's elongated shape makes the finger look slimmer. And their larger table (the facet at the top of the ring) makes them look bigger than rounds of the same carat weight.
Like with most shapes, cut is very important with ovals. You want to make sure your oval is symmetrical, so that it doesn't look egg-shaped, and has good proportions, so it's not too skinny or too wide for your taste.
Like heart-shaped diamonds, ovals have a bowtie through their middle, as well. Some ovals have been cut to hide the bowtie better than others, but it's always there. Take a close look at your oval diamond under the light and find one with a bowtie that's attractive to you.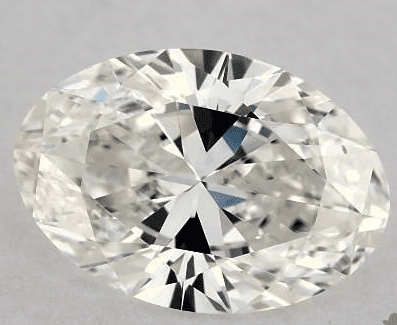 Pro Tip: East-west settings, where the diamond sits perpendicular to the finger are also on trend. If you're looking for a more unique ring, you might want to consider this more unusual configuration.
4. Rectangles and Squares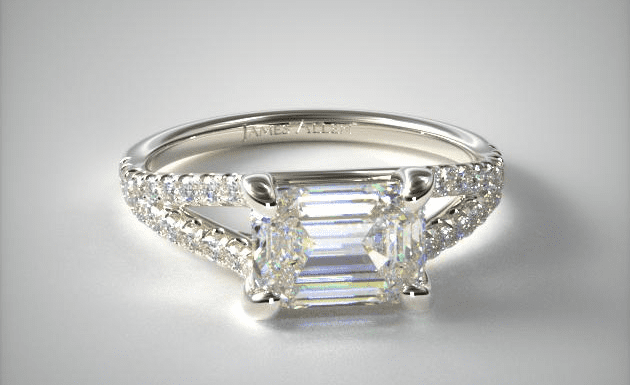 In 2019, Jennifer Lopez and Jennifer Lawrence both showed off their emerald-cut diamond engagement rings, setting off a new trend that some say will eclipse the oval diamond.
A rectangular emerald cut has the same elongating effect on the finger as ovals, and their cuts create more subtle flashes of light rather than the fiery sparkle of brilliant cuts.
You can get that same subtle effect with a more square Asscher cut, too. These diamonds, first made popular in the 1920s, are the perfect shape for a more vintage look.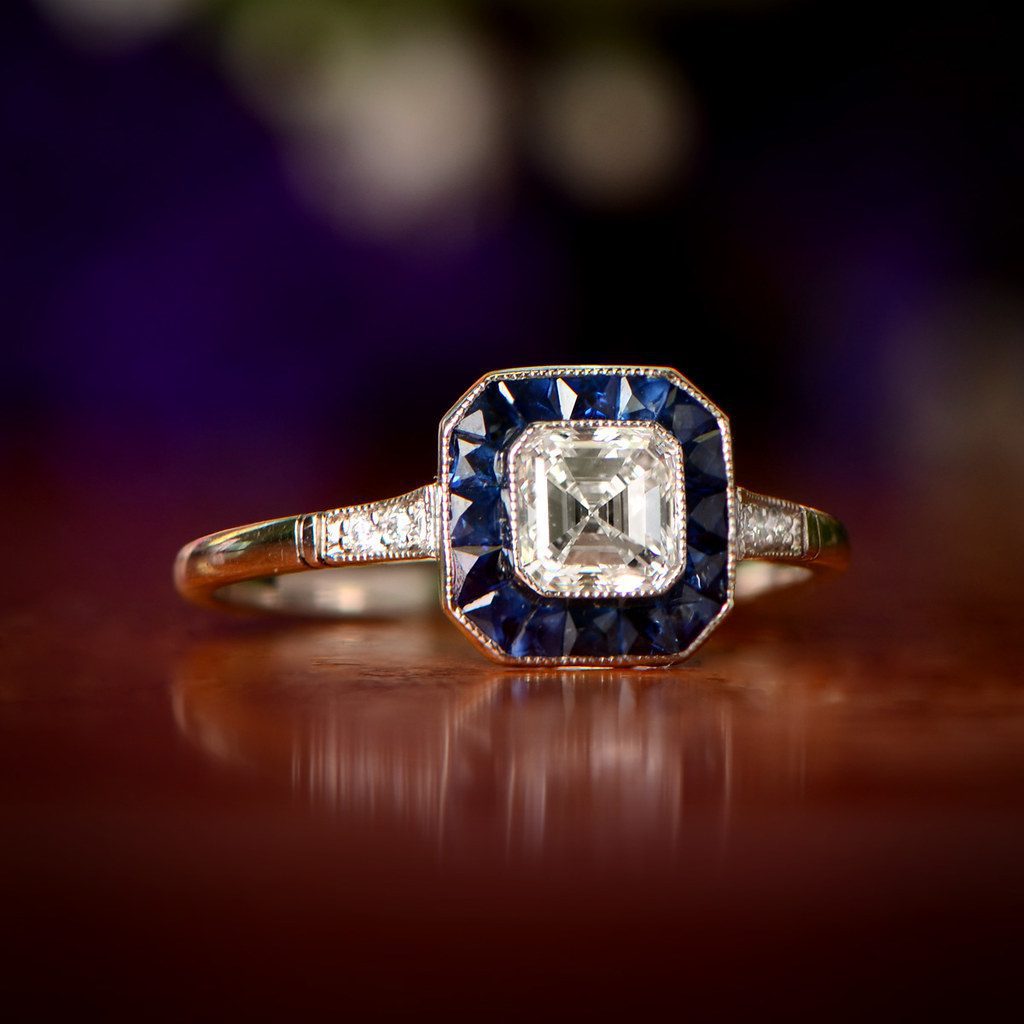 There are a few things to look out for with these shapes and cuts. First, the larger tables and facets make flaws and inclusions more apparent, so a higher-graded cut like a VVS2 or VVS1 might be a good idea.
They can also have bowties that create large shadows in the middle of the diamond.
If you like the more square shape but want to keep the sparkle of a brilliant cut, consider a cushion cut diamond. Just note that they have a smaller face-up appearance, so you may need a larger carat weight.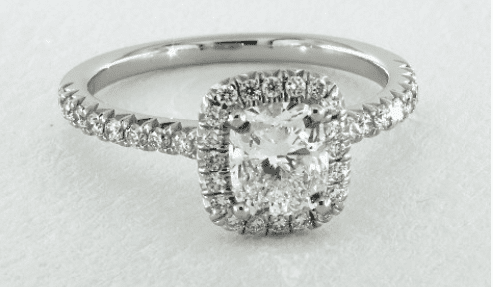 Playing with shape can help you stay within your budget and still create a dazzling and unique engagement ring. Sites like James Allen and Blue Nile let you choose every element of your ring, from the center and side stones to the setting type and metal. Get creative and see what kind of diamond engagement ring you can put together!