All faceters, novices and experts alike, will lose pieces. Sometimes, stones just break. If you're cutting natural rough, learn to expect occasional breaks.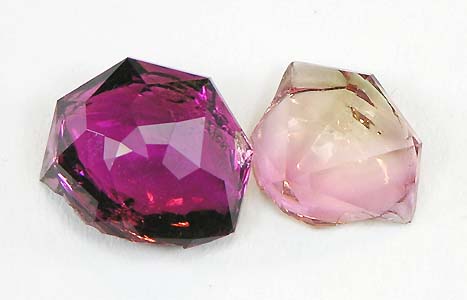 The stone pictured above was a top-color, 20-ct Nigerian rubellite. Was. Past tense.
I finished cutting this beautiful gem late one night. It looked perfect. However, when I inspected the stone the following morning, I saw a stress fracture all the way across the pavilion. The stone showed no indication of a flaw anywhere during cutting. Even after I cleaned all the dop wax off it, I saw nothing.
As you can see from the photo, the rubellite had a little bit of a color zone in the pavilion tip. When I oriented the rough, the stone was saturated. I did see the zone, but I thought (hoped) it wouldn't pose any problems. Typically, color zones like these in Nigerian rubellite tourmalines cut and blend well without issues. As you can clearly see, not this time. Evidently, the stone had some stress between the color zones. When I polished the stone, I released the stress and caused the fracture.
Normally, fractures like this occur while roughing the stone, the first stress release opportunity. Very rarely does the stone hold its stress until polishing. Believe me, I much prefer the stress cause a break right away. That would have saved me all the cutting and polishing time I put into this gemstone.
So it goes. This type of thing happens when you're cutting natural rough. When it happens to you, don't feel alone.