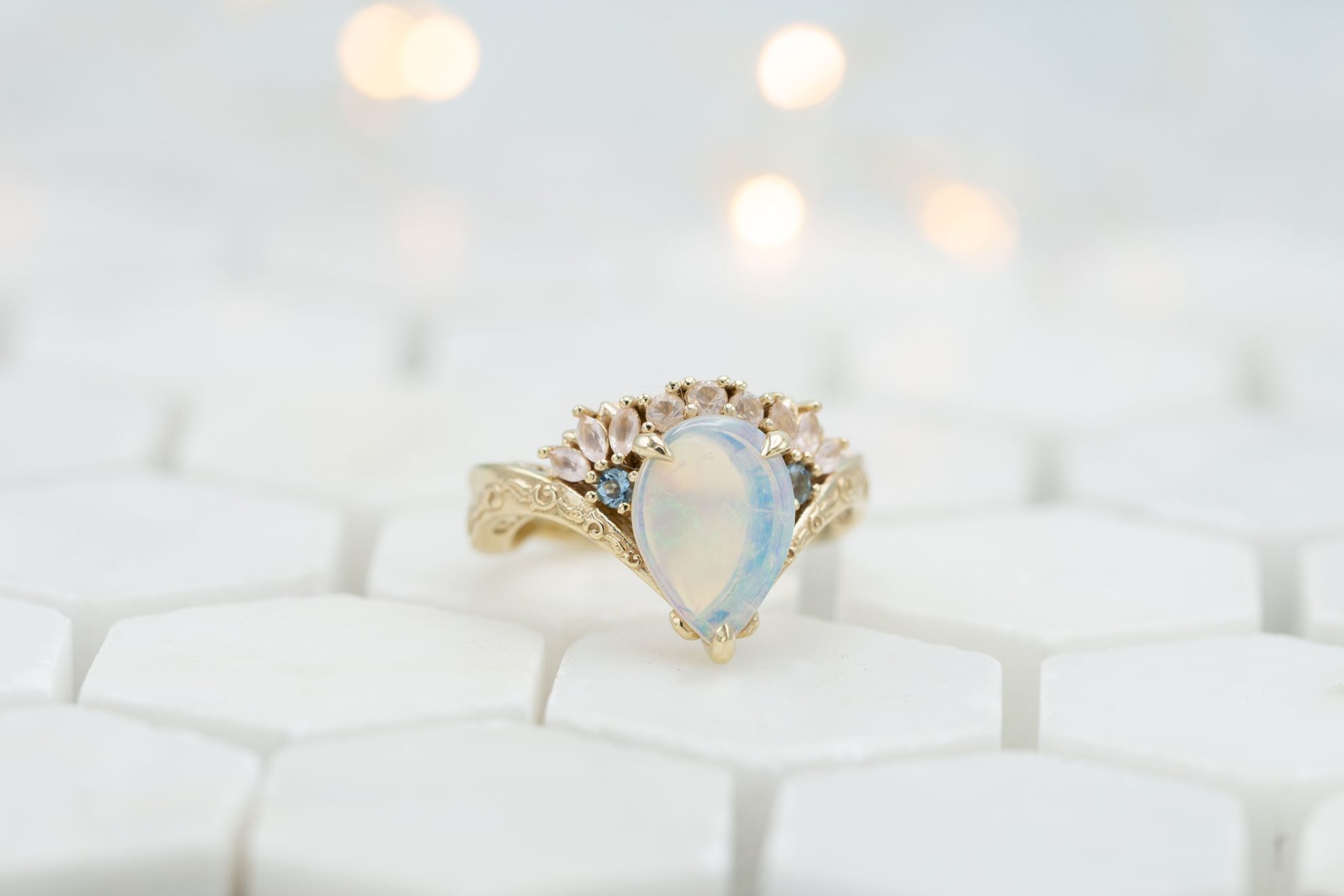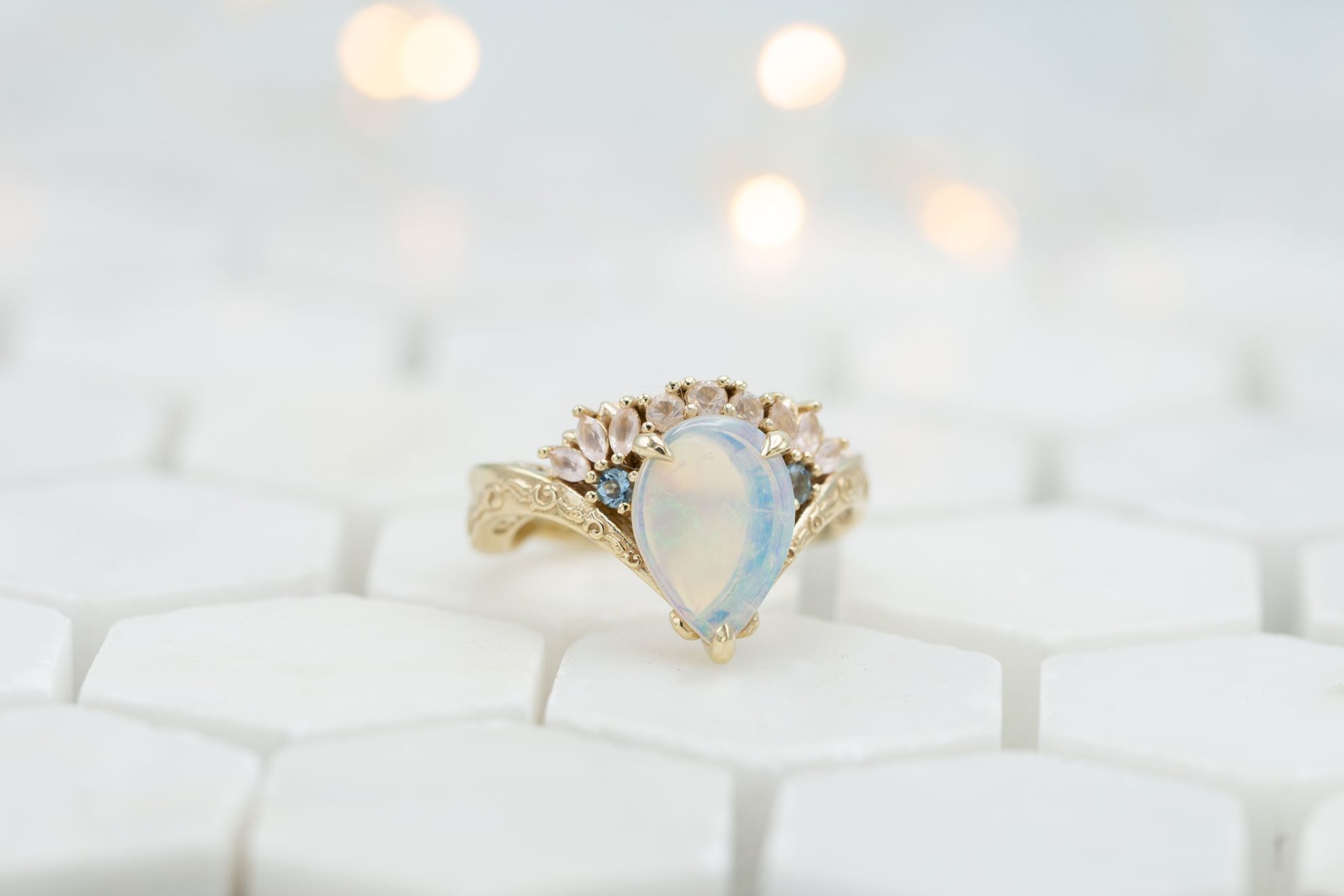 Engagement Ring Guide: Know Your Options
---
Looking for something besides the classic round white diamond? Our engagement ring guide will help you find the alternative gem to match your unique style.
14 Minute Read
Round, white diamonds are the most popular engagement ring stones. But what if you don't like this traditional look? Fortunately, never before have couples had so many engagement ring choices. Just a few decades ago, you would typically just pick from your local retailer's limited selection. Today, you have many options for unique bridal jewelry. Our engagement ring guide will show you some beautiful alternatives to "the usual," from colorful natural gemstones to lab-created materials. We'll also take a look at the metals, shapes, and styles that can make your ring one-of-a-kind. (And if you want to stick with the classic diamond look, our guide can help you start your search, too).
Set Your Budget
No matter what style you prefer, you can probably find an engagement ring that will fit even a modest budget. This brings us to a good starting point: your budget.
Before starting your search for the perfect ring, set a budget — or at least a budget "range" — with a target price point in mind. While this will eliminate some options, like very high-end natural fancy color diamonds or elite designer goods, you'll be surprised to find how many stylish engagement rings are still well within your price range.
Be Flexible
Now, you've agreed on a budget (with a little wiggle room, of course). However, it may turn out that the ring of your dreams falls just a tad beyond your target price. Don't worry. With so many financing options available from retailers and e-tailers, like James Allen, you'll be able to afford that perfect ring by making comfortable payments over time. When you consider that these rings will be worn daily as a reminder of your commitment, you'll be a little more willing to go beyond your original budget.
Pick the Ring Metal
Now comes the fun part. Many couples consider bridal jewelry shopping a vital part of their romantic love story. The search for a ring should be one of the most enjoyable first big purchases of your new life together.
Let's get into the specifics. The next step in our engagement ring guide is choosing a metal for your ring.
Don't Forget to Coordinate
Consider the metal types and colors already in your partner's jewelry wardrobe. Since bridal jewelry is meant to be worn all the time, it'll be worn with other jewelry pieces. The engagement and wedding bands should complement each other as well as the other pieces. They shouldn't stand out so much that they become distractions.
Does your partner wear mostly white metals? White gold or platinum would then be the best choices. If yellow or even trendy pink or rose gold is preferred, choose a metal to match.
Two-Tone Metals
What if your partner likes to wear a variety of jewelry metals? Don't overlook two-tone gold bridal jewelry, which will offer options galore. Flexibility is a good thing to look for in engagement rings.
Examine Your Gemstone and Ring Metal Together
Some gemstones may look better when set in particular metal colors. For example, some white diamonds with low color grades may actually appear whiter when paired with yellow or rose gold. On the other hand, the white diamonds with the highest color grades will look best in white gold or other white metals.
Before you make a final decision on the ring metal, see how it'll look when paired with the stone you select.  Don't be afraid to ask your jeweler for advice (or to change your mind about what type of metal you want).
Birthstones and Personalized Engagement Rings
Nowadays, personalizing bridal jewelry is easy.
While white diamonds are the most popular stones for engagement and wedding bands, you have other options. Consider choosing a colored gemstone for a center stone, perhaps a birthstone or a gem that has special meaning for the couple. You could also use a stone that represents the month of the wedding or the engagement. Your unique ring can tell a story.
Creating a ring that says "Me!" may take a while, but the rewards are huge.
Colored Gemstones are Always Exciting
Colored gemstone engagement rings are exciting conversation starters. You don't need to stick just to birthstones. Your love story can have more chapters with different gems.
Royal Bridal Jewelry
Colored gemstone engagement and wedding rings are nothing new. Actually, royal families have long preferred these gems for bridal jewelry. In the 1980s, Princess Diana's sapphire engagement ring and Sarah Ferguson's fiery ruby engagement ring started engagement ring trends. (When Prince William proposed to Kate Middleton with his mother Diana's ring in 2010, the ring again reignited interest in sapphire rings).
In a bygone era, Prince Albert gave Queen Victoria an engagement ring shaped like a serpent with an emerald set in its head. (Snakes were a then-popular symbol of eternal love; emerald was her birthstone).
More recently, Princess Eugenie wowed royal watchers when her fiancé chose a breathtaking padparadscha sapphire and diamond ring.
Colored Gemstones as Focal Points
If you think a colored stone engagement ring has to be expensive to be beautiful and memorable, think again. Swapping out the center diamond of your engagement ring for a similarly sized colored gem will often save you money. Or, for the same price, you might find a larger colored center stone.
Natural Fancy Color Diamonds
You may have heard of spectacular colored diamonds selling at auction for seven figures. Yep! Depending on their color, size, and, of course, rarity, colored diamonds can be extremely expensive. If you have the means, you might consider natural fancy color diamonds for your bridal jewelry.
Colorless or white diamonds make up the vast majority of diamonds on the market. However, diamonds can occur naturally in many other colors. Some, like reds, are extremely rare. When they do come up for sale, they command astronomical prices. Greens, blues, and pinks are also rare and expensive, but you can still find them on the market. Yellows and browns are the most affordable and available fancy colors.
A fancy color diamond will make your engagement ring truly unique. Although quite expensive, it will provide a lifetime of joy.
Treated and Lab-Made Fancy Color Diamonds
You'll be pleased to find some fancy color diamond rings are well within most budgets. However, there's a catch. These stones are most likely either treated or created in a laboratory.
About a third of all colored diamonds receive their color artificially, not naturally. These are typically natural, colorless diamonds that can receive a variety of color treatments. Nevertheless, these diamonds are still quite striking and very affordable.
What are Lab-Created Diamonds?
Simply put, lab-created diamonds (sometimes called lab-made, synthetic, or just created diamonds) are diamonds grown in a lab. Instead of forming underground over billions of years, they develop under controlled physical conditions identical to those that mined diamonds endure, just at a greatly accelerated rate.
In every sense of the word, lab-created diamonds are real diamonds. They have the same optical, physical, and chemical properties as mined diamonds. Only their method of formation differs. As a result, lab-created diamonds have lower prices than their Earth-formed equivalents.
Fancy color diamonds can also be created in laboratories. These aren't natural, mined stones that receive color treatments. These diamonds are grown in a lab under the same conditions that cause the formation of colored diamonds underground. They're far less expensive than mined colored diamonds but still have the dramatic look that makes fancy color diamonds so appealing!
Colorless Diamond Options
Would you rather stick to traditional white or colorless diamonds for your bridal jewelry? No worries. In the IGS Diamond Advice series, you can find lots of articles about buying white diamonds as well as diamond engagement ring guides. These articles can help you find the right diamond for a reasonable price. If you're eager to get started, check out our Ultimate Diamond Buying Guide.
If you like the classic look of colorless diamonds but still need to save more money, here are some additional options.
Treated Colorless Diamonds
Treated colorless diamonds are mined stones that have undergone a "beauty treatment" in a laboratory. These treatments can improve their appearance because they remove naturally occurring inclusions. These are tiny mineral objects or fractures inside the stone itself. If they can't remove the inclusions, the treatments can reduce their impact on a diamond's brilliance. (In terms of the Four Cs, these procedures improve a diamond's clarity).
The results are great looking, shiny diamonds that cost considerably less than their high-caliber, untreated counterparts. You and your partner are the only ones who'll know these stones had some help.
Lab-Made Colorless Diamonds
Let's come back to lab-grown diamonds. Just as these stones can save you money when shopping for fancy color diamonds, they can also save you money on colorless diamonds.
Many couples opt to take the money they would have spent on a mined diamond and put it towards a larger or better performing lab-made stone. Think of the bragging rights on social media with a celebrity-sized diamond engagement ring! No one will know the stone is lab-grown unless you spill the beans. (It takes a gem lab analysis to distinguish a lab-created diamond from a mined one). 
If won't consider buying a lab-created stone because you feel that only a mined diamond will do for your engagement ring… the decision is yours. However, you might be surprised after seeing a dazzling array of created diamonds. You might decide that these are the perfect stones to tell your love story.
James Allen and With Clarity have some of the largest online selections of lab-made diamonds available.
Natural Colorless Gemstones
Sapphires and zircons come in many different, stunning colors. Did you know they also have natural colorless varieties? Some of these colorless gems have been used as diamond imitations. Of course, these gems aren't diamonds. They are distinct gem species with different properties. However, when expertly cut, they can approximate the appearance of diamonds.
Historically, zircons were a common diamond substitute. (Don't confuse natural zircons with lab-created cubic zirconia). In recent times, colorless or white sapphires have become popular substitutes.
Natural colorless gemstones usually cost less than diamonds. For people who don't want lab-created stones, these gems may make attractive, natural alternatives to diamonds.
Moissanites
Have you considered moissanite as a bridal jewelry option? This lab-created material has become a popular diamond alternative. As far as diamond lookalikes go, moissanite may be the most convincing. If you want a large, scintillating stone for your engagement ring, moissanites will give you a lot of bang for your buck.
Why Stone Shape Matters
Whatever type of center stone you choose for your engagement ring, don't overlook its shape. Both diamonds and colored gemstones come in a wide range of shapes. For engagement rings, rounds are the most frequently used. However, you can also pick from cushions , radiants, ovals, marquises, trillions, and many more.
Personal Preferences
You might choose a particular shape based on personal preference. (Maybe you just love the idea of a heart-shaped stone for an engagement ring). Some shapes might best complement the semi-mount you've chosen.
Brightness, Color, and Size
Keep in mind that the shape can also affect how brilliant and sparkly a stone may appear. Shapes like rounds are great for bright, colorless diamonds. However, other cuts might be preferable for stones with amazing color that you want to show off. For example, emerald cuts are great for colored gemstones, like actual emeralds but also many other gems. (Some people even like this elegant shape for colorless diamonds). Some shapes might look larger than others when set in a ring. For example, pears look larger than rounds with the same carat weight.
You can learn more about how shapes affect appearance and performance by reading our series of guides to specific shapes.
Some Shapes Will Look Better on Your Hand
Even if you think you know what you want, make sure you look at many different shapes before making a final decision. Once you try them on your hand in person, you'll soon discover that some shapes will just look better than others.
If you have long, slender fingers, shapes like rounds, radiants, or hearts will look great on you. If you have short fingers, shapes like ovals, marquises, or even emerald cuts will appear to lengthen your fingers. These stones will look elegant and graceful on your hand.
Ultimately, the choice is yours. Always get what you like. Just make sure you consider all your options first.
Engagement Ring Styles
Your ring is more than just metal and stones. No engagement ring guide would be complete without a consideration of style. For some inspiration, let's look at some ring settings in popular styles.
Romantic Style
Is your partner a hopeless romantic? This ring has both a delicate, vintage vibe and a personalized look with its colored gemstone center.
Timeless Style
For a timeless look that you'll enjoy for decades to come, consider some traditional settings. Perhaps a solitaire with a simple center stone or a three-stone setting? These classic ring styles will look on-trend long after your wedding day. (And you can also combine them with alternative gemstones).
Eclectic Style
Does your partner have a unique, artistic style? Check out some trendier setting choices.
For a truly one-of-a-kind ring, take a trip to a jewelry artist's workshop or find a custom jeweler online. There's no right or wrong when it comes to this important ring. After all, it should reflect personal taste and style. The right choice is what you love. Your story is unique, so why shouldn't your bridal jewelry be equally expressive?
Your ring, your way. Let your imagination soar and create something memorable.
Active Lifestyle Considerations
Here's a question many couples don't really consider before buying an engagement ring:
Is your partner the athletic type?
Or how about this one:
Does your partner participate in outdoor activities, work on craft projects, or have a career where using hands is important?
If you answered "Yes" to any of these, before you buy an engagement ring, pick one that won't get in the way. Sure, they can take off the ring, but each time, there's a risk of loss or damage. Furthermore, if your partner has to do this constantly, it will quickly become tiresome. 
If your partner has an active lifestyle, keep your ring setting simple. Consider a protective setting, like a bezel or tension-style setting. High mountings or complex designs with lots of complicated detailing can easily get snagged on clothing or damaged by striking hard surfaces. 
The Journey is Part of Your Love Story
For those going through the process for the first time, this may seem like a lot of information. However, if you give yourself some time to review our engagement ring guide, these options and considerations will start to make sense.
Start creating your "short list" of engagement ring options and give yourself permission to depart from what you thought you wanted. When you're ready, start shopping brick-and-mortar as well as online jewelers. Today's bridal jewelry offers so many exciting possibilities. Imaginative designers have leaped into this important market, eager to offer their personal take on engagement and wedding rings.
Allow yourself to be surprised and embrace this part of your journey together. Someday, you'll have a heartwarming story to tell your friends and family about how you chose your very own engagement and wedding rings.
---
Diana Jarrett GG RMV
Creative writer, author and Gemologist, Diana Jarrett is a graduate gemologist (GG GIA) and Registered Master Valuer.
When you join the IGS community, you get trusted diamond & gemstone information when you need it.
Become a Member
Get started with the International Gem Society's free guide to gemstone identification. Join our weekly newsletter & get a free copy of the Gem ID Checklist!