Online Faceting Designs & Diagrams: Cornered
---
by
Cornered by Jeff R. Graham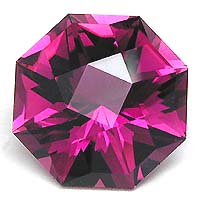 Cornered – Cutting Remarks
Shown at left is a 13.5x 8.6mm deep ~ 9.07 carat "Cornered" cut from Top Nigerian Rubellite Tourmaline by Jeff Graham.
Here is a "Money Cut" that is fast and easy with great performance, which is what they are all about. I am always looking for new ways to cut checker boards because they sell so well. On this one I wanted something that would work for saturated material, like the Nigerian Rubellite, that is just a little too dark (or too big) for a regular design. This works very well and is ideal for everybody, including someone who is new to cutting and has not tried a checkerboard yet. As the stone gets large (over 8mm), especially in lighter colored material, I recommend that a table be cut to meet C4.
Enjoy cutting your "Cornered"… Drop me an email to let me know your results and what you've cut, or feel free to inquire if you have any questions or need some help regarding this design.


Random – Cosine – ISO
Detailed faceting instructions by Jeff Graham available at The Rock Peddler

About the author
Jeff R. Graham
The late Jeff Graham was a prolific faceter, creator of many original faceting designs, and the author of several highly-regarded instructional faceting books such as Gram Faceting Designs.
All articles by this author