Sugilite Value, Price, and Jewelry Information
---
What is the color of sugilite? Grape jelly purple is a good description. (Some specimens approach an amethyst-like color). The gemstone isn't very popular among consumers in North America. (Most sugilite sales are in Asia). Nevertheless, this is a very rare and beautiful gem, if opaque and unusually colored.
Sugilite Value
The most important factor in grading sugilite is color. The deepest color receives the highest grade. A mottled appearance under close inspection doesn't affect the overall value, provided the overall color remains deep. However, lighter areas mixed with dark purple will lower the value.
Sugilite is available in fairly large sizes. Gems over ten carats are common and receive no additional value per carat.
Translucent sugilite isn''t yet available in sufficient quantities for market values to be established.
The International Gem Society (IGS) has a list of businesses offering gemstone appraisal services.
See the entire Gem Price Guide.
Start an IGS Membership today for full access to our price guide (updated monthly).
Sugilite Information
Comments
Deep-purple, grape jelly sugilite gemstones get their color from traces of manganese. They may resemble sogdianite gemstones.  However, sogdianite contains traces of titanium and zirconium. Sugilite does not.  A chemical analysis can easily distinguish the two species.
Sophisticated gem shoppers outside of Asia haven't shown great interest in this gem. Perhaps the bold, striking color is better suited for younger consumers in North America or other regions.  The rarity of the gem may make it interesting to collectors worldwide.
Sources
Sugilite was discovered in 1944 on Iwagi Islet in Southwestern Japan. These tiny, yellow crystals had no gem value.
In 1955, some dark-pink prismatic crystals were found in central India'. However, this material was not cuttable.
In 1975, a thin seam of sugilite was found in a core-drill sample from a manganese mine near Hotazel, South Africa. This material had enough manganese content to give it the deep purple coloring the gem is famous for. The deposit was small but significant because it was the first source of gem-quality sugilite.
In 1979, a massive deposit estimated at 10-20 tons was found near Hotazel. Unfortunately, it's 3,200 feet underground. The combination of the technical challenge of mining the material and the small demand for it means much of it is still underground. One half of the deposit is believed to have the opaque, grape jelly color of known gem-quality sugilite. A very small percentage, perhaps 0.1 %, is thought to be translucent. Known as "sugilite gel," this material is extremely rare and highly prized.
Wessels Mine, Kuruman district, near Hotazel, South Africa
Iwagi Islet, Japan
Madhya Pradesh, India
New South Wales, Australia; Canada; Italy; Tajikistan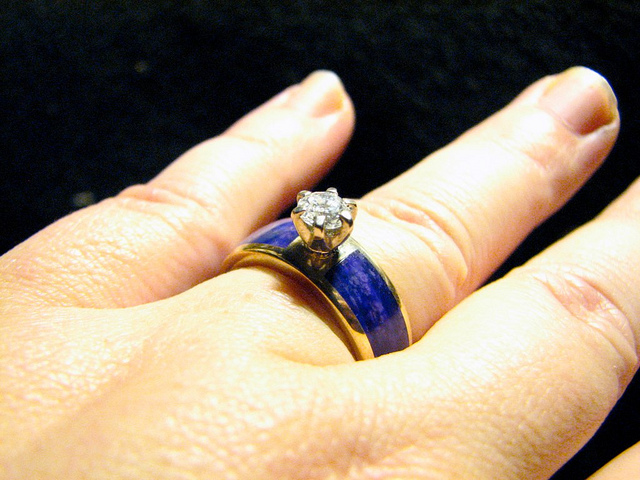 Trade Names
Royal Lavulite, so-called because of its lavender color.
Royal Azel, after Hotazel, South Africa.
Royal Lazelle
Cybelene
Care
Avoid rough handling. This gemstone should be worn with protective jewelry settings. See our guide to gemstone jewelry care guide for cleaning recommendations.