IGS may receive customer referral fees from the companies listed in this page.
Learn more.
Two-Carat Diamond Rings: Buying Top Quality
Save Money On Your Jewelry, Enjoy These Sales & Coupons
Our aim is to get you the best diamonds and gemstones at the best price possible. That's why whenever we see an attractive discount, special, or promotion at one of our preferred vendors, we let you know.
At two carats, a diamond is quite large and very sparkly. However, it comes with a big price tag, too. If you're splurging on a two-carat diamond engagement ring, you'll want to know you're buying one that looks great. Learn how much you'll need to spend on a two-carat diamond and how to make the most of your budget.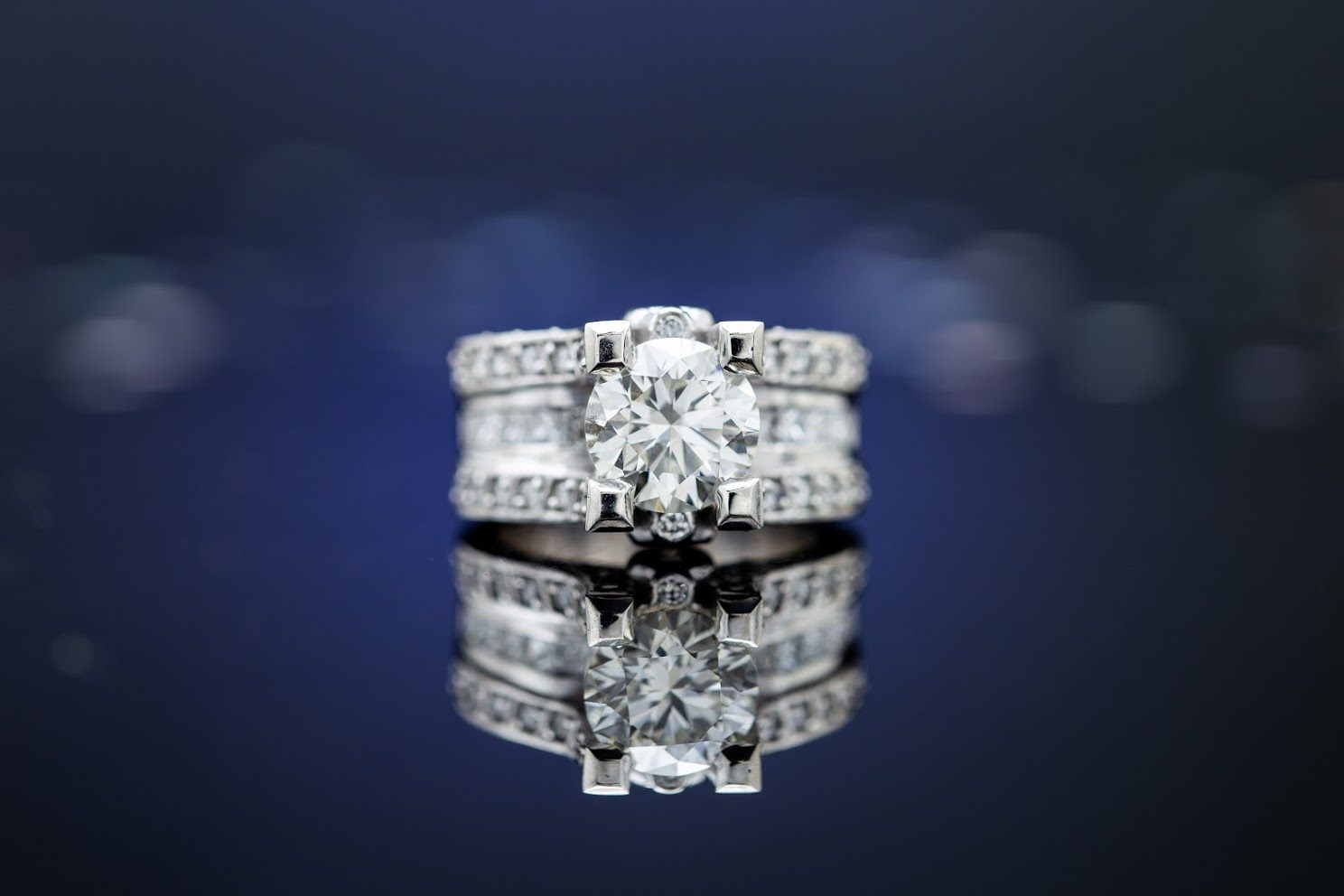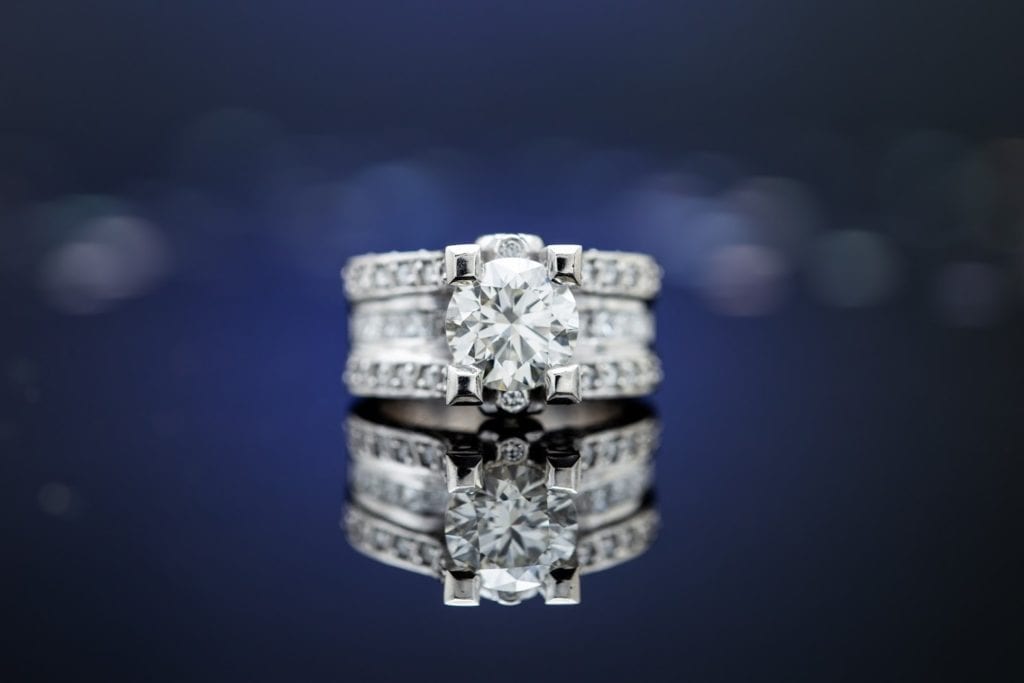 How Much Does a Two-Carat Diamond Engagement Ring Cost?
Two-carat diamonds range widely in price. The chart below should help you understand how diamond shape impacts price.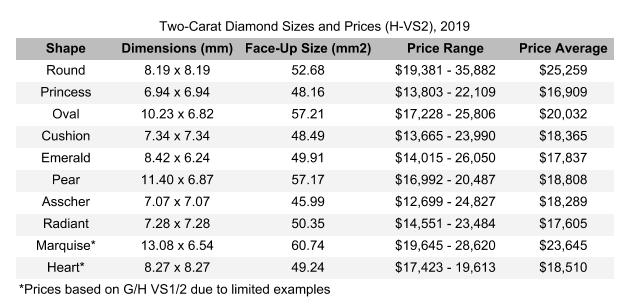 This chart is limited to H color, VS2 diamonds, so two-carat diamonds can be more or less expensive depending on the color and clarity grade. However, the price difference between round diamonds and fancy shapes is always significant. You could save thousands of dollars. If you're considering a fancy diamond shape, read about their pros and cons.
Keep in mind that lower color and clarity grades can still look beautiful and offer great savings. However, if a two-carat diamond is out of your budget, a 1.5-ct stone will still look large and cost much less. Learn more about what carat diamond to choose.
Cut Quality in a Two-Carat Diamond
For any two-carat diamond, you'll want to find one with a fantastic cut quality. Although a poorly cut two-carat diamond will still have some sparkle, you'd be better off opting for a smaller, well-cut diamond. The smaller one will perform better and can actually appear larger! So, if the two-carat mark is important to you, don't compromise on the cut.
Since cut quality differs for each shape, you'll want to check out our guides if you're looking for a fancy shape.
Princess • Cushion • Oval • Emerald • Pear • Asscher • Marquise • Radiant
While judging cut quality for fancy shapes is somewhat subjective, evaluating round brilliant diamonds is almost a science. If you're looking for a round diamond with the best sparkle, limit yourself to "Excellent" or "Ideal" cut grades and stick to the parameters in our guide.
Although this recommendation will help you find a fantastic diamond, you'll still need to look at videos of your diamond. Make sure that the stone has good sparkle throughout. Look at the brilliance (white flashes) and dispersion or fire (colored flashes) in the diamond. A well-cut diamond should have a good mix of both, but you may prefer more fire or brilliance.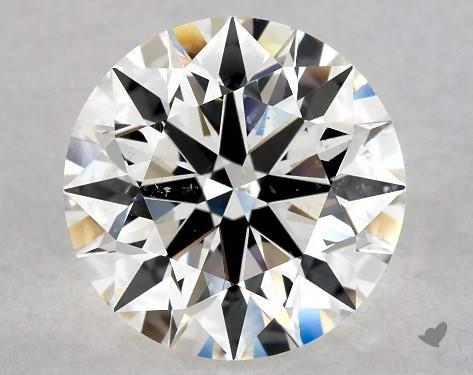 As an example, take a look at the video of this two-carat diamond on the James Allen site. Look straight in the center and drag it back and forth with the diamond facing you. Now, do the same with this video from James Allen. See the difference?
Choosing Color and Clarity for a Two-Carat Diamond
For a two-carat diamond, an SI1 clarity grade is still likely eye-clean. If you opt for a higher clarity grade, you'll be paying extra for quality that you can't appreciate without a microscope.
Always check for large, dark spots under the table, which can be seen with the naked eye. If you're not sure, it's better to play it safe and try for a higher clarity grade. Those on a tight budget should be able to find an eye-clean, SI2 clarity, two-carat diamond, which can save you some money.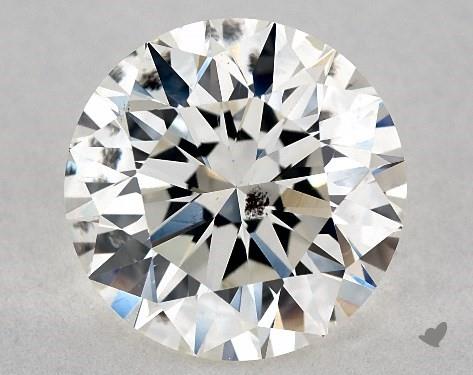 For color, an I or J will still appear white against white gold or platinum, and a K or L color could work for yellow gold or rose gold settings. While higher color grades will appear marginally whiter, it's not very noticeable — try telling the difference in our quiz.
Always take a look at the setting to see what color the prongs are, since this will impact how the diamond appears in the ring.
Although you can find diamonds with lower color grades that "face-up" whiter, trying to save money by compromising on color is a gamble. Still, if you enjoy a warm tint, then opt for a lower color grade.
Images © James Allen. Used with permission.
Best Places to Buy a Two-Carat Diamond
Because they're relatively rare, most retail stores don't carry good quality two-carat diamonds. However, online retailers can offer a large selection. Most importantly, they can also give you closeup video of your diamond, letting you see how it performs. Of course, with such a large purchase, check the retailer's policies on returns and exchanges.
For their great selection, prices, and customer service, James Allen and Blue Nile come highly recommended. Both sites provide magnified 360° videos of their diamonds, letting you evaluate their performance and clarity characteristics.
However, James Allen offers many more engagement ring styles than Blue Nile, including vintage settings and modern tension settings.
If you can't find the perfect ring, consider designing one with CustomMade. Their experts will help you create a completely unique and beautiful ring with a diamond you'll cherish.