Barite Value, Price, and Jewelry Information
---
Massive white barite (also called known as baryte) looks like marble and could be used for decorative purposes. In spite of the abundance of good crystals, cut barites are not commonly seen, especially in rich colors.
Barite Value
The International Gem Society (IGS) has a list of businesses offering gemstone appraisal services.
See the entire Gem Price Guide.
Start an IGS Membership today for full access to our price guide (updated monthly).
Barite Information
| | |
| --- | --- |
| Data | Value |
| Name | Barite |
| Alternate Common Names | Baryte |
| Crystallography | Orthorhombic. Tabular crystals, aggregates and rosettes; massive, granular, fibrous, earthy, stalactitic. |
| Refractive Index | 1.636-1.648 |
| Colors | White, grayish, yellowish to brown, blue, green, reddish. May be color zoned. |
| Luster | Vitreous to resinous; pearly on cleavage. |
| Fracture | Even |
| Hardness | 3-3.5 |
| Specific Gravity | 4.50 (pure); usually 4.3-4.6 |
| Birefringence | 0.012 |
| Cleavage | Perfect 1 direction |
| Dispersion | 0.016 |
| Luminescence | See "Identifying Characteristics" below. |
| Transparency | Transparent to opaque. |
| Formula | BaSO4 + Ca, Sr |
| Pleochroism | See "Identifying Characteristics" below. |
| Optics | α = 1.636; β = 1.637; γ = 1.648. Biaxial (+), 2V = 37°. |
| Etymology | From the Greek baros, "heavy," because of its high specific gravity. |
| Occurrence | Barite is common in low temperature hydrothermal vein deposits; also as a component of sedimentary rocks, sometimes in large beds; as concretions, in clay deposits, and rarely in cavities in igneous rocks. Good crystals abundant worldwide. |
Comments
Gem cutters will find faceting barite difficult. Facet junctions tend to be rounded. Collectors can obtain large stones in almost any desired color with very few exceptions.
Identifying Characteristics
Pleochroism
Barite can display weak pleochroism if the crystal is colored.
Brown crystal: straw yellow/wine yellow/violet.
Yellow crystal: pale yellow/yellow-brown/brown.
Green crystal: colorless/pale green/violet.
Luminescence
In shortwave ultraviolet light (SW):
White (Germany, Ohio).
Blue-green (Germany, England).
Gray (Germany).
In longwave ultraviolet light (LW):
Greenish white, yellow-green (Germany)
Pinkish white (Ohio).
Cream-white (South Dakota).
May also phosphoresce.
Sources
Many localities worldwide may yield clean, gem-quality barite. Below are some notable sources.
Meade County, South Dakota, USA: fine brown crystals, facetable.
Colorado, USA: exquisite blue crystals, some facetable (Sterling area).
Illinois, USA.
Thunder Bay District, Ontario, Canada: colorless crystals suitable for cutting.
Rock Candy Mine, British Columbia, Canada: facetable yellow crystals, up to 4 inches long.
Cumberland, England: fine crystals, sometimes very large, facetable areas.
France; Germany; Italy; Morocco.
Stone Sizes
Large crystals, usually flawed, have many facetable areas. English material will yield stones up to about 50 carats. (One specimen is known to be over 300 carats). Faceters have cut yellow-brown crystals from France as large as 65 carats. Colorado gems range from 1 to 5 carats.
Notable barites in private collections include:
A 42-carat golden-orange, cushion cut gem (British Columbia).
A 108-carat dark brown, oval cut gem (South Dakota).
Care
Due to this stone's perfect cleavage and low hardness, jewelry use is very risky. Consult our gemstone jewelry cleaning guide for care recommendations.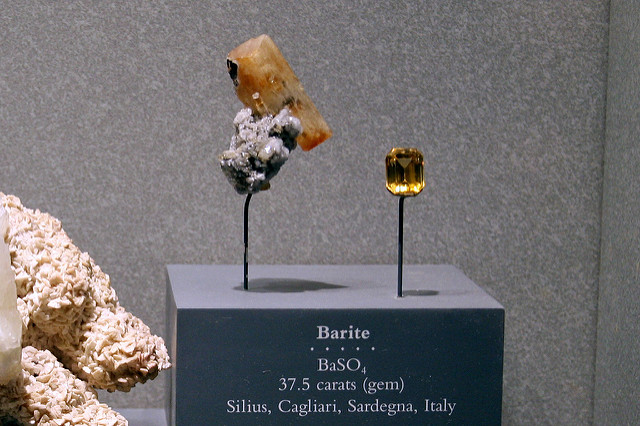 by